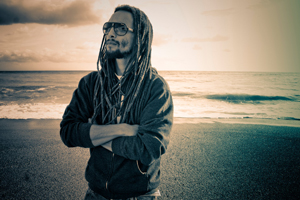 Born in Savona (Italy) from nigerian father and italian mother, this young artist is very close to his african roots. Reggae music is his heartbeat, from the childhood. Since he was a little boy he used to entertain his parents and friends singing Bob Marley songs.

His musical journey starts in 2002, when at the age of 15, he started developing his musical skills becoming singer and songwriter of the Italian Reggae band EAZY SKANKERS, founded with the bass player Andrea "Botta" Bottaro. The Band performed all around Italy in shows such as "Rototom Sunsplash" in 2005, "Arezzo Wave Love Festival" in 2006, "GoaBoa Festival" in 2007, and shared the stage with artistes like Giuliano Palma & The Bluebeaters, Sinhead O' Connor, Black Uhuru, Junior Kelly, David Rodigan, Bitty Mclean, Toots and the Maytals, Cocoa Tea, Turbulence, Gappy Ranks and the late "King of Ska" Desmond Dekker.

In summer 2006 Raphael appeared on the italian television RAI1 singin on the Castrocaro Festival stage, and in summer 2008 he opened the Wailers show in Varazze (italy).

Raphael also shows with sound systems and with the DOUBLE TROUBLE feat. BUNNA project, an acoustic tribute to Bob Marley, with the songwriter ZIBBA, and BUNNA, lead singer of the Africa Unite band .

In January 2008 recorded the Eazy Skankers album "To the foundation" at the TUFF GONG studio in Kingston, Jamaica. The album features track with Lutan Fyah, Perfect and Michael Rose, and was mixed by Roland McDermott. In 2010 Raphael had some shows in U.K., touching Birmingham, Bristol and London. A new album by Eazy Skankers, " CHANGES" (featuring LION D , BUNNA and BLACKOUT JA) was released in may 2011, Co/produced and mixed by Madaski (Africa Unite) and recorded at the Dub the Demon studio .
Eazy Skankers won the 2011 Italian Reggae Contest and performed in Barcelona at the Rototom Sunsplash European Reggae Contest at the Razzmatazz club, and being placed 4th.
On January 2012 "Good Old Vibes" was pressed on vynyl by the english label Peckings, and on april with Bizzarri Records releases his first solo EP " My name is Raphael" , eight songs in free download . And more to come!