UK-Legend Ranking Roger Passed Away
03/27/2019 by Gardy Stein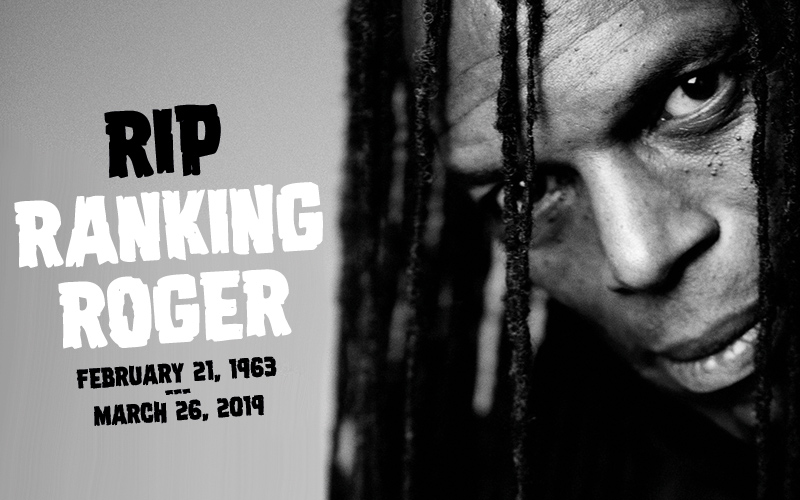 Mourning the untimely passing of Ranking Roger, band members, music colleagues and fans worldwide had to say good-bye to this highly talented man on March 26th. On their homepage, The Beat comment "He fought & fought & fought, Roger was a fighter. Sadly Roger past away a few hours ago peacefully at his home surrounded by family. Roger's family would like to thank everyone for their constant support during this tough time. More to follow in the coming days. RIP ROGER!"

A fan from India wrote on Facebook: "I'm saddened by the loss earlier today of Roger Charlery aka Ranking Roger of The Beat and General Public. Condolences to his loved ones and fans worldwide. Thank you for the outstanding music and live gigs for some of the best times of my life. The Two-Tone-Records-led Ska revival of the late 1970s and early 1980s was a HUGE part of my life's soundtrack ... both musically and politically... with 'Mirror in the Bathroom' a classic from a LEGEND. Thanks Roger. RIP brother. I'll always be RANKING to your BEAT."

Born Roger Charlery to West Indian parents in Birmingham, UK, in 1963, he discovered music early on. He fell in love with Punk Rock first, drumming in a band called Nam Nam Boys, before he met Ska pioneers The Beat in the late 70ies. A friendship developed, during which he joined them on stage several times, picking up the mic and toasting, before he became an official member. The band released 3 albums before they broke up in 1983, but their shared passion caused Roger and Dave Wakeling to stay in touch and form General Public. Although they also split up little later (in 1986), they reunited in 1995 with a new band, performing and recording the album Rub It Better. By that time, Roger had already started to record solo, fine examples of which were released in his 2013 album Retrospective.

In 2005, three original members of The Beat had come back together, and in 2016 they recorded an album called Bounce which was highly successful. Together with Roger's children Ranking Junior and Saffren Murphy they toured etxtensively before Ranking Roger had to cancel shows in late 2018 due to a stroke. By early 2019, his health had deteriorated further and he had to undergo surgery for brain tumours and undergo treatment for lung cancer. He passed away in his home yesterday.

Roger Ranking leaves a huge catalogue of music, including collaborations with The Police, Sting, The Specials, Pato Banton and Sly & Robbie, the album Public Confidential that will be remembered as his last release with The Beat, as well as an autobiography called I Just Can't Stop It slated for publication this summer.

Gone but not forgotten!