Review
Album Review: Protoje - In Search Of Lost Time
08/28/2020
by Gardy Stein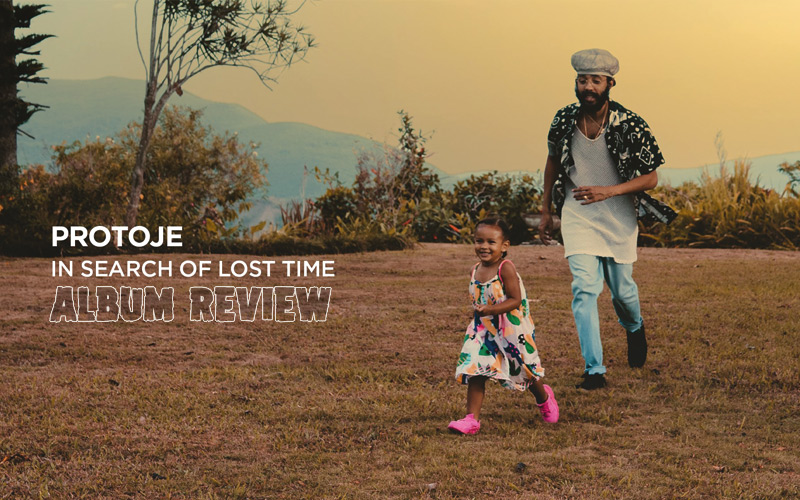 "Chaque artiste semble le citoyen d'une patrie inconnue, oubliée de lui-même, différente de celle d'où viendra, appareillant pour la Terre, un autre grand artiste." (Marcel Proust)
[Transl.: Every artist seems to be the resident of an unknown home, forgotten by himself, different from that whence will emerge, sailing for the Earth, another great artist.]
Protoje is an artist that, at times, seems to be the "resident of an unkown home" for real. His intellect vibrates on a high plane from which he delivers his philosophical, reflective and sharp lyrics, and his fascination with time has pervaded all of his releases so far. No wonder he felt a special connection when encountering the like-minded spirit of Marcel Proust, a connection so deep he decided to name his new album after this author's biggest oeuvre: In Search Of Lost Time.
Even if you were not aware of who the creator of this album was, you'd know you're up to something good when you press play on track one. Setting in like the soundtrack of some Tarantino movie, the first of two Winta James productions on the album managed to attract Koffee as featured artist, and daaaaamn does she spice up the thing! The tempo in which she and Proto pass the balls to each other requires repeated listening to grasp all that's being said, but "on repeat" is what this song will be anyway, everywhere. For those who don't usually study the credits, know that the who-is-who of Jamaica's talent is on instruments, and you hear the voices of Lila Iké, Sevana, Jaz Elise, Royal Blu, Chronixx, iotosh, JLL, Ziah and Winta on the chorus. In.Digg.Nation settings! My favourite line, by the way, both in words and delivery is this: "If there is ever a problem listen Diggi album and that goodly solve it." Understood!
While Winta is joined by Ziah in the production of Like Royalty, Popcaan adds his flow to Protoje's on the mic, resulting in a powerful outlook on success in life and the importance of people who got your back. And while the audio is already dope, check the accompanying visuals by Storm Saulter. Mad!
Another exciting collab harbours the spherical track A Vibe. To be joined by Wiz Khalifa on this different kind of Ganja tune must have been a dream come true for Protoje, whose musical socialization was heavily influenced by HipHop and Rap. Produced by a sizzling combination of Grammy-awarded heavyweight Supa Dups and Big-Ship offspring Stephen "Di Genius" McGregor, the underlying riddim gives the impression of being calm and relaxing, but is in fact composed in a gently accumulating way that creates an almost indiscernible energetic tension.
Supa Dups was on board as well for Still I Wonder (featuring Mitchum "Khan" Chin on guitar) and the emotive Weed & Ting, a yearnful ballad that finds Protoje's voice at its most tender and co-producer The Grei Show on keys. Special shout-out to Supa Dups, who has pushed Protoje to really sing on this album, as the artist revealed in his recent interview with Reggaeville!
Floating on his usual lyrical high, the artist uses his reach to address the discomforting topic of violence in general and against women in particular in Self Defence. Producer iotosh creates a dense, almost grim atmosphere with the minimalist track, similar in intensity to the timeless Blood Money, and will hopefully be played as much.
Announced in the press release as "an honest, open discourse on his internal conflicts with respect to his unsettled feelings about the state of the world", Strange Happenings is a re-interpretation of Papa San's 1992 track Strange on the M16 Riddim - another example of how effortlessly Protoje is able to translate Reggae's foundations to the here and now.
Naturally, the In.Digg label-mates Sevana and Lila Iké are featured in several tracks as well. The iotosh production Deliverance, an interesting marriage of modern production and traditional Nyabinghi drums played by Stephen "Shaqu" Forbes serving as the backdrop for a reflection on the staying power needed to get where you want to be, is enriched by both female voices, as is Same So. Produced by Ziah, this track is probably the one where a Reggae-skank is most discernible, and again you are advised to check out the amazing Retro-style video shot by Jordan Mars.
Finally, ease. That's what In Bloom is setting me at. How else could you describe the effect of a song that makes you stop in your track, close your eyes and take a deep, calming breath? Lila Iké strikes her silky notes in an intensitiy that obviously has been called for by the decelerated track produced by Natural High.
In Search Of Lost Time is an extremely personal, reflective release that's not intended for wild and loud party nights (except Stir It Up of course), but for conscious consumption and thought-provoking enjoyment. Protoje and his team have come up with an impressive, top-notch production that continues the successful journey started only a dozen years ago. Respect for this meaningful use of talent and time, Diggy!
---
Release details
Protoje - In Search of Lost Time
DIGITAL RELEASE [RCA Records]
Release date: 08/28/2020
Tracks
01. Switch It Up feat. Koffee
02. Deliverance
03. Still I Wonder
04. Weed & Ting
05. A Vibe feat. Wiz Khalifa
06. Same So
07. In Bloom feat. Lila Iké
08. Self Defense
09. Like Royalty feat. Popcaan
10. Strange Happenings
Featured artists
Popcaan
/
Koffee
/
Lila Iké