Review
Album Review: Pressure Busspipe - Rebel With A Cause
11/09/2019
by Gardy Stein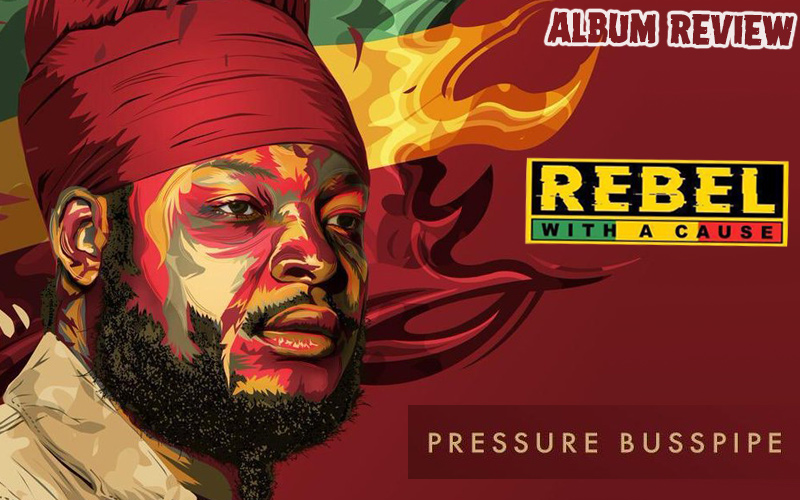 All eyes and ears on: St. Croix, Virgin Islands! The island state has long since established itself as an important epicentre for high-quality, conscious Roots productions, and although the dominating issue at the moment is the unexpected passing of its well-known son Vaughn Benjamin, we must look ahead. In doing so, we see another Virgin Islander raising the banner high for Reggae music and Rastafariansim - Pressure Busspipe has just released his new album Rebel With A Cause!
Produced by Zion I Kings and released under Laurent "Tippy" Alfred's and Kenyatta Itola's label I Grade Records, which has regaled us with its typical deep, rootsy and decelerated sound in works such as Life Is In The Blood by Danny I, Music Never Dies by Lutan Fyah and of course several Akae Beka and Midnite albums, the current work surprises with an explicit excursion into HipHop, Rap and related genres.
The title track Rebel With A Cause featuring US-Rapper Redman is the most obvious example of this course, and JAH Is Real strikes similar chords, including the smooth lyrical delivery of Protoje. Coincidentally, the producer of the latter's millennial release Ancient Future signs responsible for another HipHop-flavoured track on the present album, namely Streets Are Calling with the Saint-Thomas-duo R. City.
A touch of soulful R'n'B flows through Wake Up Stay Up, which reminds us to stay alert at all times. "Wake up, stay up, educate yourself, take care of your health..." This track is the outcome of an expansion of the Zion I Kings team, as Kingston-based producer Teflon Zincfence has joined the St. Croix family in a few riddims, including the Sizzla-combination War Is Ugly, which has a funky, Latin vibe.
Revolving around similar issues (although on a more traditional Reggae beat), It Red tells us to stick together and choose the path of love instead of war and aggression, while Burn Down foretells the ever imminent fall of Babylon with strong support by female compatriot Reemah. The host of featured artists doesn't stop here, however. To the unmistakable sounds of a melodica, Anthony B sings the punch-line of Peace And Love on a bright, joyful riddim.
"A lion is a lion anywhere he go!" are the opening words of Lion Is A Lion, a remarkable combination of Pressure, "Mr. Accurate" Kabaka Pyramid and lioness Jah9, the three of them singing about the virtues of Rasta men and women. One who has rightfully earned the moniker "Rasta To The Bone" is the only remaining feature of the album: Akae Beka. Nobody would have guessed that his tune would be a posthumous release. The System, originally recorded in early 2015, when Vaughn Benjamin was still performing with his renowned formation Midnite, was a rather spontaneous session at Tippy's studio. "What mind and force and energy are you in? Organize and centralize the vibes you're in!" Words of the wise indeed...
In addition to these deep, mind-occupying songs, I personally feel most at home musically in the opening track King Selassie First and the beautifully slow Forever. With an almost acoustic Seek Jah First, Pressure Busspipe bids us farewell with a calm Nyabinghi meditation that kind of recaps the whole album. "Seek Jah first, everything else will come, speak of love up in thy kingdom, rise this morning with the rising sun..."
Worth mentioning is the exquisite cover art-work by Qadir Maharaj from Trinidad, who has already stunned us with Kabaka's Kontraband last year. Respect is definitely due to the whole team behind this high-quality, well-balanced production, which manages to put the VI-island of St. Croix on the global Reggae map once more.
---
Release details
Pressure Busspipe - Rebel With A Cause
DIGITAL RELEASE / CD [I Grade Records]
Release date: 11/08/2019
Tracks
01. King Selassie First
02. Wake Up Stay Up
03. Streets Keeo Calling feat. R.City
04. War Is Ugly feat. Sizzla
05. Burn Down feat. Reemah
06. Rebel With A Cause feat. Redman
07. Jah Is Real feat. Protoje
08. Can You Feel Love
09. Forever
10. It Red
11. Peace And Love feat. Anthony B
12. The System feat. Akae Beka
13. Lion Is A Lion (Remix) feat. Kabaka Pyramid & Jah9
14. Seek Jah First
Featured artists
Sizzla
/
Protoje
/
Kabaka Pyramid
/
Reemah
/
Anthony B
/
Akae Beka
/
Jah9