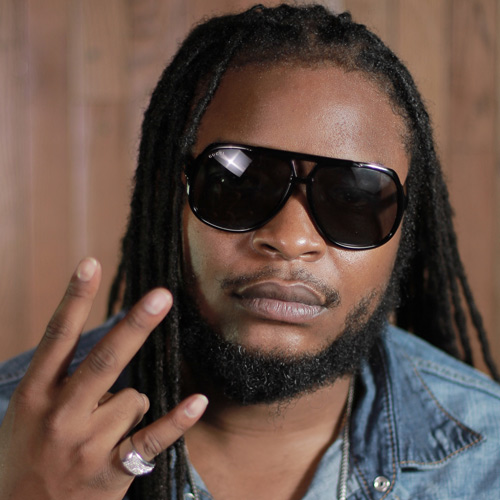 Blessed with a smooth, melodic voice and an impressive innate writing ability that captures a story like no other, Pressure is poised to dominate the Reggae audiences of the world. Called "Pressure" by virtue of the hard times and daily struggle we all face, Pressure is an artist dedicated to consistently delivering conscious messages to teach and unite the masses through his musical talents.

Born Delyno Brown on August 5, 1981, Pressure's father was a member of a popular local band on St. Thomas, U.S. Virgin Islands which exposed him to music at a very young age. Pressure first rose to popularity in the Virgin Islands and in regional and national reggae circles as a member of the Star Lion Family reggae group, a group of seven young local artists. The group was in high demand and opened for established reggae artists such as Capleton, Buju Banton, Bunny Wailer and Junior Reid to name a few. After the group's split, Pressure further developed as an artist opening as a solo act for Sizzla and Elephant Man. Soon after, he linked with the talented Dean Pond and Eno Stafford of Studio 340 and together in 2005, they produced and released Pressure's debut album, The Pressure Is On, on the Tsuni Records label.

The debut album included hits such as "Zion Is Home," "No Limitation," and "Light In You. It was no surprise that Pressure's first album gaged the attention of internationally renowned producer, Don Corleon. The synergy between the two would later birth the mega-hit "Love and Affection," which was the first song they recorded together. "Love and Affection," immediately took the airwaves by storm and earned a place in the pantheon of reggae classics. Following placement of the mega-single on the famed Reggae Gold compilation, the Love and Affection album was released in 2007 on Don Corleon Records.

In 2009, Pressure re-united with Dean Pond to release his third album, Coming Back for You. The album was well received in the U.S. and European markets, and continued Pressure's tradition of exceptional songwriting and outstanding musical production.

After years of highly regarded collaborative songs, Pressure finally linked with St. Croix producer Tippy I of I Grade Records to create a full-length album of heavyweight roots and cultural tracks produced by the renowned production team, Zion I Kings. The album, entitled The Sound, was released on April 15, 2014. Fresh off of the album's release and critical acclaim, the U.S. Virgin Islands Tourism Department announced that Pressure's "Virgin Island's Nice" track would be the epicenter of a massive global scale marketing campaign for the U.S. Virgin Islands. This campaign included a May 2014 appearance and performance on the nationally syndicated Wendy Williams talk show which further exposed Pressure's musical talents and ability.

Pressure most recently released his highly anticipated project entitled Africa Redemption. With the lead single from this body of work "I'm Grateful," the album also includes the long-awaited collaboration with Baby G of Yard Vybz Entertainment and Busspipe Records with guest features by Damian Marley, Tarrus Riley and Chronixx. With a catalogue of amazing work at the core of his musical foundation, Pressure continues to ascend to his plateau of being a globally recognized reggae artist from the U.S. Virgin Islands. He is currently touring and promoting Africa Redemption and is slated to release a special project in early 2015 entitled Pressure Busspipe…Lover's Rock. The project is a special compilation of all love songs which will serve as a body of work stemming from Pressure's Love and Affection which officially introduced his musical prowess to the world.