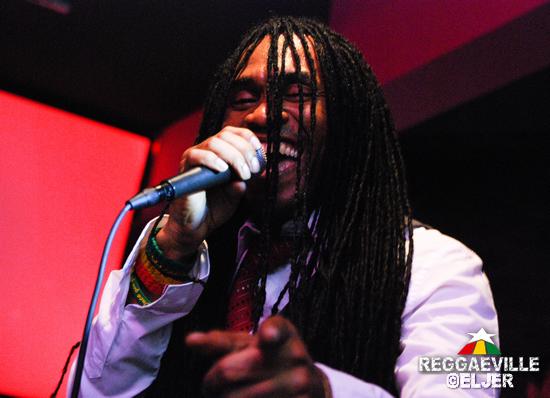 A respected veteran on the stage both as an actor and singer, Peter Lloyd is currently one of Jamaica's hottest recording artistes. His recent smash hit Searching was number 1 on the South Florida Top 25 Reggae Chart for two weeks; number 1 on the New York City Top 30 Reggae Chart for three weeks; number 1 on the North America Star Chart for 3 weeks; and Peace FM's (Manchester England) Chart for 11 weeks.

During his career as a singer, he has been placed in the top five of three recognized and respected music charts; Miphone's dancehall chart, Megajamz's top 20 as well as Hype TV's top 10 with his super popular song, "Gold Digga", produced by Sly & Robbie and Peter Lloyd himself on their Raw Food Riddim. His "Dem Say/Gold Digga" music video directed, produced and co-edited by him, received heavy rotation on MTV's Tempo. Lloyd has had numerous top 10 hit songs such as the perennial "Wake Dem Up", "U Magnet" and "Ready 4 Luv", "Walk Through Fire" and countless other singles including "Pose" with the queen of raw Lady Saw, "Dancehall Queen", "Baby Baby (Crazy for you)" and "Perfect Body", all of which hit the top 5 in all major reggae charts through 1999-2003 and others.

Lloyd has managed to maintain top chart presence and wide cross appeal - from pre-teens to adults, ghetto to rural and lower income to upper income without ever having done a negative song or uttering a negative word on stage. Peter Lloyd is truly a positive alternative.
This seven year cabaret veteran, who has performed at Jamaica's most prestigious hotels, has emerged in recent years as one of Jamaica's most captivating and exciting live performer. With show stealing performances at the New Kingston Street Jam, Sting, Rebel Salute , Rototom Sunsplash Launch, Clarendon, Pepsi Teen Splash, Western Consciousness, Montego Bay Community College, All Island School Fest, Sugar Minott's Reggae in the Hills Christmas Day,Portland Jerk Festival , UNICEF Peace Concert and the American Chamber of Commerce Peace Concert and others.

Lloyd performed at the 2007 staging of the annual Unity Splash with all major media house declaring him the artist of the night and went on to deliver another awesome set at the prestigious Air Jamaica Jazz & Blues Festival '07 on the main stage alongside international luminaries Michael Bolton and ABBA The Tribute.

Peter Lloyd has also been lauded by entertainment personalities Winford Williams' ON Stage, Anthony Miller's Entertainment Report, Buzz Magazine, Backayard, HYPE TV, RETV and others. He is the new and extremely popular lead talent, Matthew Robinson, on Jamaica's number one soap opera drama, Royal Palm Estate, and also currently lends his voice to the Jamaica Red Cross Production, Safe (an anti-AIDS radio drama series for charity).
Peter Lloyd is easy going, professional, a true multi-talent, who manages to get along with everyone. He is intelligent, experienced and has undeniable mass appeal. He is easy on the eyes, sexy and in an age where hype supersedes substance, reminds us that exceptional talent still exists.

His album "Stories From I Father's Country" is available on 3rd May 2011 in stores all over the world.