Review
Review: Oriel - Confidence 2.0 / Love Souljah
07/10/2015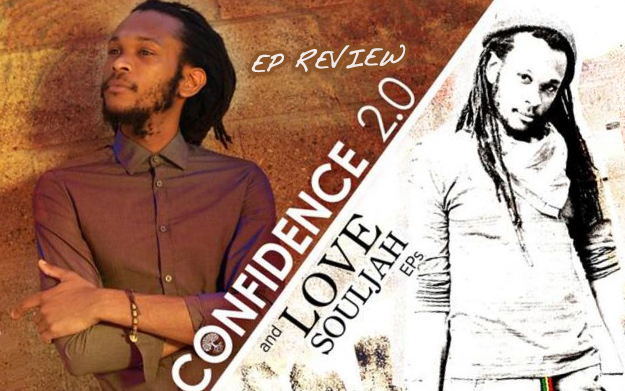 Dominican singer Oriel first presented himself to the world with his EP Confidence in 2012. The album Confidence was meant to announce has still not manifested yet, so Oriel decided to release two EPs simultaneously to keep his fans happy.

Oriel fuses reggae with jazz, R'n'B, rock, blues, and hip hop. He sang in school and church choirs from an early age. He moved to Pittsburgh, PA when he was still a kid. In the US, he started the sound system Vybz Machine in 2005. As a producer, he has worked with artists like Konshens, Richie Stephens, Voicemail, or Wayne Wonder. While he is just emerging on the international stage as a singer, Oriel left a lasting impression at this year's Reggae Sumfest.

The first of the two EPs is Love Souljah, a five-track (plus one interlude) record of lovers' rock. Soft-voiced, Oriel croons over deep reggae riddims that draw flavor from various urban music genres.

The quiet and slightly melancholic Special tries to win back a very special lady that left, tired of broken promises. Sparsely instrumented with a simple beat, a light guitar and a deep, insisting bass line, it puts the vocals and message clearly in the foreground. Heavily R'n'B-infused, the more positive Get Me High is not a Ganja tune, it celebrates love as a mind-altering drug instead.

The title track musically reminds us of Matisyahu, being a genuine crossover track with reggae as a distant foundation, a light riddim full of depth. In it, Oriel puts himself as a loving soul against a stone-cold woman he has to fight with his "AK 45" (took me a moment to fully get it). Those Days is somewhat melancholic reminiscing about a lost lover.

The most outstanding tune on this EP, though, is the initial Cruise. It paints the light-hearted feelings, the positively blurred prospective of a love affair that is just starting in music, and, more so than the other tracks on Love Souljah, it proves the tremendous talent of Oriel.

The second of the two EPs goes by the title of Confidence 2.0. As the title implies, the lyrics are conscious. This EP comes with four songs and one dub version.

Just like Love Souljah, Confidence 2.0 was produced by Oriel himself in collaboration with Lloyd "Cookie" Willacy and Ludwig Grant. Oriel penned the lyrics together with Linval Brown. Together with Ludwig Grant, Oriel took care of the mixing–a man of many talents.

As is the case on Love Souljah, Oriel manages to create a reggae feel despite largely ignoring canonical borders of the genre. Calling him a reggae artist would reduce him to something he's not, although a solid enculturation in reggae shines throughout the EP.

Confidence, the first track on it, has Oriel singing about obstacles he's overcome in his life, proclaiming that "they" won't get him down by destroying his confidence. Wake Up calls on us to wake up and face the world's problems, namely global warming, corrupt politicians, and related issues, and act towards the betterment of them.

The mostly acoustic Down Where I Live asks to not judge a person until you know their circumstances of living. It is a relaxed, melancholic song that is both simple and incredibly catchy. Give Thanks does exactly what the title promises: showing gratitude for life. The last track on Confidence 2.0 is the dub version of the title track.

With these EPs, Oriel shows us that he's one of the most versatile, interesting, and gifted young artists of today. I can't wait to listen to his sound in album-length.


---
Release details
Oriel - Confidence 2.0 / Love Souljah
DIGITAL RELEASE [Afar Music Group]
Release date: 07/02/2015
Tracks
LOVE SOULJAH EP
01. Cruise
02. Special
03. Get Me High
04. Leaving (Interlude)
05. Love Souljah
06. Those Day

CONFIDENCE 2.0 EP
01. Confidence
02. Wake Up
03. Down Where I Live
04. Give Thanks
05. Confidence (Dub Style Mix)