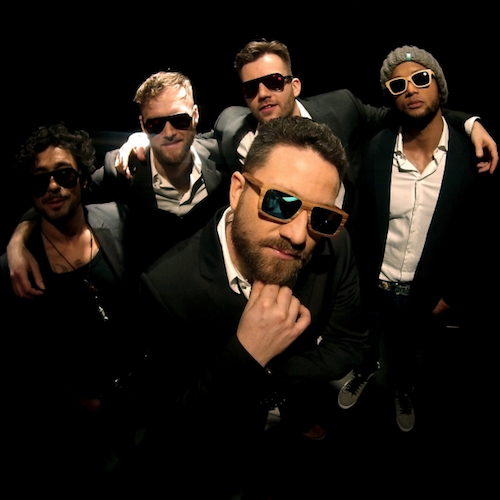 Orange Grove has been around, through ups and downs, in leaps and bounds.. always laying down that wicked sound and pound for pound the number one challenger in the underground. You dig?
OG has indeed been around a little while now, somewhere between the underground and the mainstream you can find them, maybe in a studio in Amsterdam or on a stage in the Caribbean…or maybe you'll come across them on a beach somewhere jamming acoustically with a gathering of close friends sharing drinks and good times. I heard not long ago they were even seen doing an interview in Times Square! "Wherever the music takes us that's where we'll be" adds Jacob, guitarist and co-founder of the band.
Frontman Michael Maidwell and close friend Jacob Streefkerk formed the group about ten years ago. They had both come to the Netherlands to study after graduating from high school, leaving their Caribbean homes on St Maarten behind. They applied for a marketing management study but soon found out they really didn't enjoy thinking about the economy and what firm they might end up working for when they graduated. Actually, one of the few things they did feel sure of was that they wanted to make music. A few years of studying business helped to reinforce those thoughts even more, and before you know it Orange Grove was born. Jacob had been playing guitar for a couple years and was getting quite good at it, and Michael had just discovered he could sing while one day trying to sing a Bob Marley song in the shower..so it made perfect sense: they'd put their talents and brains together and before you know it they'd be playing in front of thousands of people! Maybe even trillions!
Many tours and a few albums later, OG is finally at their moment of truth. Michael fills us in: "We are about to drop something big..and it's very heavy. It will make a very loud thumping noise and even the people who are not paying attention will hear it. It will wake people up out of their sleep..even the very deep sleepers."
When we asked him what exactly it is, he declined to comment any further. "If I told you what it is you might never feel it for what it really is".
Orange Grove is:
BZ on drums
Tim on guitar
Michael on the mic
Jacob on guitar
Daniele on bass