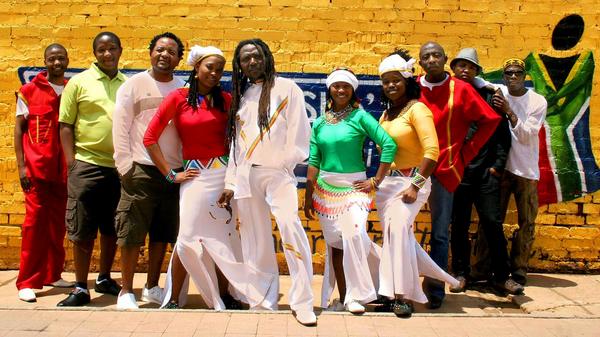 The "One People" band rose from the ashes of pain caused by the tragic passing of their talented and charismatic leader, Lucky Dube in October 2007. Stepping up to the microphone is the amiable and equally charming Thuthukani Cele, and "Thuthu" as he is known to his fans is doing a remarkable job bringing Lucky Dube's prophetic words to local audiences who have suddenly developed an insatiable appetite for the tunes, devouring each word and nuance. The band has now performed in numerous major festivals in South Africa receiving standing ovations with each performance.
The band has also recently collaborated with the renowned Freshly Ground and Kwela Tembza on a tribute to Lucky Dube at Sun City. In 2008 Gallo Record Company signed the band as "One People" and the recording of a new album containing their new, original material is underway.
The 10-piece band has been rocking audiences with the sounds that have made South Africa's reggae king Lucky Dube a star around the world. Who are they? Thuthukani Cele ~ Lead Vocals Richard Sekgobela ~ Keyboards Doods Motlatsi Molefi ~ Percussion Bafana Khuzwayo ~ Keyboards Morena Arthur Maphutsi ~ Lead Guitar Khola Ezekiel Phalatse ~ Bass Guitar Bethuel Mbonani ~ Drums Precious Nyawose ~ Vocals Innocentia Mdlalose ~ Vocals Siziwe Rejoice Ngema ~ Vocals Coming your way soon, the Lucky Dube Celebration Tour starring "ONE PEOPLE" is one show not to be missed.
The real sound of Lucky Dube and South Africa moves you, grooves you, loves you even more…..