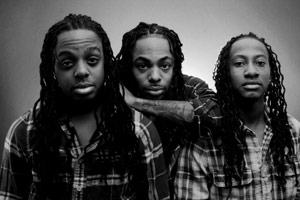 New Kingston is a young vocalist/instrumentalist group that consists of three brothers. Tahir a.k.a. SLIM, the youngest member on Keyboards/Vocals. Courtney on Drums/Vocals and Stephen a.k.a SUKI, the oldest on Guitar/Vocals. This group fuses their Reggae sound with modern Pop, Jazz and R&B music, to create their sound, which they term, "Reggae Crossover". New Kingston has been in the industry for some time now and some might call them, "young veterans"! The group is led by it's founder/manager and father Courtney LJ Panton.

New Kingston started off working with many artists such as, Collie Buddz, Mr.Vegas, Morgan Heritage, Gyptian, Shabba Ranks, and many more. But, while working with all of these artists, manager Courtney LJ Panton had another vision. This vision helped New Kingston create their sound, dubbed, "Reggae Crossover". A blend of sounds to everyone's likes, while still sticking to their heritage. Reggae!

Now this group is sharing the stage with many artists around the world from Europe, to the Americas and beyond. New Kingston is currently set to release their second album, "In the Streets". The album features two of their singles that are gaining radio recognition globally. "In The Streets", the title track of the album and "Pon Di Wall", which is on the Ting-ah-Ling riddim revamped and remade by New Kingston!