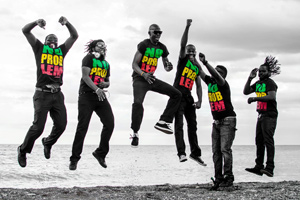 Mystikal Revolution Band/Group consisting of six members, two keyboardist/vocalist, a Base Guitarist, Lead Guitarist/vocalist, a Drummer and a Lead vocalist. The Band was established in 2008 and since then we have been focusing on strengthening our image, talent and developing our unique sound as a Band/Group. We are one of the most original, talented and authentic roots reggae rock bands in the industry.

Unity and strength is the core element and foundation of what we believe. Our doctrine is a spiritual apprehension of truths that are beyond understanding. Mystikal Revolution aims to deliver a diverse cultural blend of music with the inspiration to bring people closer together through their word sound and power. Mystikal Revolution promotes a natural vibration with positive and influential lyrics towards society and urban culture.

Mystikal Revolution entered into the Jamaican Cultural Development Commission (JCDC) band festival in 2008, and placed first in the senior category, taking the title of "most outstanding band" and also First place winner in the Heineken Inspired competition. Charged with a revolutionary energy and the focus to deliver music that inspires the mind, heart and soul to a worldwide audience with our roots rock flavor of reggae. Most of our Band members are pass students at the Edna Manley College.

Mystikal Revolution is ready to entertain and educate (edu-tain) about love, justice and peace in society. They are dedicated to hard work and determination which will manifest in great success and add to the greatness of Reggae Music Globally.