Come To My Island - Interview with Mr. Ray Bass
03/29/2021 by Gardy Stein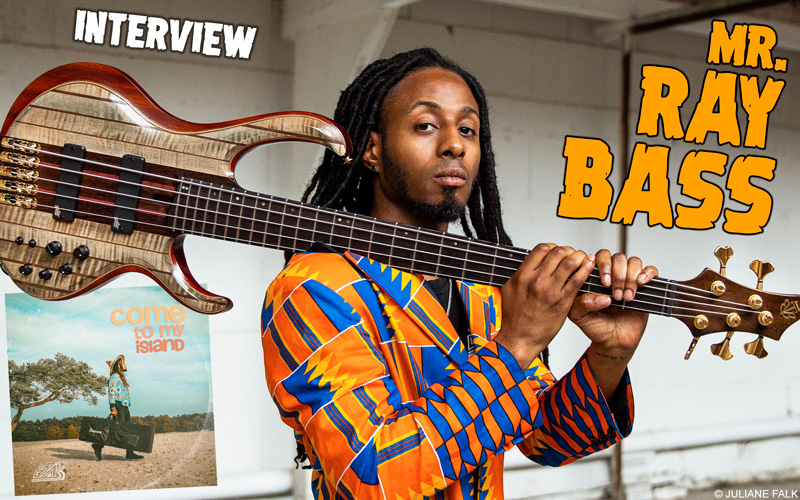 Next to providing you with the full coverage of what's going on in the established world of Reggae, we always strive to bring to your attention upcoming artists that have that special something and a promising future. One of them is Riëndy Holder aka Mr. Ray Bass, a creative spirit with a heart of gold from Curaçao, one of the Leeward Antilles, who now made Soest near Amsterdam (NL) his permanent home. From there, he showers us with his debut EP Come To My Island, an invitation we advise you to follow, as there is a lot to discover.
What this release means to him, what his musical journey has been like so far and what other projects occupy his enterprising mind he shares with us in an extensive Reggaeville interview:
How are you doing?
I'm doing great, I'm very excited to release this new EP! And I'm a little bit tired, I'm lacking sleep because of my newborn twins, but it's all worth it. It's a very productive season in my life, not only music but also with my children and in my work as a coach for the youths... there's a lot of things that I'm doing. I think right now it's time to harvest! (laughs)
Let's start by talking about your journey so far... what brought you to the point you are at now?
Ooooh that's going to be a long story, but I'll try to make it short. Basically, what you see now is that I am a product of my upbringing between the Dutch Caribbean islands and Europe. I was born on Curaçao, and when I was one year old, my Dad came here for his studies, so I lived in Holland during that time. When I was seven, we went back to Curaçao because my Dad was finished with his studies and started working there. After that, I went to live on Bonaire til I was 15, and then I came to Holland again. So, in every life phase I was in the opposite world, let me say it like that. And everything about me, like this thing I'm wearing, it's Afro-Denim, so everything I do is like a combination of those two worlds I grew up in. I'm a true gemini, so I always want to enjoy the best of both worlds!
Music came into my life when I was 14. Before I started to make music, I used to play Baseball, on Curaçao that's very popular. I was very good at it too, but I got an injury in my hamstring, and after that I thought it's time for something different. My mum took me to church, Christian church, and that's where I saw a drummer playing music, and that's when I though 'Ok, I'm going to do this thing!' Music was always a part of my life, I always had ears for music, but it was kind of dormant. So I started from church, I worked my way all the way to the top of the Dutch Caribbean music industry.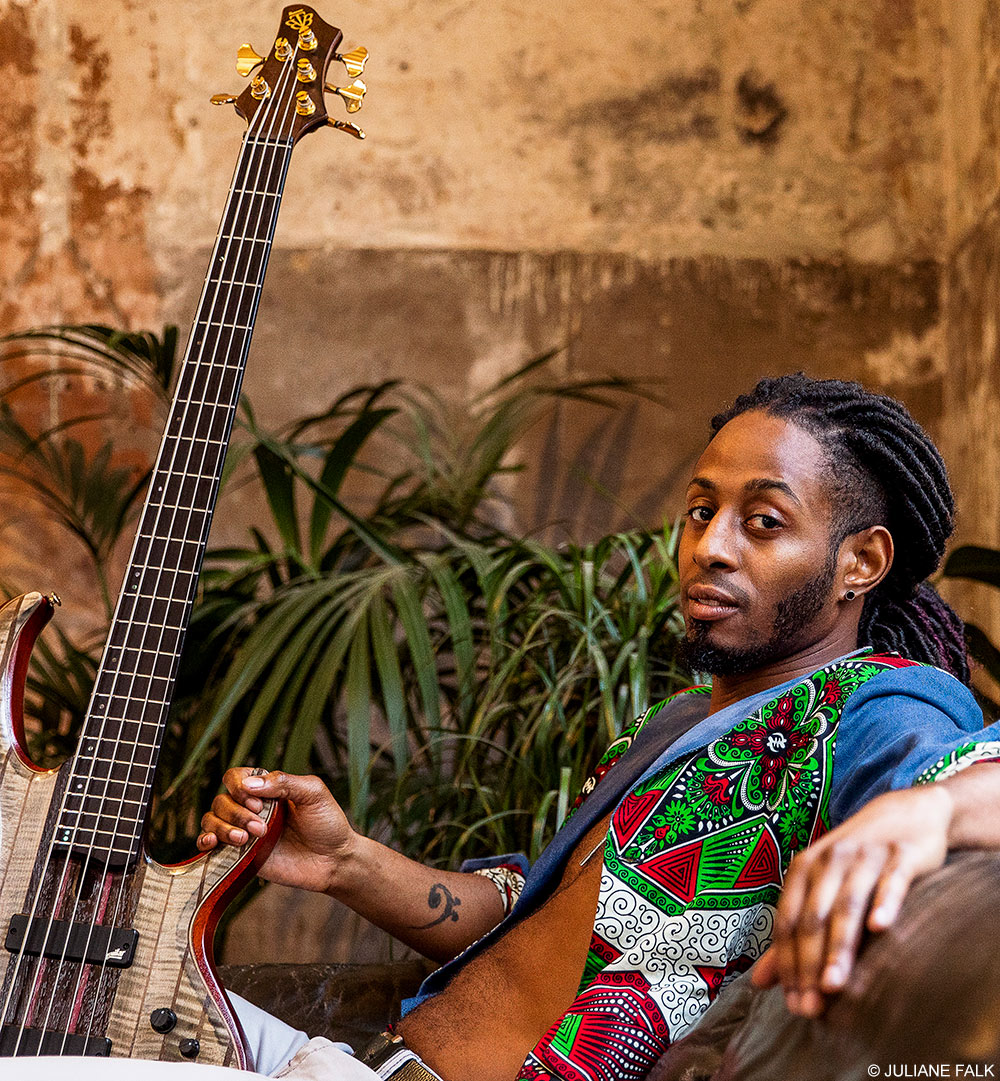 When did you settle permanently in Holland?
In 2002. My parents divorced in 2001 and we tried living in the same house together but it didn't work out. I got what they call PTSS [Post Traumatic Stress Syndrome, author's note] from the whole home situation, and my mother thought 'Let me take my children to another environment, to Holland, so they can study and become stable.', which was a good thing but at the same time it was very difficult because we started out with nothing. I came to Holland without a coat, the only thing I had was my guitar and some clothes and some pictures. We had to start over and in that journey, music has been a friend, something I could rely on. Back in the day, there was no YouTube, no Zoom, none of that, so I had to learn how to play music through television. My favourite show would come up, five times a day, and then I took my guitar and tried to figure out what they were doing... that's how I taught myself to play.
Church was a great place to try out what I was doing at home, so every week I would play. I probably sucked at first, but in church I got the opportunity to play all the basic instruments, like drums, guitar, and when the bass player left, I tried that as well. I decided that the bass guitar is my instrument, because I can apply all the knowledge from the drums AND the guitar on the bass. That's how I became a bass player!
When did the voice come in, when did you start to sing?
The voice was always in the shower! (laughs) I have this thing, and my son, I have a four year old son, he has the same thing, we can hear a song and we instantly tap into it. I used to listen to UB40 a lot, and Bob Marley, and I would try to sound as much as possible as the person that I'm listening to. But the singing came in a funny way... I applied for a band, there was this very popular singer that was looking for a band, Nicole Bus, and she was looking for a bass player. When I applied, she said "I can see that you can play, but I need a bass player that can sing and play bass at the same time." And I said "Yes, I can do it, take me!" and she said "Ok, I pick you, I see you at practice next week!" and then I hung up the phone and I was like 'Oh shit, I don't know if I can do this!' Because, playing guitar and singing is easy (sings & plays One Love), it's just strumming the same thing, but bass playing is totally different, it's like your hand is doing something and your voice is doing something else on top of it, extremely difficult. So I spent a whole week practicing, and that's how it came to be.
After doing it for a long time, you get more confident. I was always the guy behind an instrument, but Nicole gave me a lot of confidence, saying "You sound good!" and eventually I was like 'Yeah, I do sound good!' and started building confidence. I've been a musician more than I've been a singer, but with this EP I discovered my voice.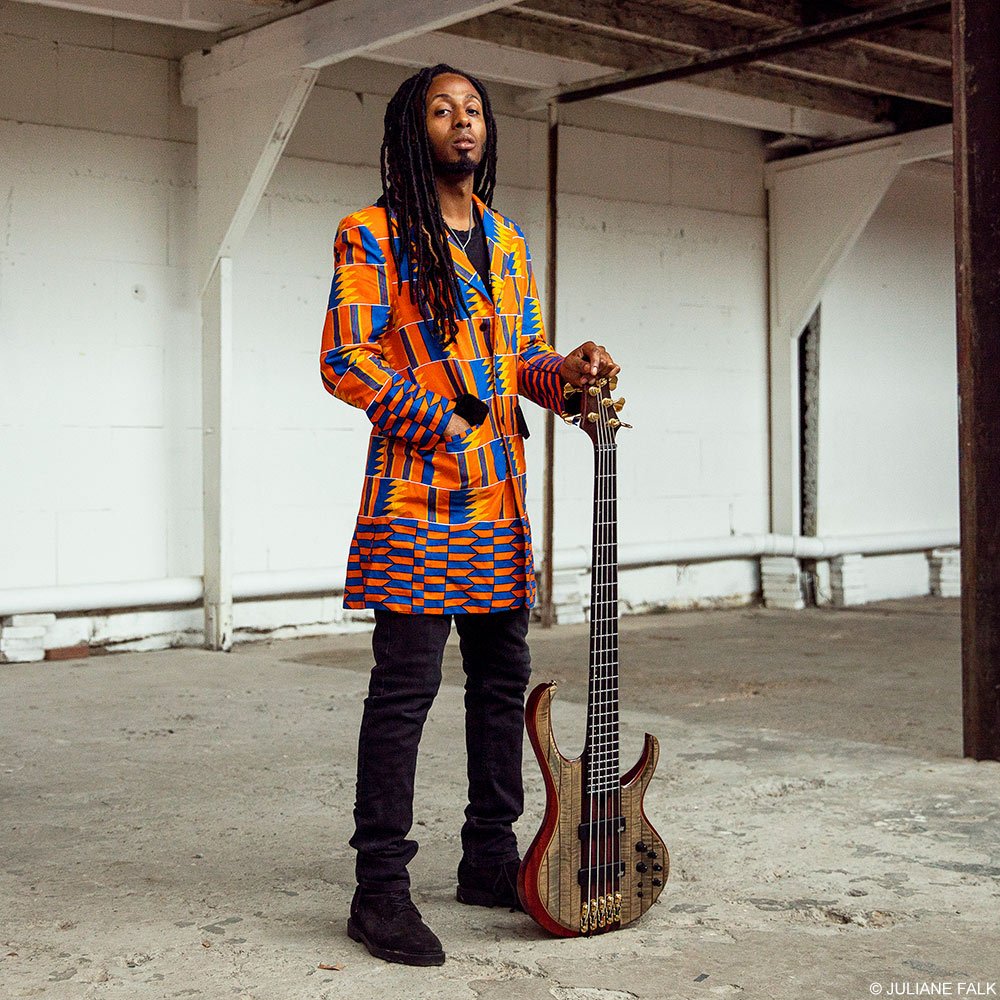 What was your musical socialisation like, which music touched you when you were a teenager? What made you come to Reggae?
As I said, music has always been a part of my life. It started with what my parents listened to, I remember my Dad playing a lot of Michael Bolton stuff, those romantic songs, and my mother is the one who played the Caribbean stuff, so again, in that I grew with the best of both worlds. My mother told me, when I was small and Michael Jackson was on television, as soon as the song stopped, I would cry (laughs). Then, growing up, my Dad gave me a Walkman, and the first thing I ever played on it was Gregory Isaacs. I enjoyed the bass and the drums, and then in High School I fell in love with Sting and The Police, the blend between Reggae and Pop and Punk... I studied them a lot, like 'How can these three people sound as if they are a whole orchestra?' It still amazes me. Right now, I'm discovering the whole Reggae thing, the pioneers of the genre, and also the faith, the Rastafarian belief. You know, I come from church, which is...
Strict.
Yes, very strict. And finally I feel that I'm more myself, the spirituality is more important to me.
Do you still visit Curaçao sometimes, do you have family there?
Yes, my Dad lives on Bonaire and I have a lot of family members still living on Curaçao. I try to go there at least once every two years. Also, I will be going there to promote the EP, but my dream is that this EP can be used to promote tourism back to the island. Because of Covid, a lot of tourists stopped coming to the island, and we survive like 80% off tourism, so where the EP can be used for commercials or for whatever, I'm open to it. I'm lobbying basically for tourism.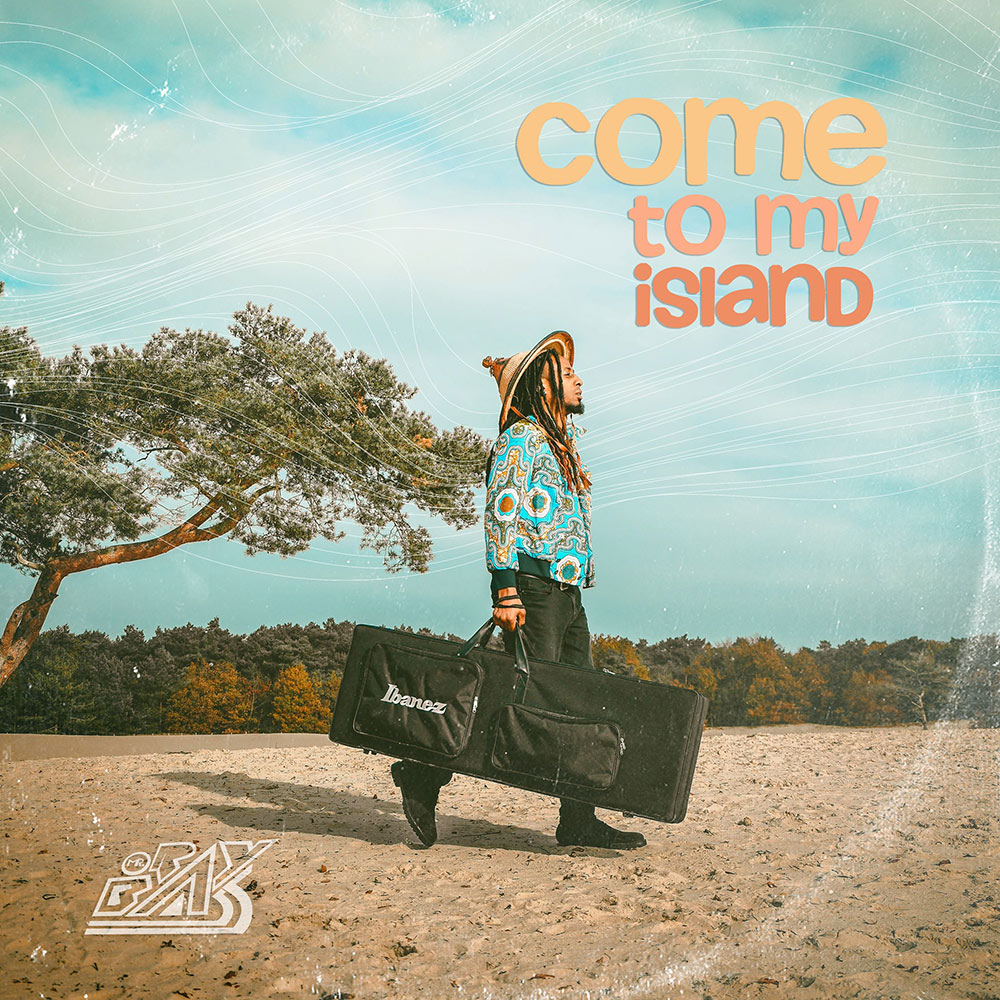 Also, I do a lot of community work here, where I live in Soest, and I would be crazy not to do community work also there and empower the youths through music and media programs and that kind of thing. So I will be going back this year.
Which brings us to the title of the release - Come To My Island. What is "your island", is it Curaçao you had in mind or is it something more abstract, like, an inner safe place?
I'm a gemini, it's both (laughs), so it's "and". I was gonna call the EP Phunky Reggae first, cause I wanted to emphasize the bass-lines and my way, my style of Reggae. I try not to make the same thing everybody else makes. But then, when Covid struck and with the idea that I could not go back home because of the virus, it put me in something and I decided to call it Come To My Island, also with the idea of attracting people to my island with the music. During this whole pandemic, I had to find an island in myself, I had to find a place where I can still see the sunshine and find rest and peace. And my island became a spiritual place, but also here in Soest a physical place, we have this beautiful... they call it Soester Duinen, they are like the dunes, and that is a place that reminds me of my island.
On my EP cover, you see a tree that looks just like a Divi-Divi tree that we have on Curaçao, but it's a tree we have here.
It's also an invitation to find rest and tranquility within themselves every time people play the EP. It is 21 minutes long, and that's the distance between Bonaire and Curaçao with the airplane. When I was younger I used to take this trip many times with my Dad, you'd just enter the plane and before you know it, you are on a totally different island. I went on the trip so many times that they could have asked me to explain the emergency measures (laughs). In a way, the EP evolved to become Come To My Island which I think fits better.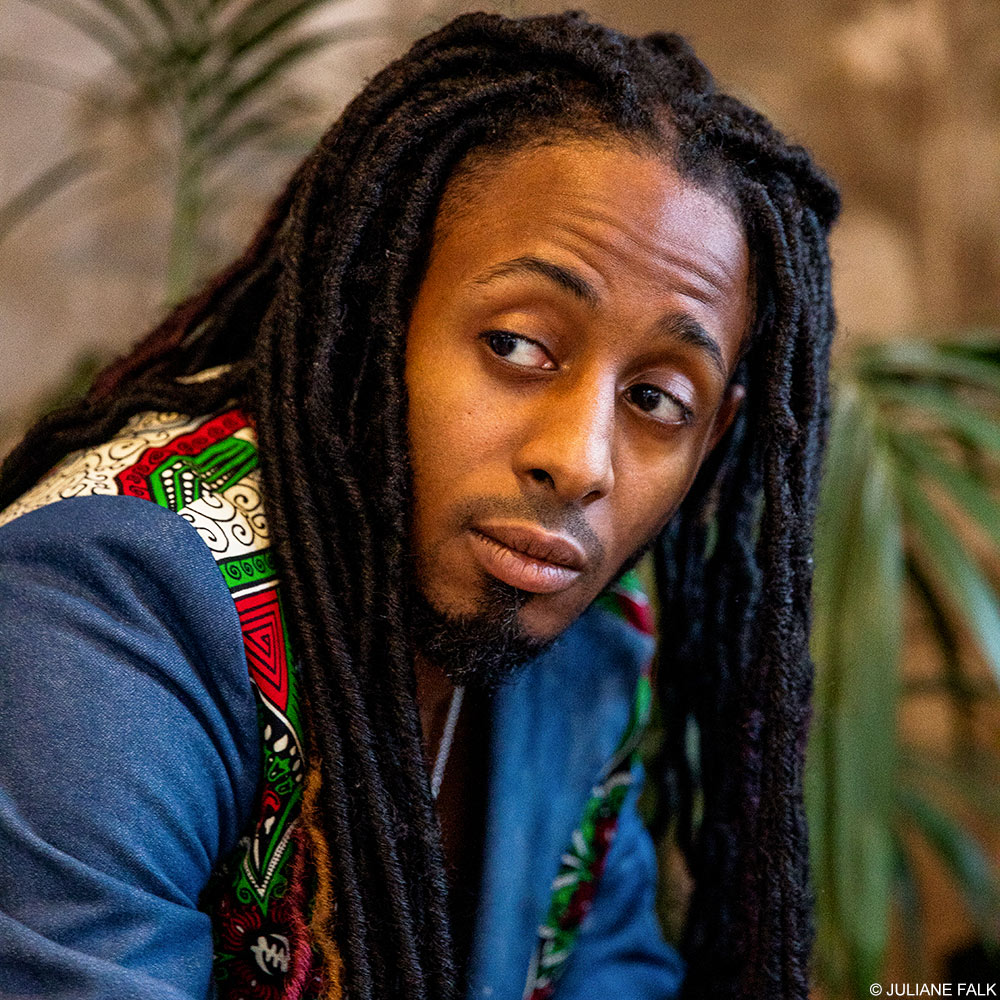 The release date also has a special meaning. Why did you choose this specific date?
I was thinking about releasing it last week, March 19th, because of the International Day Against Racism. Bob Marley and other Reggae artists inspire me in their fight for freedom, of course, but I think there is already a lot going on. Racism is a hot topic and everybody is talking about it, everybody knows about racism now. For me, this whole fight, I'm not there anymore, I'm in this journey of discovering myself, and that's why I chose to put it out on the 26th of March, which is the International Day of Remembering the Victims of the Slave Trade. I'm from Curaçao, and a lot of people see it as a place to go on holiday, in the sun, to Mambo beach... but people don't see our history, they don't know that we are a product of that slave trade. The fact that we speak four languages at birth is a product of that time, and there's a lot still going on. I want to honour my ancestors with this because I'm a descendant of those people, and therefore it still resonates through whatever I'm doing.
My island is not just palm trees and coconuts, it's a place rich, filled with culture, and we've played such a big role in the world... A lot of things came from Curaçao people, like the Bubbling, the Dembow stuff... With my EP, I want to be an example, like 'This is what you can accomplish when you step over all the hardships and get out of the victim role!' I don't consider myself a victim, we are victorious, they didn't get rid of us.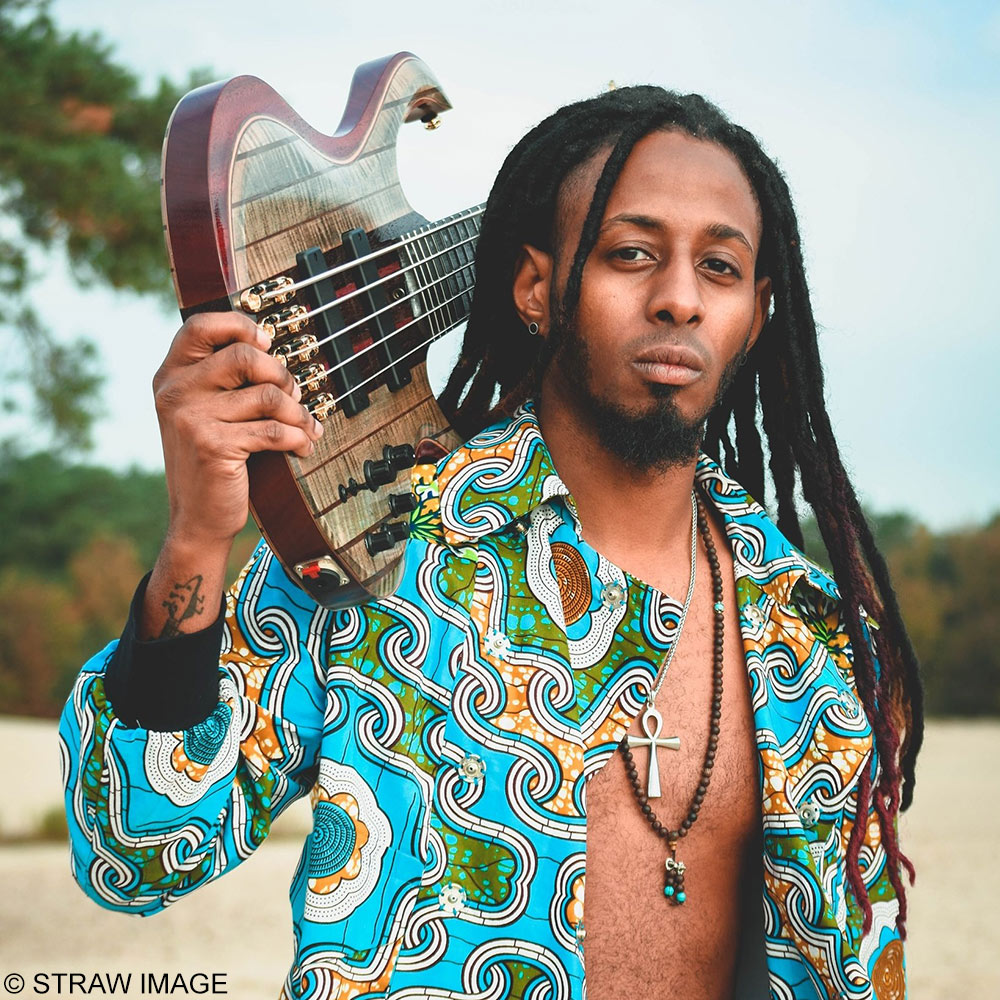 When you say four languages, which are they?
We speak Papiamento, that's our mother language. In the EP sometimes you hear me say words like 'dushi', it means 'sweetheart, sweet'. Curaçao artists are using their language a lot in their music. We also speak English of course, and Dutch, and most of us speak Spanish because Venezuela is very close.
Ok. Coming back to your EP now, how long did it take to produce it?
These songs, I've been walking with them in my head for years. I think I started producing it in early 2019. I got a performing arts fund from Fonds Podiumkunsten, that's a platform that supports upcoming artists, and they granted me enough to be able to create an EP. Before, I used to release singles only, about one each year. You know, I don't compromise with my sound, I really invest in a live drummer, live horns, I want it to be a certain quality because I just can't do things mediocre. So, I think I worked on it for a whole year. During the pandemic I had a break of like three months because studios were down, but as soon as they were operational again, I finished the last things I needed to do and it was done!
My mastering engineer lives in Germany actually, he is called Ludwig Maier. I need to come to Germany some time to say hi to him and to you guys.
Let's talk about the individual songs a bit. The EP starts with Phunky Reggae, why did you want this to be the title of the EP initially?
The way I create my songs is that I create them and I start playing them before they are recorded. This was a song that I played during a competition I did in Amsterdam, a battle of the bands, and I remember playing that song. Nobody knew me or knew the song, but after a few seconds people were singing along and it was a festival kind of feeling and I thought 'Man, this is a strong song!' It gets you in this funky Reggae party mood. I put it as the first song of the EP, so if you press play you are directly into it.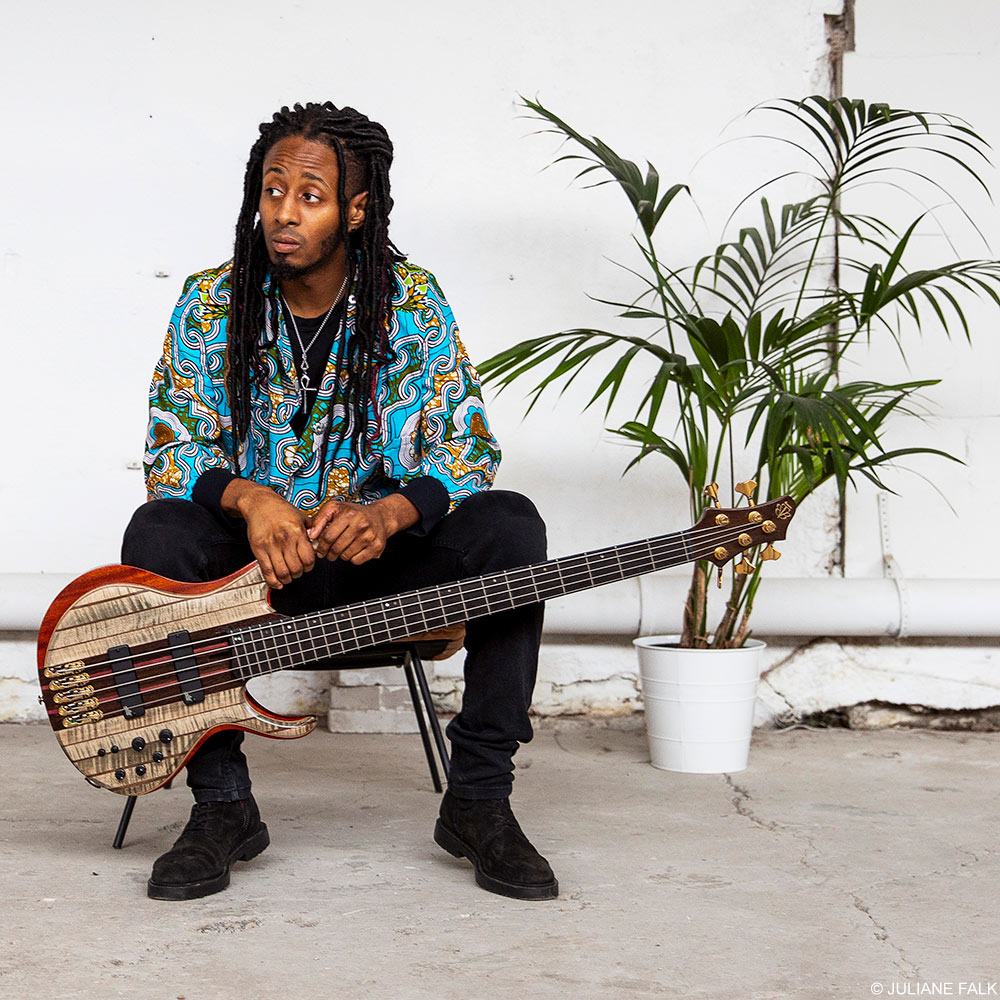 There are a lot of different styles on the EP, like modern Dancehall, tradition Reggae style, but also lovers rock...
Yes, In My Bed! When I went to Reggae Lake in Amsterdam, that's a Reggae Festival, there was Tarrus Riley and Ky-Mani Marley, all those people, and I saw UB 40, the one with Astro and Ali in it, and when I heard Ali sing, I was like 'This guy sounds just like on the record!' I grew up listening to Red Red Wine and all this stuff, and he's there, he really sounds like that! In My Bed is basically me trying to channel that nostalgic energy I grew up with. It's about my relationships with women. Some have a certain image of themselves, they think they are not worthy to be loved the way they are, and the song is about that, a woman receiving love and not knowing what to do with it. That's why in the track I say "You say I'm wrong, you don't deserve my love, know that you do" (sings). It's a struggle and I've seen that happen a lot of times, but... I have two beautiful twins now, we made it. (laughs)
How did you meet the featured artist, Mr. Weazley?
He is a good friend of mine. He was born on Bonair, so he is an island brother, but I know Weazley from another band called Leeways. I think it doesn't exist anymore, but we met each other in the club circuit, during a club tour, and we remained friends ever since. And then we both stepped out of our bands, went solo, and in that solo journey we kept supporting each other. At some point I was like 'I need a guy that has a Reggae voice and also does a bit of Rap, I need some uptempo because it's a very mellow song.' so I asked him. I'm really happy of what he did with it!
The other two features are again very different in flavour. Was that a direct influence of the featured artists or did you lay out the songs to be like that?
The songs were like that. I'm very good at attracting the right person to create that vibe. Major Dreamin' is a guy who randomly walked into my studio one day... I'm a youth coach and my job is to give a platform to the young people to develop their talents, and I run a studio and there was this DJ who had booked a session and he said "I think you should check this guy out." So I let them do their thing and once I heard Major Dreamin's voice, I thought 'Oh this guy is different!' He has this raspy... he has this thing, man! And then I asked him if he would like to jump on this particular song, because it has this urban, tropical kind of vibe, and he was into it. With Let It Go, I wanted to fuse the bubbling style which was very popular in the 90s on Curaçao.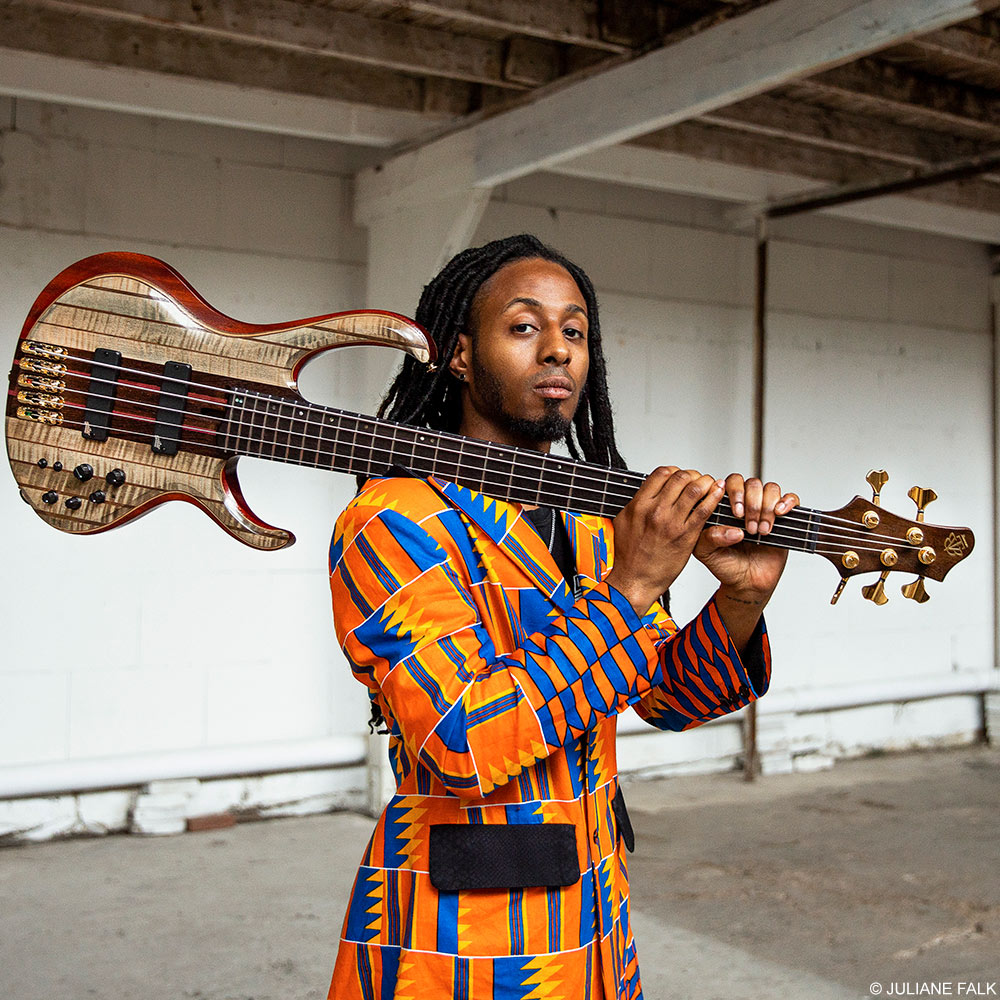 Is it a genre?
Yes. There is this DJ called DJ Moortje who made it popular, and there was this dance people used to dance to, they call it Pinocchio dance. It's like... you dance as if you are being controlled by a puppet master. That used to be very popular, and I actually want to bring that back because it fits the theme of the song. There are still people who dance it, but it's gone a bit underground. I didn't know that Covid would come, it was more like 'Free your mind from the system' or in my case, I've been in a religious cult for half my life, so I've been controlled by people or unseen forces. Where I'm at now, you see the authentic me. I have my earrings, my beard is blond, I have tattoos, I have long hair... I'm not supposed to look like this according to the rules of the cult, you know. It was that strict, so Let It Go is about letting go of other people's expectation, of society, Babylon... just find the strength inside yourself.
More Than Friends is again very different, it has a strong Soul and RnB vibe...
As a bass player, I made it my habit to know as many genres as possible, and More Than Friends needed that vibe cause I listen to a lot of different styles and I'm inspired by a lot of different people, and this is something... if you put Rebecca Strong and me in the studio, this is what comes out. I wanted to create this song that you would play after a long, sunny day, and you are in the car on the road and on both sides there are palm trees, that's what I wanted to create. It reminds me a bit of a colaboration that Chronixx did with Free Nationals called Eternal Light, I really love that song. There's still the Reggae in it, but it's very in the back.
Also, I needed a song that I could showcase my bass playing in, and that's why I played a bass solo on it. I don't know many Pop songs that really have one of those. It's also my most... how do I say it, my most intimate song because it is about leaving the friend zone, about the male and female energy that dances between each other. That's how Rebecca and I met, we had that that weird chemistry thing that didn't work out. But we turned it into a song!
Is she a solo artist?
Yes, she's more the RnB side, but she can sing everything! (laughs)
Monday Breakups also sounds very personal - is it?
Yes! (laughs) It's a song about my worst break-up ever. A long time ago, a girlfriend I had went on holiday, and when she came back she was different, she said "I need some space for myself." and I didn't see that coming. I was like "What happened?", and back in the day I couldn't accept that and started to get suspicious and went to her house. I basically found her with another guy, that was on a Sunday. The last time I saw her was Friday, so the song is literally what happened. Back then, that was my way to deal with the pain.
Funny enough, a few years later, in 2019, Monday Breakups came out as a Single, and the girl who hurt me ended up hearing this song and then her process started. She came to my home and we talked about it and cleared it up, so in a way my song went all the way to her, reached her and caused us to clear the air, the energy, cause energy is everything to me. I don't like to live with grudges or bad energy towards people. And I'm happy that writing this song caused a positive karma for both of us. So yes, Monday Breakups is a true story!
Which leaves us with Come To My Island. What was the writing process like?
This is me being a gemini again. I wanted to find a balance between expressing my emotions, to sing about how it is to be an island person living in Europe away from home, and on the other side of the balance I wanted it to be commercial, to create a song that KLM would want to use in an ad. I consider myself a painter in that song, I want to paint palm trees and all that, but also on the canvas you see that little place there that's not something you've seen before, really the local side of the island. I think I made that happen.
In general, do you compose all the songs? Or is it a joint venture with band members?
With Come To My Island for instance, I started writing it on my guitar (grabs his guitar and strums). I create everything from scratch and then I use a program that will create a very crappy demo. So I started out with that, then I played it on a festival (laughs) and then I went to the studio because at the festival I could notice what works and what doesn't. I went with one of my co-producers, Tim Kesteloo, he has this awesome band, they are called Orange Grove, they are from St. Martin, some islands above us. With Tim I took the crappy demo and started recording real drums, I let a good friend of mine, Rekesh, play the keys, but everything is based on that crappy demo. What Tim did, right, was this beautiful guitar melody after the chorus, that's the only thing I did not come up with. Oh and the trumpet player, Ruud Kleiss, he did part of the horns arrangement. So it's always a lot of my input, but I like other people's energy on the tracks as well.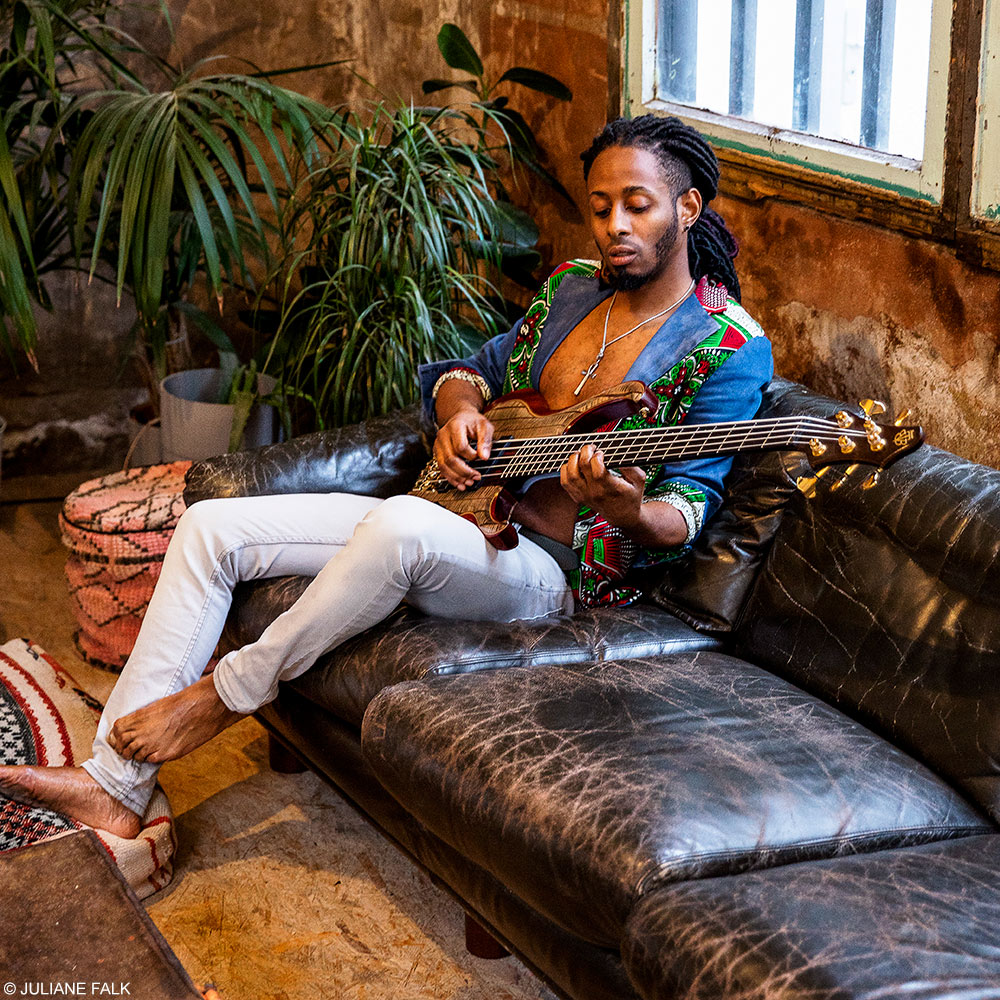 Apart from Mr. Ray Bass, you also have at least two other projects called KIZZME and Djego Real - can you tell us about those?
Djego is like an Alter Ego I developed because, again, I grew up in between those two worlds, and in my experience, what Ray Bass does is more linked internationally, like Belgium, Germany, more of a global citizen kind of project. KIZZME also, but it's more a collective project of what I'm doing as a solo artists because you have different other artists, AJ Grand, Orville, Nilson, Marise, Natalia, those are all artists and we all joined together to create this super-group. While I've been producing my EP, I've also been writing songs for them, so those two things walk hand in hand.
Djego is just me having fun and not thinking... I don't really know how to rap, but I just put myself in the studio and was like 'This is what I have to say about the politics of my country.' One small example, there was this huge drug bust where they caught 600 kg of Cocaine. They stored it in a police department, two days later it was gone. If you would make a song really seriously about it, people would get angry at me, but I put it in a Djego way which is comedy and people don't take me seriously and I still says the truth, because people need to hear it. That's not supposed to happen, it wouldn't happen in Germany, that it disappears! Without bombs, there was no shoot-out, the drugs just disappeared inside... so it's those kind of things. I think humour is a nice way to say things that hurt.
On your Instagram-channel, you posted the following: "If you ever need a person to listen, feel free to message me." Respect! What made you write that?
I take a lot of inspiration from Bob's character, and along the way in my journey I don't care anymore about the whole music industry machine. I care about the one-on-one connection with everybody, I'm not interested in the masses anymore. I would prefer to be small as long as possible so I can enjoy being one-on-one with people... where other artists want to get million followers. Of course, it's great, but everything comes with a price, so I enjoy being very small, and I prefer a hundred people who really love what I do and me as a person than five million people for which it's impossible for me to deal with them. I sell reality, what you see, the way you see me here is how I'll be tomorrow, I don't have to pretend anything. I want to be the voice of my people and show the world that all those islands, we've been through a very bad history. The fact that I can speak to you normally now, without having the hatred, I think the world needs to know that and that's what I want to accomplish with this EP. I want to be there for people, and if I don't do that, then (kiss teeth) then I don't need it.
It makes me happy to see people get free. So that's why I put things like that, and when I put it like that I mean it, I respond 1:1 to everybody. If friends come over and want to walk in the dunes and talk, let's do that! In this new world especially, it's about being there for people. I think music has always been like that.
There's not much I didn't do, I sang for the Queen before she was Queen Maxima, I played for the president of Burundi, I played for thousands of people, I don't have anything to prove to the machine anymore. I hope people feel my heart through these songs! That to me, if there was an artist like me, I would be a fan of him just how he is. I think Chronixx has that vibe. That's why I listen to those kind of artists...
Who else do you listen to?
Koffee, Burna Boy but also old stuff, The Police of course, some Dutch Caribbean stuff, Caché Royale which is the nr. 1 band of Curaçao and I was part of them as well. Ir Sais, an artist from Bonaire who made it globally. Most artists I listen to are either my friends or I played in their band or I grew up listening to them, like Gregory Isaacs, I listen to him a lot because it's the first thing I heard.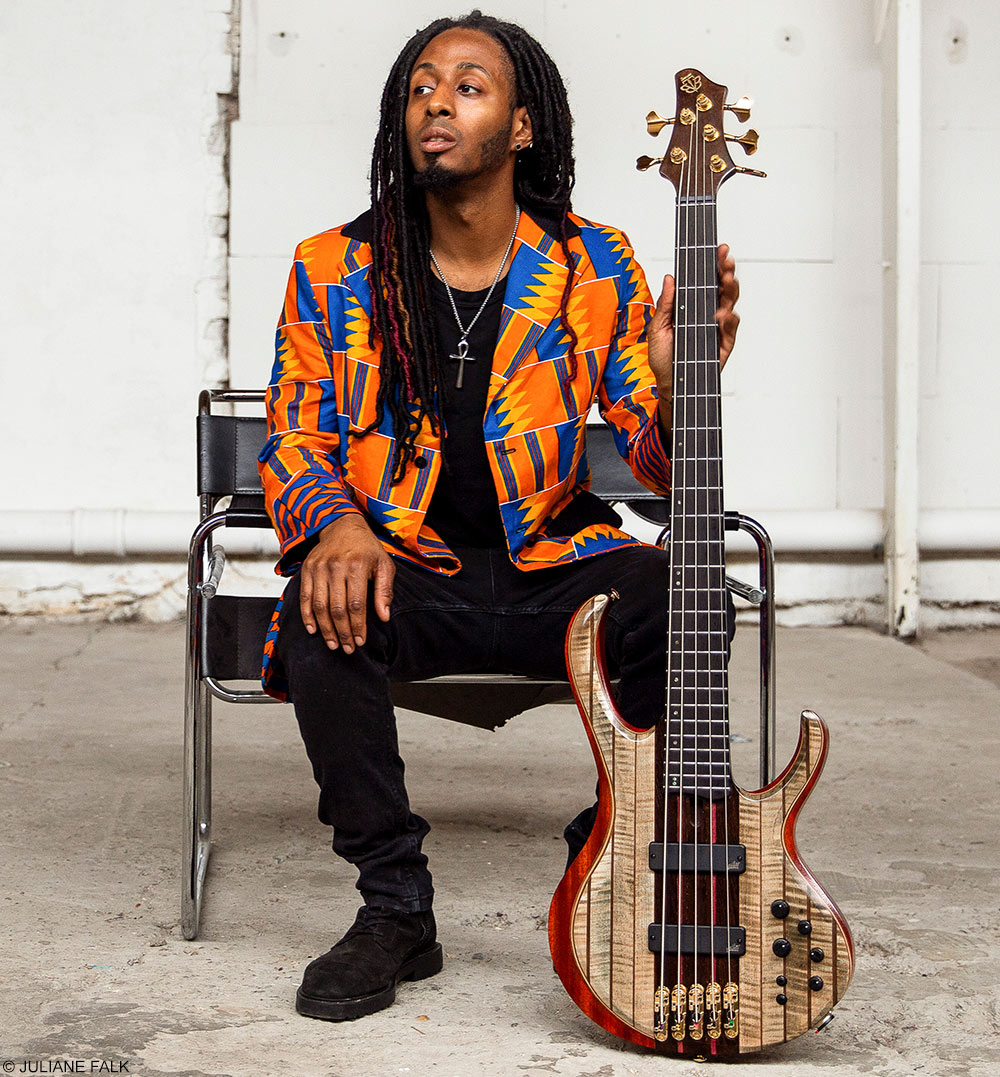 You mentioned a youth project you are involved in... what is it?
It's called Young Kreators, it's a platform I started. Apart from being an artist, I studied Media and Entertainment Management, I learned the business side of music and entertainment, and one of the things I did in my studies was that I created a Latin Dance platform. It's called Gwepa and right now they are known around the world, in Salsa and so... I chose music, but I remember how you make platforms. Ray Bass Music is a platform for Dutch Caribbean Music, and Ray Bass is an artist, KIZZME is an artist, Djego is, and I was like 'Man, in my hometown there is almost nothing for young people!'
They consider culture to be art, the painting art, and if one of my young people does a graffitti on a building they consider that illegal, vandalism. And I was like 'No, I don't see that as negative, give those kids a cubicle they can paint, then they can direct their energy!' When Corona came, the whole pandemic, suddenly there really wasn't anything for the kids, and I thought let's at least create a digital place where they can go and share their music or their TikTok-videos, whatever they are doing. As Young Kreators we just facilitate the views and the traffic to the site. That's how we ended up getting 20.000 € from the government to create this and we didn't just create it, but we sat with them in a room and asked them what it is you need, what would you like to see in your home town? And they started talking, 'We want this, we wanna do that, we want a place where we can share our music, we want to do TV formats, create Podcasts...' then we brainstormed about a name and they came up with Young Kreators.
While that is happening, I need to be an example for them as well, so I as an artist need to be successful too or they won't buy what I do as a coach. I'm really happy that you give me the opportunity, because if I tell them that I talked to Reggaeville... (laughs)
Well, you definitely did. Thank you for your time and input, and may all your projects prosper!
Thank you guys! I'll do a live showcase of the EP soon, so stay tuned.

PHOTOS © JULIANE FALK