Review
EP Review: Ray Bass - Come To My Island
03/26/2021
by Gardy Stein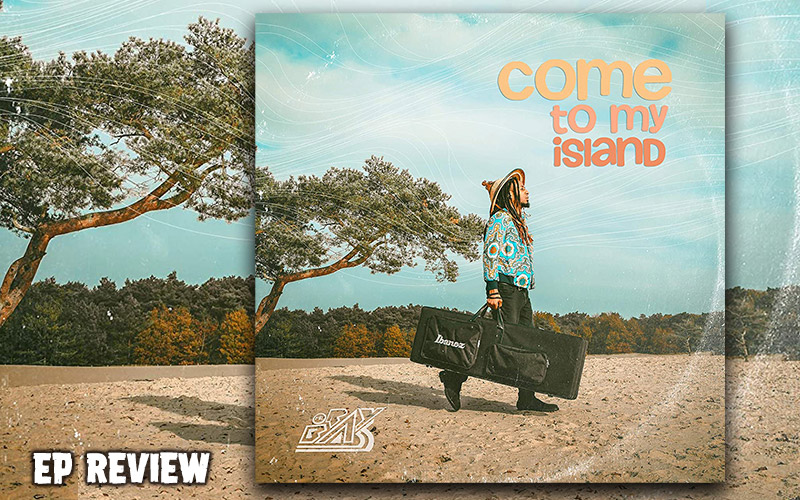 Island (noun): from Old English igland, iegland (from Proto-Germanic *awjo "thing on the water," from PIE root *akwa- "water") + land
In the midst of this global pandemic, who of us hasn't dreamed about escaping to an island where no virus, no contact regulations, no stress whatsoever can reach us? And who wouldn't follow an invitation like the one so cordially extended by Mr. Ray Bass? Fresh like the spring breeze, his debut EP Come To My Island wafts through the lands, promising wanderlust and sweet music.
Riëndy Holder, the multi-instrumentalist, composer and singer behind the project, knows what he's talking about. Born on the little island of Curaçao, he grew up between the Caribbean and the Netherlands, thus absorbing both worlds, a treasure he draws from in his creative output. This diversity is reflected in the six songs of the release - none is like the other. The host of musicians that contributed to the EP (Tim Kesteloo, Rekesh Dukaloo, Joshua Regales, Ruud Kleiss, Simon Kelaita, Jacobo Garces, Freddy Poncin and others) bring the various styles to life, and both production, mixing (by Sonic Wizards & Tim Kesteloo) and mastering (by Ludwig Maier of GKG Mastering) are immaculate.
Kicking it off is Phunky Reggae, a bubbling Reggae tune that holds what its title promises and is made for live performances (or, alternatively, for joyful dancing sessions in your living room). More of a lover's rock flavour, In My Bed calls for a partner you can coordinate your movements with. The prominent bass-line paints a picture of Sundays spent in bed with your other half, of mutual regaling and sweet romance. Featured artist Mr. Weazley hails from Curaçao's neighbouring island Bonaire and adds a nice contrast to Ray Bass' softer voice.
Not at all soft is the urban, tropical vibe of the subsequent Let It Go. Merging modern Dancehall and Latin-Caribbean elements, the track is an ode to your personal freedom, asking you to cut the strings attached to that 9-to-5 grid, at least sometimes. The raspy, sexy vocals you'll encounter on this one belong to feature Major Dreamin', a youth honing his skills in a community project Riëndy runs in his home-town Soest.
Back to classic Reggae, guitar skank and brass harmonies and all, the title track takes us on a "trip to paradise", as Ray Bass tells us. It's almost like a colorful promo-video, advertising the beauty of the small island Curaçao which is not overrun by tourists as yet. More Than Friends is, again, a complete change of mood and topic. Soul and R'n'B are the home waters of feartured artist Rebecca Strong, and together the singers explore the mysterious intertwinings of male and female energies. Their harmonies are amazing here, especially when they sing in two voices.
How it feels when a twosome turns solo is described in the final entry, Monday Breakups. This very personal song deals with a sudden separation the artist faced a few years back, but it's not a mournful ballad, mind - the lilting riddim rather let's you think of Surf-Reggae, California style.
Come To My Island is a gentle, convincing firstling that puts an island on the Reggae map which hasn't played a big role so far. And those of us who can't make it to Curaçao directly are prompted to find this island in your immediate surroundings, be it a lonely spot on the riverside, a lush tree in the park or the top of a hill. We hear you, Mr. Ray Bass!
---
Release details
Mr. Ray Bass - Come To My Island EP
DIGITAL RELEASE [Ray Bass Music]
Release date: 03/26/2021
Tracks
1. Phunky Reggae
2. In My Bead fest. Mr. Weazley
3. Let It Go feat. Major Dreamin', Jasmin-Ann & Isøbel
4. Come To My Island
5. More Than Friends feat. Rebecca Strong
6. Monday Breakups