Review
EP Review: Mortimer - Fight The Fight
11/27/2019
by Steve Topple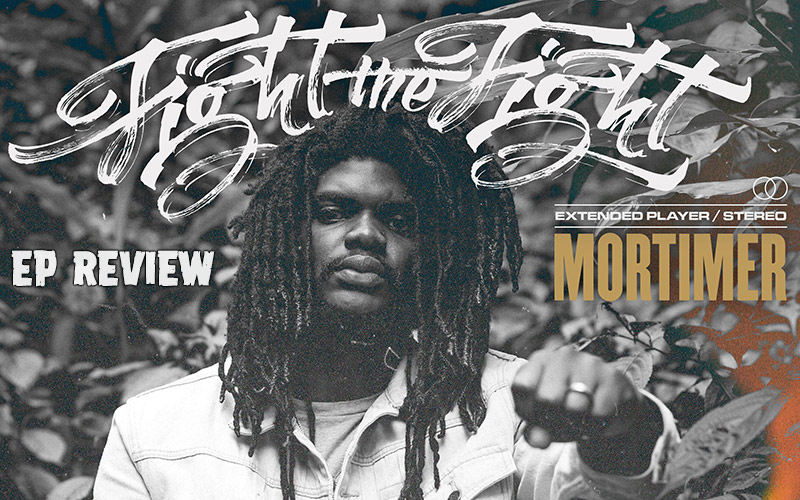 Every so often an artist comes along whose voice and musicality takes your breath away. One such performer has just released a new EP. So, Mortimer: consider my breath taken.

Fight the Fight (Easy Star Records) is the highly-anticipated release from this multitalented artist, who shot to prominence on collabs with Protoje. Written and produced with the Grammy-nominated Winta James, Mortimer's the EP is a melting pot of styles, genres and themes. But moreover, it is a scintillating introduction to this deliciously talented artist.

Musically, Fight the Fight weaves together elements of Roots, Dub, Soul, RnB, Hip Hop and even Jazz. This blem of genres has created an intricate experience; firmly grounded in reggae but with soul as the EP's main influencer.

Listeners may well be familiar with the opening two tracks, Careful and Lightning. The latter was possibly one of the best songs of summer 2019. A glorious mix of roots, lover's rock, soul and even jazz, it's almost neo soul in its hybrid nature. Lightning is also a powerful showcase for Mortimer's effortless vocals. He glides smoothly between a high-end baritone, then into a tenor and finally soaring to a falsetto, an octave higher, for the final chorus.

Misery provides an interesting variation on the one drop. It combines RnB keys which double up with a bubble rhythm; a Hammond organ flits in and out, and acoustic guitars strut an almost Latino swagger. A nod must be given to the track's co-composer, Oliver 'Cadenza' Rodigan, whose inimitable style combines perfectly with Mortimer and Winta's.

The EP's title track Fight the Fight is almost a ballad to Bob Marley and The Wailers. The funky ska horns and truncated rocksteady bass line contrast with the punctuated, repetitive offbeat guitars. But Mortimer takes Marley's classic style and moves it into soul territory, with the track's tightly arranged RnB backing vocals, intricate percussive arrangement, and again with a Hammond thrown in, along with a clavinet, for good measure. A shout out must go to backing singer (and with her debut EP, now the First Lady of Ghetto Youths International) Sherieta Lewis, whose gorgeous vocals compliment Mortimer's perfectly. Bob would surely approve.

The final two tracks are perhaps the EP's stand out works.

Style & Grace is a joy to behold. Mortimer and Winta make complex use of a multitude of musical devices. In one instance, the acoustic guitars almost nod to Latin America. But their electric counterparts come from a place of funky soul, with one particularly prominent riff that drops just at the end of one bar and then winds across the first two beats of the next. The dubby synths and reverb are back and the keys keep Style & Grace's trajectory going, across a bubble rhythm. But take away these influences, and the track is actually pure Hip Hop/RnB. As my girlfriend put it, a bridge from Nas wouldn't go amiss.

Fight the Fight concludes with No Lies. It uses the same, Hip Hop-laced riddim as Protoje's Bout Noon. But Mortimer has firmly stamped his fast-becoming soul/reggae signature style all over it. The sun-soaked, aching electric guitars could have come from Ernie Isley's nimble fingers. But they're from the equally nimble Lamont 'Monty' Savory. And as with Lightning, No Lies is the perfect vehicle for Mortimer's voice. He flits with ease between ranges, and also styles – from soulful, Maxwell-esque vocals to a smooth singjay.

Lyrically, Fight the Fight potently displays Mortimer's skills as a story teller. The cautious tale he tells in Careful may strike a chord with many people, and Misery develops this further. It's a damning indictment of politicians, the media and the system – and how it, essentially, envelops so many people to the point that they don't even realise. As Mortimer rasps:
"Truth covered in lies, weeping and wailing people dying. Something in the food causing the people to go mad. And something with the bullshit they've been teaching the youngsters…"

The EP perhaps showcases Mortimer's own vulnerability in this respect. Because coupled with the cautious distrust of Careful and the scorching commentary of Misery are songs of almost praise to his Queen, in Lightning and Style & Grace. But it is perhaps the title track which best sums him up. It shows that, whoever we are, we all have our own battles to fight. But ultimately, even with these battles, faith and love will prevail.

Overall, Fight the Fight is near-perfect. It serves to project the sum of Mortimer's parts - a person with a clear, righteous path in life but with all the sensitivities most of us have.

Much like the man himself, the EP is humble, raw and real, musically precocious and consciously searing. Him and Winta have created a project truly befitting of modern soul-based roots and its purpose. Fight the Fight stands as a work of scalding musical, social and spiritual relevance, hinting at Mortimer's future promise as a truly inspiring and groundbreaking artist.

---
Release details
Mortimer - Fight The Fight EP
DIGITAL RELEASE / VINYL / CD [Easy Star Records]
Release date: 11/15/2019
Tracks
1. Careful
2. Lightning
3. Misery
4. Fight the Fight
5. Style & Grace
6. No Lies
Produced by
Phillip 'Winta' James