Review
EP Review: Mo Ali - Alhamdo Lilah
08/31/2020
by Gardy Stein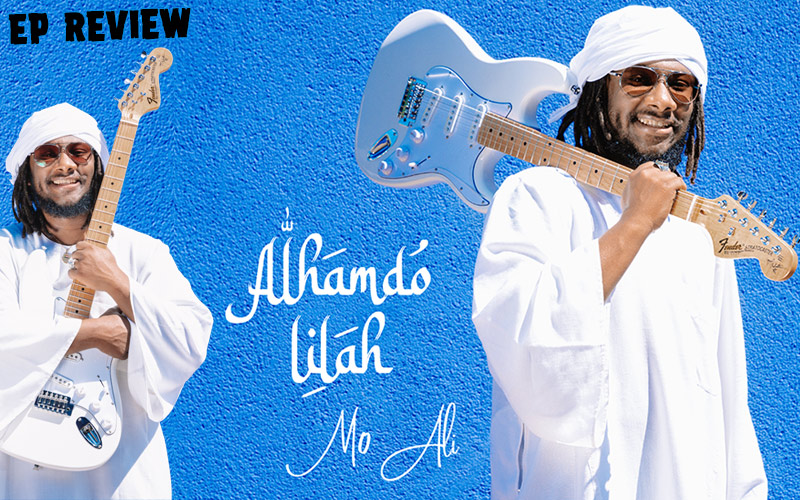 A firstling is exciting in so many ways! Even if a given artist has released Singles before, a debut EP or album gives us a thorough impression of his or her music, vocals, songwriting and message - in short, the general sound. It's exciting for the artists as well, presenting their blood, sweat and tears to the world, curious about the reactions it will envoke.
A new name in the Reggae Universe is Mo Ali, who has made his mark as lead singer for Sudan Roots and the Marley tribute-band Rootsriders, but grows to be recognized for his solo-works as well. Born and raised in civil-war-ridden Sudan, this young man has more than one lifetime's stories to tell and, having settled in the Netherlands a few years ago, he finally found the opportunities and the peace of mind to do so. With Alhamdo Lilah, he now releases his debut EP with DMF Records containing five tracks, produced mainly by himself: rhythm guitar, bass, drums and keyboards are all played by the artist him, with additional input from Dinesh Badri (lead guitar) and Guido van de Wijdeven (trumpet). Composition and lyrics come from Mo Ali as well, however Samir Shugami is mentioned as the main writer of Mama I'm Sorry and I'm Moving On in the credits.
Which brings us to the music itself! Starting with the well-known Hamdala, the title track is a praise of the Almighty. Onto a laid-back, very rootsy Reggae beat, Mo Ali sings about his country of origin and his unwavering conviction that everything will be fine because "Allah would never let us down". On a slightly faster pace, I'm Moving On reflects on both the sweet memories from the past and the necessity to keep moving ahead.
Mama I'm Sorry starts with a message left on an answering machine, apologizing for making Mama worry. What exactly she had (or has) to worry about the song doesn't tell us, informing us instead about the qualities of said mother. Musically, the track is beautifully arranged, starting with an intro that somehow reminds me of the instrumental interlude of I Shot The Sheriff. These Marleyesque chords and arrangements shimmer through in most songs, no doubt a result of the huge impact Bob had on Mo Ali when he discovered his image and his music in an uncle's house as a child.
No exception to this heart-warming reminiscence is Still I'm Waiting, a sincere and yearning love song that crosses the distance of thousands of miles. The track showcases Mo's unique voice which is bright and comparatively high-pitched, hitting every note without being clinically clean; in fact, it's exactly the instances where it breaks up a little and shows a certain vulnerability that it is most relatable. We feel you, Mo!
Closing the EP is Afaalk, a track sung in Arabic. While I can't tell you much about the topic, the use of the artist's native tongue confers a strong authenticity to the whole release, allowing us to sense a lyrical depth not as easily perceived in the English verses.
Alhamdo Lilah is a vibrant proof of how Reggae was able to take root worldwide. Mo Ali delivers high-quality Roots Reggae expressing a deep spiritual connection to music, faith and Rastafari. Let's hope his message of peace and love is heard in his country of origin that still struggles to shed its violent past. As Mo Ali sings in Moving On: "Despite the trouble we got to keep on moving (...) talking about peace and bringing new peace solutions!"
---
Release details
Mo Ali - Alhamdo Lilah
DIGITAL RELEASE / CD [DMF Records]
Release date: 08/30/2020
Tracks
01. Alhamdo lilah
02. I'm Moving On
03. Mama I'm Sorry
04. Still I'm Waiting
05. Afaalk