Singer France Nooks Killed on Bob Marley's Birthday in Kingston
02/11/2018 by Gardy Stein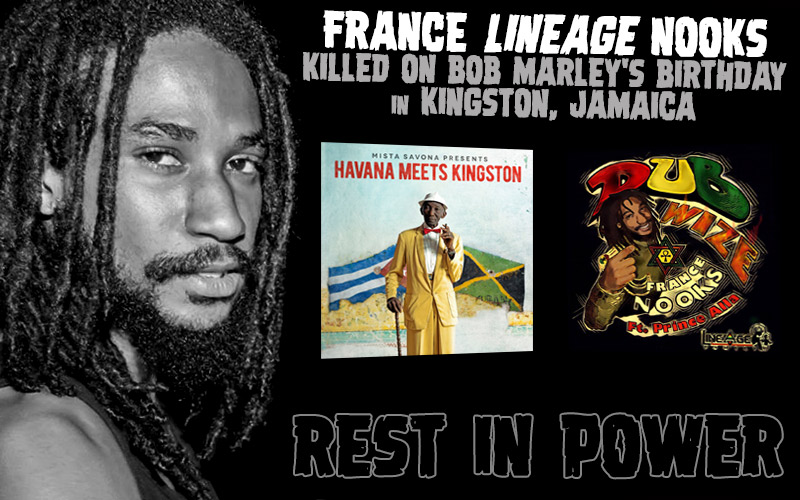 Having faith in humanity is not easy sometimes. While filthy lucre is always the worst possible reason to attack someone's health or even life, it's especially painful if the victim is as humble, likeable and talented a youth as France Nooks. His contributions Heart Of A Lion and Dubwise are two of the most exciting tracks on the millennial release Havana Meets Kingston, and his artistic output has been on a continuous rise.

Over the ridiculous sum of JA$ 100 (about 1 US$), he was mortally wounded on Tuesday afternoon on his way to the Bob Marley birthday celebration on Hope Road. "The 25-year-old died while undergoing treatment at the Andrews Memorial Hospital from a stab wound allegedly inflicted by an irate taxi driver.", the Jamaica Star reported last week, saying that France came from the office of his aunt Sharon Burke (CEO of Solid Agency) where he had just gotten a contract to shoot a video and prepare a trip to Europe for further recordings.

Especially devastating is the loss for his Lineage Family, a group of young artists who came together a few years ago to promote love, unity and Reggae music. Aza Lineage posted on Instagram: "My eyes full a water, and my heart is burning. Selassie I know youth! U neva deserve dis. Rest well me Lineage. (…) The Mission continues in your Honor. One Line." And Kevin Lineage Morrison added: "Words cannot express, mi little bredda that grew into one of my closest and a valuable friend, I can only hide my tears for so long. France Lineage Nooks, The Douglas family, The Nooks family, Lineage family, we shall stay firm and strong."

As the taxi driver responsible for this senseless death is still at large, the Kingston Police is urgently looking for witnesses to report about the incident. Their inability to catch the murderer has prompted the Jamaica Observer caricaturist Clovis to issue a painfully accurate caption of this state of affairs (see below), and although any discussion arising from this will not bring France back, it might lead to a more thorough control of taxi licenses and thus, ultimately, more safety on Jamaica's streets.