Review
Album Review: Mighty Mystic - The Art of Balance
03/13/2016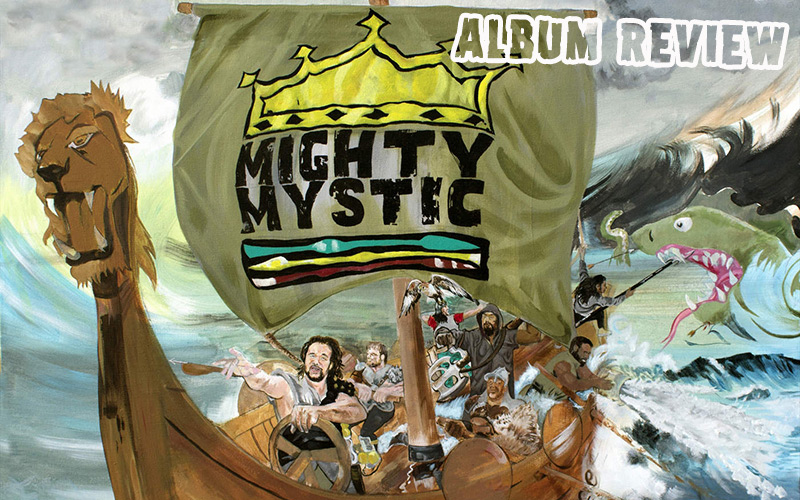 There's a surprising number of crucial reggae releases from the US this year: Taj Weekes & Adowa's Love Herb & Reggae finally hit the stores, J Boog has an EP coming up, Groundation is preparing the release of a new album, and their own Professor releases another solo album. SOJA's Amid the Noise and Haste still feels fresh. And East Coast rocker Mighty Mystic presents his third studio album, The Art of Balance.

The preceding album Concrete World debuted the Billboard reggae charts at number six, but ended up getting less attention than it deserved. The Art of Balance now sounds more rootical than its predecessor, with a rocky mainstream appeal that somewhat recalls Peter Tosh at times, and a few quiet acoustic songs in between. It comes with 15 tracks produced by Kevin Mark Holness a.k.a. Mighty Mystic himself. His brother Stephen "Thunder" Holness co-produced a few songs (and painted the cover artwork).

Mighty Mystic explains the title of his new LP: "I went into this album the same way I live my life, which is as close to being balanced as possible. Balance in fun, seriousness, laughing or crying, health and well being, and knowing when it's OK to eat a little junk food. While that might sound corny, it's true. I like to keep my life balanced, so why not the music."

"Yes I'm feeling irie/Got my girl by my side/Put my troubles behind me," this is how Mighty Mystic rocks in the opening track, How I Rock, over busy organs and a squeaking, old school-ish rock guitar–classic 1970s roots rock reggae delight. Rebel has more of a 1980s feel to it with its extensive use of synthesizers. Something Bout Mary had been released as a single prior to the album release. It plays on the too obvious personification of Marihuana as a beloved girl, but is well executed and ends up being one of the strongest tunes on the album.

The more sincere Red Light Girl adds some commiserative social commentary, but leaves less of a lasting impression. How Many Miles is a melancholic piece of lovers' rock, a style that suits Mighty Mystic's voice well. Fast Car shows a more lighthearted version of him, but is far from being shallow. A synthetic brass section adds a retro touch to it. Woman sounds slightly depressive and cursory.

Easy takes it acoustic, but keeps the red-vinous atrabiliousness. So does Solid As a Rock, despite of its spirited title. The album speeds up again with Boys In Blue, a song speaking out against police brutality and racism. With its irresistible bass line, it's one of the highlights on The Art of Balance. The somewhat moony Only Birds abandons realism for a utopian sweven.

High Grade is another Ganja tune, again based on too self-evident metaphors, but strong nevertheless. Is Not Gold, the dubby Only The Strong, and the ingenious Blackened round up this well-balanced LP. This album is another strong effort by Mighty Mystic, who seems to have found his musical comfort zone.


---
Release details
Mighty Mystic - The Art of Balance
DIGITAL RELEASE / CD [Roots Musician Records]
Release date: 03/11/2016
Tracks
01. How I Rock
02. Rebels
03. Something Bout Mary
04. Red Light Girl
05. How Many Miles
06. Fast Car
07. Woman
08. Easy
09. Solid as the Rock
10. Boys in Blue
11. Only Birds
12. High Grade
13. Is Not Gold
14. Only the Strong
15. Blackened