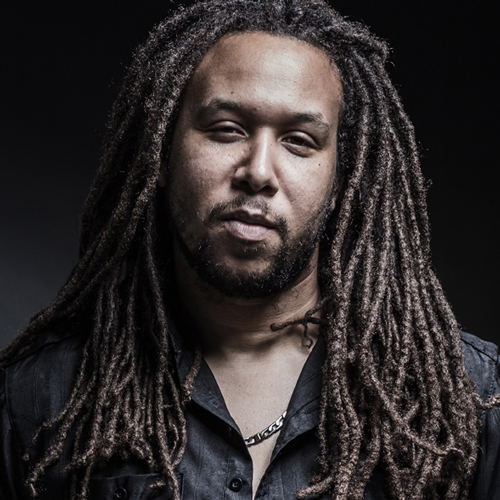 Considered one of the leaders in the East Coast Reggae Movement, reggae artist Mighty Mystic's fresh sound and musical diversity has proved to be a magnet for music lovers in search of something refreshing and new. It has attracted listeners of all ages, and from all walks of life. A charismatic man on a mission: Mighty Mystic has gone from being a fan of reggae music, to being a contributor to the art. On November 24, 2010, after releasing singles for nearly four years, Mighty Mystic released his debut, full-length album "Wake up the World" which hit iTunes, Amazon, and everywhere digital downloads were sold, by storm. The album peaked at #4 on iTunes Reggae Charts, and unleashed 17 brand new original tracks, mixed with fan favorites out into the world. Mystic shares, "My album can be summed up in one word: Universal. Music is life, and life is very broad, so I wanted to design something that can suit all people, that was my mission with this album."

THE MAN BEHIND MIGHTY MYSTIC
Mighty Mystic was born Kevin Mark Holness, in the countryside of St. Elizabeth, Jamaica. As a child, Holness showed early
interest in his native island's music. It was common to hear him singing songs like "Buffalo Soldier," "What the Hell the Police Can Do," or hymns sung in Sunday morning church. In 1989, Holness relocated to Boston, as his family was in search of a new life. It was then the sounds of Mighty Mystic were born, as he began to wet his feet in the local music scene. When it came time to find a name which best suited him, Holness choose "Mystic" which was the childhood nickname of his father, and coincidentally the area where Holness and his family relocated to in Boston." The name just fit. He shares, "When I moved to Boston, I realized the North East region was very influenced by the hip hop scene of the early 90's, and it also had a bubbling reggae market. I wanted to hold on tight to my Jamaican reggae influences, even while living abroad. A huge part of my inspiration is directly linked to the teachings that my family instilled in me. They were beloved in our Jamaican community, for all work, devotion and overall help onto others, and this is something that truly inspired me to do the type of music I do."

DEVELOPING THE MUSIC
After several years of working on his craft and developing several smaller scale releases, Mighty Mystic teamed up with producers Mike Cip & Stephen Thunder to record Mystic's first national / international venture. The team wasted little time, and scored a hit with their first release of the single, "Riding on the Clouds" in 2006. The song was received with tremendous praise, and stood on top of the Reggae charts, both nationally and internationally for the following two years. Mystic continued on his early success with the release of singles "Better Times," "Fire Town," and "Revolution," all of which gained him more popularity on the East Coast. "Better Times" went on to become WERS 88.9 FM New England Radio's "Rockers" radio hit pick.

Mystic's early successes landed him on his first major tour in the spring of 2006. He played in Hartford CT, New York City, New Jersey, Maryland, Philadelphia, Orlando, Fort Lauderdale, and Miami. He returned from the tour more passionate and devoted than ever, and immediately threw himself back into the studio. Over the next six months, Mystic, Cip & Thunder recorded, mixed, and mastered over 80 songs for Mystic's next project. He would emerge with a diverse catalog and a more universal sound, along with another key element, adding a band to the Mighty Mystic brand. The first single from this new venture in music was released in November 2008, and was entitled "Here I Am" featuring Reggae pop icon Shaggy. The song was an instant success, and could be heard on college and urban mainstream radio nationwide, while also being seen on TV, on shows such as MTV JAMZ. Mystic kept the good vibes flowing with the 2009 releases of singles "Slipped Away," "Free," and "Hero." In November 2010, he released his debut full-length album "Wake up the World," and is still releasing singles and music videos off the album today.

Mighty Mystic has turned himself into one of the more highly sought after U.S based Reggae artist on today's scene. His brand of "HARD ROOTS" Reggae mixed with elements of Rock and Hip Hop has proven to be a magnet to young music lovers all over and continues to grow rapidly. He has toured and shared the stage with some of Reggae's biggest names such as Steel Pulse, Damian Marley, Lee Scratch Perry, Barrington Levy, Buju Banton, Shaggy, Collie Buddz, Badfish, Sean Paul, Dirty Heads, SOJA, John Brown's Body, and Beenie Man to name a few. Mystic has headlined several popular Festivals and sold out some of the more prestigious venues across the U.S., i.e. the Paradise Rock Club - MA, Middle East - MA, Port City Music Hall - ME, Nectars – VT. It's a common occurrence to see his devoted fans travel hundreds of miles from concert to concert to see him live and partake in the mystic aura. Mighty Mystic is currently in the final stages of recording his sophomore album which is due out early 2013.