Review
Album Review: Marcus Gad - Rhythm Of Serenity
03/13/2020
by Gardy Stein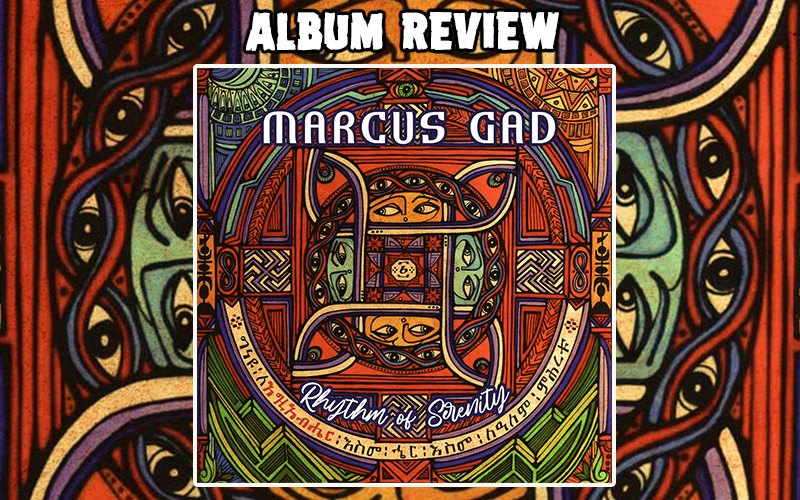 /sɪˈrɛnɪti/ - noun: the state of being calm, peaceful, and untroubled (Oxford English Dictionary)
Our world is in desperate need of calm and peace, on all levels - be it politics, human interaction or even music. For the latter, especially the void left by the passing of Vaughn Benjamin aka Akae Beka last year, one of the bringers of said calm, is hard to fill. Among the few artists who can claim to continue on the path this lyrical prophet has hewn is Marcus Gad. The New Caledonian singer has, from his first releases Soul Talk (2015) and Purify (2016) via the acclaimed Chanting (2017) to Enter A Space (2019), displayed in his works the same deep consciousness, the same lyrical genius and the same enchanting, hypnotic vocals and stage presence.
With Rhythm Of Serenity, he now presents his new opus, produced by Zion I Kings, a collective of producers and musicians from Zion High Production, I Grade Records and Lustre Kings Productions who worked closely with Midnite and, later, Akae Beka. Producer Andrew "Moon" Bain, who contacted Marcus some years ago and suggested a collaboration, explains: "This album may hold the widest chronological expanse of Zion I Kings productions ever. From our first session to most recent and some gems from in between. Paired with well crafted songs from start to finish. It's been a joy to create with my brother Marcus Gad and the team." (Dec. 13th 2019, Moon's Facebook Page).
The singer himself says about the process of creation: "When Moon came with riddims, I was listening to them and one or two hours after I was on the microphone to sing my texts. The track "Rhythm Of Serenity" had been done like this, wrote in less than one hour and something magic happened in the studio. That's why we chose to name the album like this. And it represents well what we're doing: calm reggae with a spiritual message. (...)"
That's exactly what the title track provides. Vibrating on a high spiritual plane, it carries us off into the soundscapes Marcus so effortlessly conjures up, finding exactly the right words to bring his message across. "Rastafari set the people free, reveal to the heart what the eyes can't see." The song's melodic guitar theme bears proof of the high musical quality of the 13 tracks of the album, as does the fine horn section in the opening Rebel Form Of Soul.
Sitting on an equally relaxed beat (as do most songs, except Live Life maybe), with the addition of the crystal clear sparkle of a piano, Take Some Time calls for a shift in the focal points of education. "Devotion over desire"! Slower still, Become A Nation paints a metaphorical picture of the strength people command who are aware of their position and who, above all, unite.
The only French song of the album, the powerful Pouvoir is, according to Marcus, a "song dedicated to Kanak people. (...) It is a call for indigenous people regardless of where they are to conserve their traditions and stay who they are keeping faith." It asks those who still live a traditional way of life to protect and conserve their strength, memories and knowledge, and the way the singer coruscates vocally shows how much this subject matters to him.
Overcome speaks of the ancient struggle between good and evil, stressing the positive forces Jah children are bound to contribute. "We a overcome evil with love!" With Blakkamoore, a like-minded spirit joins Marcus on the Nyabinghi-based track InI Royal, convincing the listeners of their innate dignity and nobility.
A personal favourite, Oh Mama will literally let you melt away due to its exceptional beauty of melody, instrumental and vocal delivery. The many thought-provoking impulses the lyrics provide are another plus: "Is our ancestry of the body only? Is the brain the only keeper of I memory? Or is there something more that most a fail to see, like the soul could a move transmigrationally, and we all carry bits of every history, and we all carry some responsibility." Universal connection over seperation based on mere physical traits!
Other stand-out tracks for me are the earth-sanctifying Honoring The Soil and Leggo Your Ego. Especially the latter is illustrative of the fascination this deep, decelerated beat, coupled with Gad's meditative chanting, has on us. Even more so, the video, including long passages of slow-motion takes, invites us to leave stress and hectic behind, strip our lives from unnecessary material attachments and re-connect with our inner selves. Where is my yoga mat?
A beautiful piece to finish this album is Nature Like Scripture. Accompanied by the sound of rolling waves (or rain?), it invites us to read in nature as most do in the bible, as you will be able to discover true divinity in the "rhythms of the season". Feel the tempo!
In case you have accompanied this review with a listening session of the album, you'll propably feel completely relaxed and at peace by now, as if after a massage or a sauna session. Rhythm Of Serenity has the gentle power to bring a soothing calm to the over-stimulated, chaotic world we are living in, shining in the light of musical and lyrical genius. It may be less surprising than the exceptional Tamal-collaboration Enter A Space released last year, in that it bathes in more traditional Roots waters, thus providing a treat both for purists of the genre and those who wish to discover the spiritual realm of Reggae music. Rounded off by the skilful mastering of Laurent "Tippy I" Alfred as well as the intriguing visuals of Selam Semrete Selassie, Rhythm Of Serenity will certainly become one of the staples we'll feed on for years to come.
---
Release details
Marcus Gad - Rhythm Of Serenity
DIGITAL RELEASE / CD [Lustre Kings Productions]
Release date: 03/13/2020
Tracks
01. Rebel Form of Soul
02. Take Some Time
03. Become a Nation
04. Pouvoir
05. Overcome
06. Rhythm of Serenity
07. Ini Royal feat. Blakkamoore
08. Oh Mama
09. Cane & Cotton
10. Honoring the Soil
11. Live Life
12. Leggo Your Ego
13. Nature Like Scripture
Featured artists
Jahdan Blakkamoore