Review
EP Review: Marcus Gad meets Tamal - Enter A Space
03/07/2019
by Gardy Stein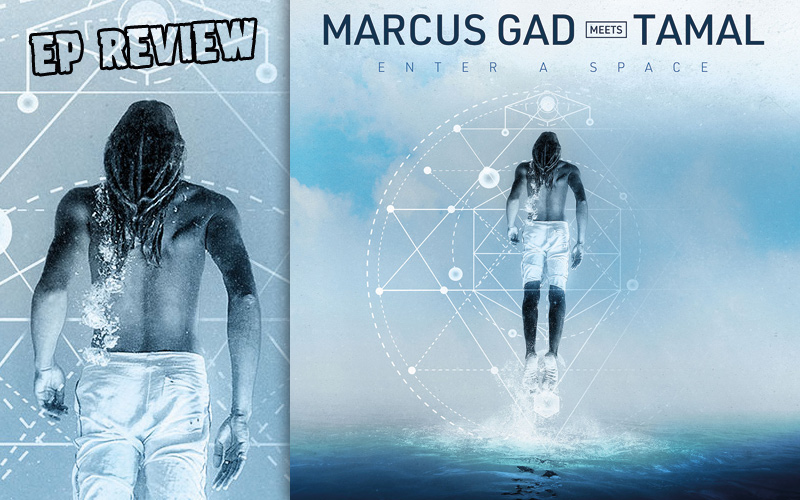 Seldom have I followed a directive more willingly than this one: Enter A Space! The EP just released is the fruit of a collaboration that seems to be the outcome of divine planning: Marcus Gad and Tamal! The New Caledonian singer and the French producer are one of those rare perfect matches that astonish the world with the sheer beauty of their music, as have Protoje and Winta James, Royal Blu and Foresta or Biga*Ranx and Blundetto in the past years.

Enter A Space is different from its more Roots-oriented predecessor Chanting and will immerse you into a whole new dimension of sound. Influenced by Marcus' travels around the world and Tamal's affinity to African and World Music productions, the six tracks included each convey a different but equally pleasant vibe.

With its slowed-down Reggae drop and the minimalist instrumentation, the title track instantly makes you exhale, and by the time Gad's voice kicks in, you are more than ready for its warm embrace. Luring you into a meditative state of mind, the lyrics seem to fall directly into your midst, talking to your deepest inner self. This journey is continued with the bluesy I Want To Know, and, as with all the other songs, you'll have to listen to it several times to catch all the small nuances of meaning hidden in it. "To go deep in something to reach ovastanding..." is an advice made by Prayers, for instance, another beautifully calming song.

Inna Nature adds the incredible voice of Losso Keita to Marcus', the two of them praising the beauty of nature and its elements. Tinged with a melodious Desert Blues vibe, the song carries us seamlessly over to Live Up To The Day, one of the two tracks out on video as well. As the vocals, the carefully orchestrated instrumental and the lyrics, the accompanying visuals are a piece of art in themselves, filmed in the Himalaya region. The only other track out on video is the single released earlier this year, River. Shot in collaboration with Mumbay's Rafique Shaikh, it takes us on a deeply spiritual journey through the holy city of Varanasi, telling us that we are spiritual beings and our souls define us, not our material possessions nor even our body. "Like the river hold on to nothing and flow to the sea what I am was not born, it is eternally, forever it hs been, forever it will be...". These are some true teachings right here!

Marcus Gad is an artist that you just can't be ignorant of. Gifted with an exceptional voice, an almost superhuman feel for melody, wording and tension as well as surrounded by brilliant musicians to lend the appropriate sounds to his message, he joins the likes of Vaughn Benjamin and Zion I Kings in their mission to inspire people and raise human consciousness. Please, enter that space!

---
Release details
Marcus Gad meets Tamal - Enter A Space EP
DIGITAL RELEASE [Baco Records]
Release date: 03/01/2019
Tracks
01. Enter A Space
02. River
03. Live Up To The Day
04. I Want To Know
05. Inna Nature feat. Losso Keita
06. Prayers