RIP Majek Fashek - The Rainmaker
06/03/2020 by Gardy Stein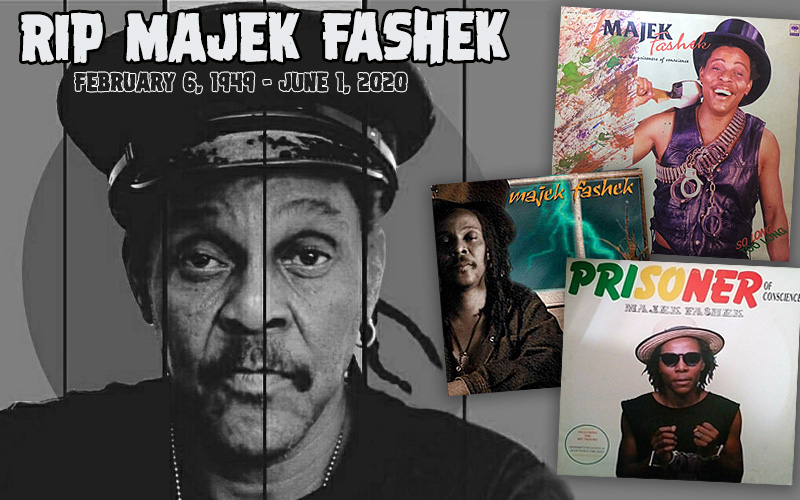 "Heaven and earth, moon and stars shall pass away, but that the spirit of love shall remain the same." (Spirit of Love by Majek Fashek)
Majek Fashek, African Reggae pioneer from Nigeria, has passed away at age 71 in New York last Monday (June 1st, 2020). The performer, guitarist, singer and songwriter with the given name Majekodunmi Fasheke has been influenced by Bob Marley throughout his formative years, and his songs (e.g. So Long for Too Long or Free Africa, Free Mandela) carried a strong message of freedom and justice.
Probably most famous, however, he was for the single Send Down The Rain from his 1988 album Prisoner of Conscience, the release of which was followed by heavy rains that ended a terrible draught in the region. He was fondly called "The Rainmaker" ever since.
A moving tribute to the deceased is written by Victor Essiet (The Mandators):
"Majek "Dread" Fashek - I am proud to say I was your brother. Even though we haven't spoken in a while, I always knew you were there! It hurts to see you leave like this, too soon!! I know you fought like a soldier, and as a soldier. There's work still to be done Dread!! As Jah army is losing great soldiers, who's gonna fight this raging battle for Jah people? Though this journey is an inevitable one, I still wish you didn't have to embark on it. As hurtful as it is for me to say goodbye. I have no choice than to say fare ye well my bredren. "Dread" Fashek as I usually called you.
Though physically you might be gone, your spirit and your work will continue to live with mankind till the end of time. I am comforted by the lyrics of your songs. In "Holy Spirit" you said, "I can see humanity living inna harmony. I can see brothers and sisters sharing love together now. I can see new heaven and a new Earth Lord let Holy Spirit come take over the world and all over me."

In the song, "Spirit of Love," you said, "Heaven and Earth, Moon and Stars shall pass away, but that the spirit of love shall remain the same. Yes, the spirit of love is Jah. He remains the same and I know that Jah is waiting there in Zion for you. So as the Holy Spirit has taken all over you there shall be. No more pains, no more sorrows, no more crying." (.....and no more struggles.)

Rest in Music, in Melody, in Harmony, in Power and in Perfect Peace at the bossom of the most high Jah our Heavenly Father. Selah!!!"