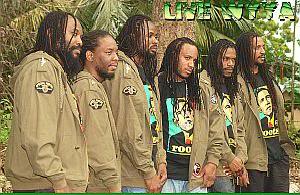 The 'Live Wyya Band' is tremendously popular within their native Jamaica, and is also one of reggae music's most selective international bands of emissaries. Their songs boast a varied list of music that spells determination and an extreme source of self-development. Their songs have granted them the ability to culturally promote passion and emotion as popularity all over the world. Live Wyya is a Roots Rock Reggae group of high inspiration, whose aims and objectives is to teach and educate the populace through their music.

The group was founded and formed in December of 1999 by Carl "C-Phat" Edwards (bass guitarist) and Arnaldo Bolt (drummer). The additional group members are listed as: lead guitarist, Michael Downer, lead vocalist, Alston "Katt" Burton and on keyboards, Tristan Richards and Kirk "Oneil" Gayle.

Despite the group's popularity and the constant economics of the reggae music industries, Live Wyya's outstanding ability to produce quality works and lists of accomplishment have allowed them to emerge as Jamaica's number one band. Live Wyya's achievement is incomparable to their peers and is the driving force of the exceptional works they have been able to produce. Their current performance lists of musical works include an exceptional, phenomenal catalogue.

Live Wyya has provided musical accompaniment for over 95%+ of all major Jamaican Artiste on all major events which has made their name synonymous amongst Reggae patrons across the world. They have decided to take their music careers to a much higher level, trying to stamp there name and class on the world stage as a self contained show band.

Their main objective is to motivate, educate and entertain people across the globe through their music and energetic performances bringing the Jamaican sunshine and vibes to their livelihood.