Review
EP Review: Lion D - Born In Captivity
11/20/2019
by Gardy Stein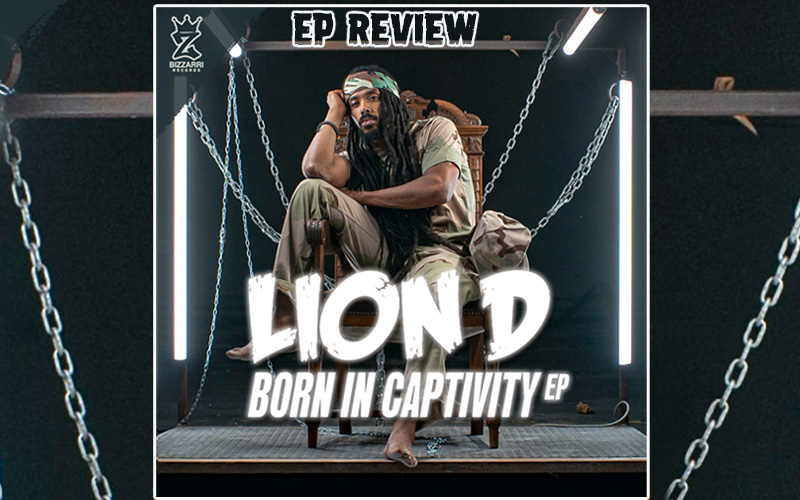 What has this young man been up to for the last few years? After the release of his wonderful album Heartical Soul in 2015, I kind of lost track of the artist David Andrew Ferri aka David Lion aka Lion D. A quick glance at his social media channels shows that this is my shortcoming, however, since the singer has been extremely busy, touring all over Italy and beyond and even getting married!
Most of this year, now, must have been livicated to the creation of his brand-new EP Born In Captivity, which not only presents us with five tracks, but also with three accompanying videos so far, the last of which was only released a month ago. In line with its challenging title and bleak cover, producer Leo Bizzarri created a reduced, frigid soundscape in which Lion D's precise, uncompromising words are all the more perceptible.
Using the well-known Marley quote "Me no know how me and them a go work it out" and vivid, distressing images of civil unrest and police confrontation in the video, System Failure thus starts the trip with a harsh critic of the status quo of so-called democracies. This appeal for more consciousness, the necessity to change especially our own perception of and reaction towards things, is further elaborated in the intense Eyez Wide Open. For me the best vocal delivery of the release, Lion D sings in a calm but powerful, tender but insistent manner about the importance of staying alert and seeing through the deceptions thrown onto us by advertisement and media. "Keep your eyes open wide in the kingdom of the blind!"
The visuals for both this song and the subsequent Proud, a true hymn of self-confidence that we all should learn to adopt and adapt to the lyrics of our own lives, are shot in and around empty, derelict houses, adding further to the overall disquieting feel of the EP.
Even the love song has a touch of melancholy, held in minor chords (Dm and Gm, if I'm not mistaken), which is quite unusual for the treatment of such a topic. Queen Of The Dancefloor was produced by another well-known Italian bass-master, namely Paolo Baldini, who gave the riddim a digital Reggae feel and invited the Mellow Mood band to play the instruments here, while most other pieces were recorded by Lion D's own The Livity Band.
Reaching out to a colleague on the other side of the world, the final track was contributed by Reggie Beatz, a South African producer located in Johannesburg. Lion D turns its placid notes into the Ganja-tune Puff My Sensi, demonstrating once more his vocal prowess even in the more difficult higher ranges.
Dario Casillo, who signs responsible for the mixing and mastering, made sure that the final product is well-balanced and ready to blast through your speakers. Born In Captivity is such a well thought-out release that it's EP format is almost a bit too short to quench our thirst for Lion D material. With the drive and energy put forth here, though, it seems quite likely that we'll soon hear more from this artist.
---
Release details
Lion D - Born In Captivity EP
DIGITAL RELEASE [Bizzarri Records]
Release date: 11/19/2019
Tracks
01. System Failure
02. Queen Of The Dancefloor
03. Eyez Wide Open
04. Proud
05. Puff My Sensi