Interview with Lion D: Bring Back The Vibes
06/27/2013 by Angus Taylor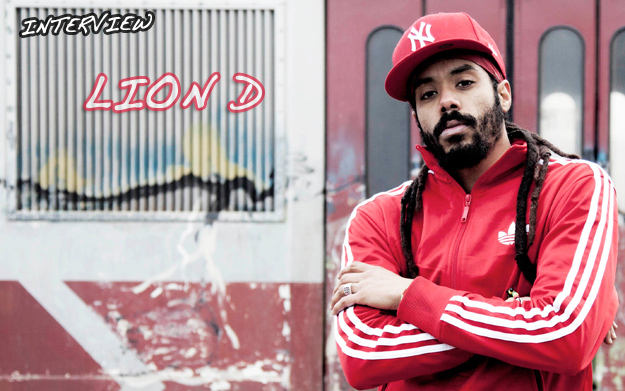 Reggae is an uplifting music to people around the world. Jamaicans and non-Jamaicans have used it to help them overcome personal challenges and difficulties. But for Modena, Italy's David Andrew Ferri, who now sings and chants under the name Lion D, reggae helped him connect with the African side of his heritage he never knew. Ferri lost contact with his Nigerian father after his Italian mother moved from his South London birthplace to her home country when he was 8 months old. As a young man he struggled with racism and despite being a gifted painter at school had no interest in music until he heard reggae aged 17.


"Anything I've learned is through the music." He told Reggaeville with emotion in his voice. "Music is my school and my teacher. It's everything. Music helped me build myself and grow myself. I keep the connection with Africa and my roots through the music".

Now Ferri paints rhythms with his singing and deejaying – in a style and timbre that call to mind a less Autotune-dependent Busy Signal. Since 2009 he has released 3 albums and a dancehall EP via Italy's Bizzarri sound and label. The latest, Bring Back The Vibes, is an all live instrument based tribute to the foundation artists that inspire him – including nods to Inner Circle, Studio 1 and even some harmonica from the Wailers' Lee Jaffe.

Reggaeville caught up with Lion after two days of rehearsing with his Livity band for a show on June 8th in his home city of Modena – the Italian sports-car capital.

Ferri sees his work as such a natural calling that he finds it hard to put his connection with it into words. He apologizes for his English and that he keeps slipping into Jamaican – even though he speaks English very well and is talking to a fellow Londoner so patois is no problem!

"I grew up around Italians so speaking Italian is my thing. But through the music I keep up the English and especially the patois alive! People ask me "Lion, how come your father is Nigerian, your mother is Italian, you were born in London but you live in Italy and chat patois?"

Today Lion D has a large following across Europe and has travelled to the USA and Jamaica. Yet he doesn't forget where he came from and the sounds that let him get where he's going.

"I listened to reggae from high school every single day. My first teachers were Bob Marley Peter Tosh and Dennis Brown. The foundation. Music is my nature so I give thanks to the Almighty. I just followed this feeling from the very first time and said I want to do something like them. It's just a feeling inside where you say I have to follow this. That's my thing. That's my path."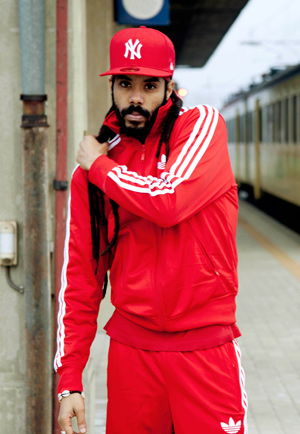 Were you reaching out to your father and your African heritage by listening to reggae?
I was going back to the roots. It was not easy to know yourself and know your culture. It must be an inner thing which is why music helped me. I never knew I could be a reggae artist. But the first time I listened to reggae I knew it was my way. Not only in terms of talent. It was a thing that helped me know myself and know my roots. Jamaican music recalls to Africa. All black people are African people. Like Peter Tosh says "No matter where you come from, as long as you're a black man, you're an African."

I was an artist at school. They taught me to paint but when music came it took over everything. I said I don't want to go to university or college or anything because music is my thing and nobody can teach me music. I just had to follow that and show myself and show the world I can make it.

But it's not easy at all especially in Italy. When people look upon me they see a black guy. Italy despite being so close to Africa has a whole heap of people who are enough racist and badmind people. That's why as a Rastaman, as a black man, as an artist we get a whole heap of fight from all angles. You have to be strong, hold it down and go do your thing.

How did Rasta come to you?
Anything I talk about came through the music – through Bob Marley, Peter Tosh and Dennis Brown. You can't love the revolutionary side of reggae and the social thing and then take away the spirituality. So everything just came together – music, Rastafari, message. That's why reggae is so powerful to me because it is a mix – spirituality, revolution, i-niversal love. I just feel it inside and try to pass it to the people and make them feel same way.

I was 17-18 when I first heard the music. I was kind of ignorant in those times. I never used to listen to any music. That's why reggae came and rocked my world. My friends used to listen to rock or pop music but I never used to listen to anything particularly. Reggae music is so true compared to different kinds of music.

You've told me how the music found you. How did you find your way into the music business? Was it through sound system and how did you first touch the microphone?
I had a little sound system called Burning Melody which is why my nickname is Lion D the Burning Melody. I was just the mc for the sound in those days. I was not so professional so it took a long time to make it. You can be a sound system mc but a singer is a different thing. Everything started with Burning Melody sound and then I met this guy from the next city, Rimini who said "Lion, come, we have a studio in my yard where you can try to record". But it was 2009 when everything really started and I met Bizzarri Records. And our vision – my vision and Bizzarri's - took the thing to a higher level. My professional career started in 2009.

We've talked about singers - which deejays and mcs have influenced your music?
I started with the foundation and then I moved to Nu-roots then went back to rubadub and then ska and rocksteady. From the foundation I moved to Nu-roots artists like Capleton, Sizzla, Anthony B, Junior Kelly, Buju Banton and then I thought that if this was Nu-roots I had to go back to the real roots. I listened to rubabdub, ska, rocksteady, calypso and soca so a lot of artists have inspired me. But now I have my own style and that's a regular thing in reggae music because each one teach one. That's why reggae music is so different. It has many different aspects from other kinds of music in my vision.

The comparisons with Busy Signal, are they fair?
(laughs) Yeah, a lot of people say "Yow, Lion you sound like Busy". But I remember there was a time when they said "You sound like Capleton" and the next man said "You sound like Jah Mason". It's my voice they say sounds like Busy Signal's voice. Busy Signal is one of the dancehall artists I rate the most. But I am not an imitation. That's my voice.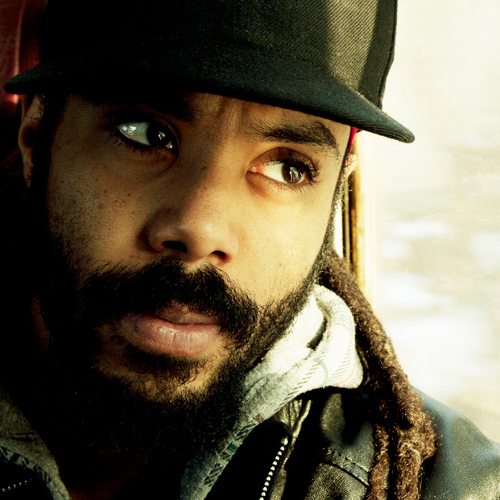 But he is not a singer. Unlike you when he sings he uses autotune. You don't use it on your new album.
When I recorded my dancehall EP last year called Real Som'th'n (says "Reaaaallll" in Busy voice) I chose to use autotune. Not because I am not able to sing proper. It was just a choice in terms of style. We wanted to bust this style upon dancehall rhythms. But for my vision I prefer to sing and to leave those things out of my music. I love the natural vibes that come out of my music. That's why this album Bring Back The Vibes is different from the EP. You have more music in it, real players of instruments and that makes the difference.

Bizarri have put out all three of your albums – you must like working with them, right?
It's mad. It's like a family thing. Every man has his own role to play. I wouldn't be here without them and they wouldn't be here without me. We work a lot and produce a lot of music but we are still humble and face reality. Reality is tough and you have to be strong. But we still learn and grow together.

Skarra Mucci is on your album and so is Gappy Ranks – big hitters in the European deejay scene. Did you go into the studio together or just send files?
I was on tour in the States and Gappy had a show in North California. I saw the show and then I met the man and said I liked his style and the way he deejayed and that I would like to bust a combo tune. So I linked him the next day and we met in the studio of a friend, the artist Jah Sun (who he toured with) in his yard in North California.

Skarra was on tour in Italy one time when my manager and producer Leo Bizzarri called him and asked him to voice a tune on a Bizzarri rhythm. I met the man and we held the vibe from the very first time. So Nuh Ramp it was a natural thing. A lot of times people want to know how this or that combination was born and I say "Yow, it's not easy to explain" because it's so natural when you meet and artist and hold a vibe you know they are humble, so things come naturally. Everywhere the tune played – Spain, France, Germany – people who say "Yow Lion, you and Skarra that a good match. The tune a buss". It's nice to know people like your music because that is my life.

You are a Bob Marley fan – how did Lee Jaffe get involved?
I never thought I could know that man. Lee is so humble and a real artist. He loved the vibes that came out of my music and I love his vibes. It was such a natural thing like working with Skarra Mucci or Gappy Ranks. This album, Bring Back The Vibes is such a blessing.

Try Afta You is the new single from the album – Whose idea was it to do-over Inner Circle Sweat?
That song is like a tribute to the original Inner Circle but it is also my thing. You have different types of love song. My song So Beautiful is deeper than Try Afa You but this song is to reach out to people who are not used to reggae but know the original. It's like a strategy. You have to think about a whole heap of things when you write and record a song. You have to hold the vibe yourself but you have to make sure the people follow you and hold the vibe too. You have to know how to test the crowd and listen and learn. To be a musician you have to be a good listener. If you can't listen and notice certain things you aren't going to make it.

Would you like to cross over into mainstream music?
That would be great. I will always be myself and I am not going to change but if my music can reach that level I will go anywhere my music brings me. But I will not sell out. My music is my music and whether it is reggae or the next kind of music my topics and my lyrics won't change.

You toured The States with Jah Sun in 2012 for first time. How was your second tour this April?
A lot of people here in Italy think it's mad to go to America. It's like a dream. A lot of people say if you play music and you go over there that's a great opportunity. Italy is such a small country and we live in a small world. Good music deserves to reach all four corners of the world. Europe and the States is good. Italy needs to move forward. Reggae is an outernational thing and we have to endorse it. In California they love to listen to roots music which is great for me at this time with this album of pure roots. It's nice to touch America and the feedback is so positive. In Italy lots of people don't love to speak English let alone patois! But they still love the vibe that comes out of my music. More and more people appreciate my music. They may not understand the lyrics but they feel the vibe. Moving out of Italy enough people can understand the lyrics and topics so it's a different thing.

How often have you travelled to Jamaica and do you like it there?
My first time was in 2006 when I spent two months and my second time was in 2010 when I spent one month and shot two video clips (Trendsetta and Nah Like Da Way Deh) Like I sing in my tune Sweet Jamaica, Jamaica is rough but it's nice at the same time! I love the music, the vibes, the people, the food. Even though I have never been to Africa, Jamaica is like Africa in the States. People need to go to Jamaica to know it because enough people talk about Jamaica saying Jamaica is bad this and that but if you go and check the real situation you will understand. You have to be strong to go to Jamaica. Because if you go just to visit Montego Bay or Negril it's a different vibe but if you check the countryside and Kingston too. Kingston is rough but it's nice! There are a whole heap of things in Jamaica I don't like but you have to balance the things.

Jamaican music is my teacher and my school so if a man wants to play reggae music and be a reggae artist you have to go there. You can even meet a little child on the road and the man can sing! You can learn from them because it is something that runs in their blood. I need to go to again very soon because I need that vibe. I need to meet people and know people and say "Mi name Lion. I am not a Yardie. Italy mi come from, my father is African and this is my music – tell me what you think". To me, anything a Jamaican says about my music I rate it. It's great for me when the people there love the music and say I move like a Yardie.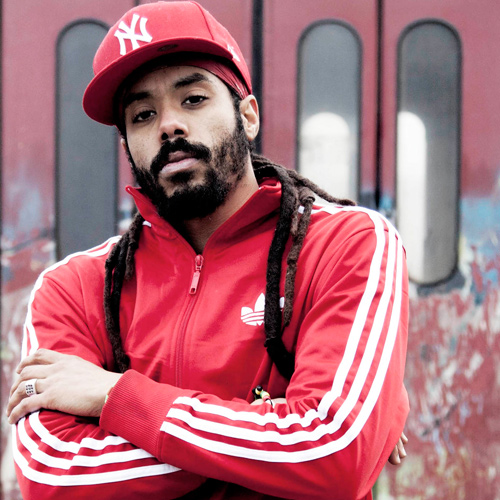 Alborosie has gone as far as to move out there. Have you linked with your fellow Italian out in Jamaica?
Alborosie is a great artist. I never met him but I rate him a lot. He knows what he does and what he wants and I respect him. I tell you something. Maybe my next album I'm going to produce it and record it over there in his studio in Jamaica because we have some links to that man and he says if he has to rate an artist from Italy that man is Lion D. So I'm going to link the man the next time he comes to Italy on tour maybe I will go on stage and voice a couple of tunes. Because if you are from Italy it is not easy at all – not only in terms of reggae music but anything. You have to move just to show the people you can come back so everyone will know and look upon you and say "that's big". If you don't move out of Italy you won't make it. We need to show the people reggae is a worldwide outernational thing. I don't where I'm going to live in the future, Italy or foreign, but I have to think it over because maybe Italy is not the place to stay. It's not easy to live in Jamdown but I would like to go to Jamaica to learn and then I would like to tour the world.

Have you been back to London?
Last time was two or three years ago. I have a sister who is a singer called Askala Selassie who is from London and released an EP back then. I knew her from before and she told me to come over do London. I only spent a small time, two or three days and I would like to spend more time there because I love the vibes

You have quite a following – is your thing where you want it to be. What would you like to do accomplish next
Let's see. Every day I write a new song and I have a whole heap of lyrics. Me and Bizzarri never stop working. People say "Lion, now you done this album you're going to chill?" No man. I never chill. Work is the order of the day.

When are you going to Africa?
I hope to go this year or maybe next year. I have to reconnect straight with my culture. My girlfriend, my princess, is from Benin which is close to Nigeria so I'm going to reconnect with my culture, musically, physically, spiritually and mentally. People from Nigeria, Benin and Togo are the same people and we have a whole heap of things to share and cherish.

★ DOWNLOAD THIS INTERVIEW AS PART OF THE FESTIVILLE 2013 MAGAZINE HERE!