Lila Iké @ Global Reggae Charts - Issue 21 (February 2019)
02/20/2019 by Gardy Stein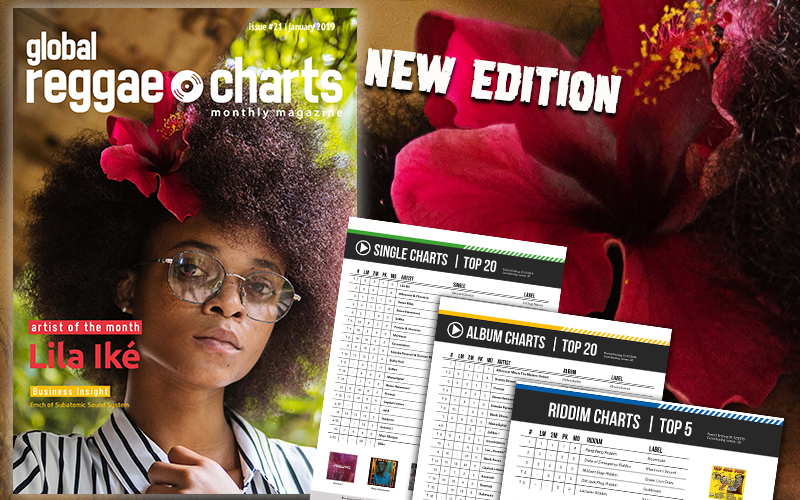 The new year has picked up speed, whirling a host of young artists to international attention. Issue #21 of the Global Reggae Charts Magazine highlights Lila Iké, whose Second Chance is topping the Single Charts in February. Apart from an interview with Emch of New York City's Subatomic Sound System, you'll find, as usual, the most recent developments in the Global Reggae Charts inside the mag:
"Alborosie & Chronixx at #2, Tarrus Riley at #3, Beres Hammond at #4, and Koffee's latest "Toast" at #5. Groundation's "Fossil Fuels" is in at #8, and it's worth noting that Koffee's "Raggamuffin" – #1 overall for 2018 – is still at #11 after 11 full months on the charts! Further down there are several debuts with Jah9's "Heaven" at #16, Samory I's "Feeling" at #18, and Alika's "Dreadlocks" at #20."
For more details, thumb through the mag below. In case you are a radio moderator or music journalist and you feel your vote is missing in this, visit globalreggaecharts.com and register!

SINGLE CHARTS TOP 20:
1. Lila Iké - Second Chance
2. Alborosie & Chronixx - Contradiction
3. Tarrus Riley feat. Mykal Rose - Guess Who
...

ALBUM CHARTS TOP 20:
1. Alborosie meets The Wailers United - Unbreakable
2. Dennis Brown - King Jammy's Presents: Tracks Of Life
3. Protoje - A Matter Of Time
...

RIDDIM CHARTS TOP 5:
1. PengPeng Riddim
2. State Of Emergency Riddim
3. Militant Step Riddim
...