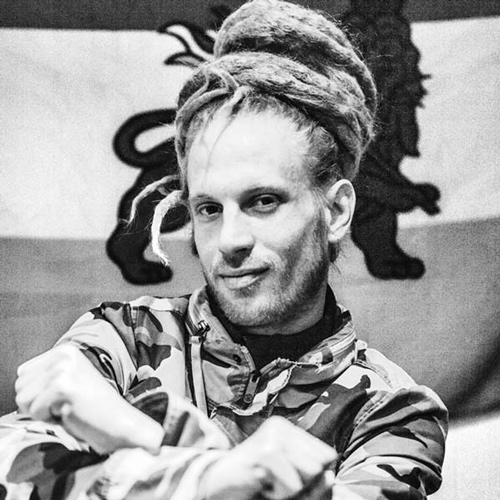 Marc Chaloupek aka Likkle Lion was born in 1978 in Munich, Germany. He went on spiritual journeys to Jamaica and Ethiopia at an early age to explore the teachings of Rastafari.

Within the legendary Japhet Soundsystem sessions of 1998, Likkle Lion was one of the first, who made "toasting" on the microphone as well as the singing of own tunes on instrumental versions of well-known reggae hits respectable in Bavaria.

Together with Conscious Fiyah, Likkle Lion was the lead vocal singer and founder of Munichs reggae and ragga band " Headcornerstone". The band fastly grew together to be one of the best reggae live acts in Germany. With their innovating style and their mixture of deep roots reggae and modern ragga, they had influence on a lot of reggae bands and conscious soundsystem coming after them in the German speaking areas.

Likkle Lion left the Band about 2003 to concentrate on his solo career. That is how the Oneness Riddim Band, the house band of todays Oneness Record Label, was originated. This was one of the first riddim backing band projects with German artists.

Especially important for Likkle Lion is the power that words have, combined with the magic of music, which he highlights with his acrobatic shows while performing live on stage.

His energetic lyrics, like in "Warrior" or " Move Up", that mostly groove on a roots or dancehall beat, contain sociocritical, political and spiritual subjects. His message of love, cry for peace and equal rights refer to all people.

You could see him on small as well as on big stages. Like for instance at Chiemsee Reggae Summer, Reggae Jam Bersenbrück, Backstage or at the Muffathalle in Munich.

Likkle Lion had musical collaborations or live sessions on stage with artists like Anthony B, Cali P, Exile de Brave, Infinite, Jahcoustix, Micah Shemiah, Prezident Brown oder Prince Alla. With backing sections like House of Riddim or the Next Generation Family you don't have to worry about a massive live sound.

When you want to see him performing with a soundsystem, you have to check out the veteran Japhet Soundsystem or Riderssound Munich.

Likkle Lion is a must for everybody that does not only love fat modern reggae beats but also cares about a good content and a conscious message. Modern roots reggae with rasta message. Insiders know him from way back.

Likkle Lion – Germanys ragga veteran.