Review
Album Review: Kristine Alicia - Songs from Zion
02/20/2017
by Gardy Stein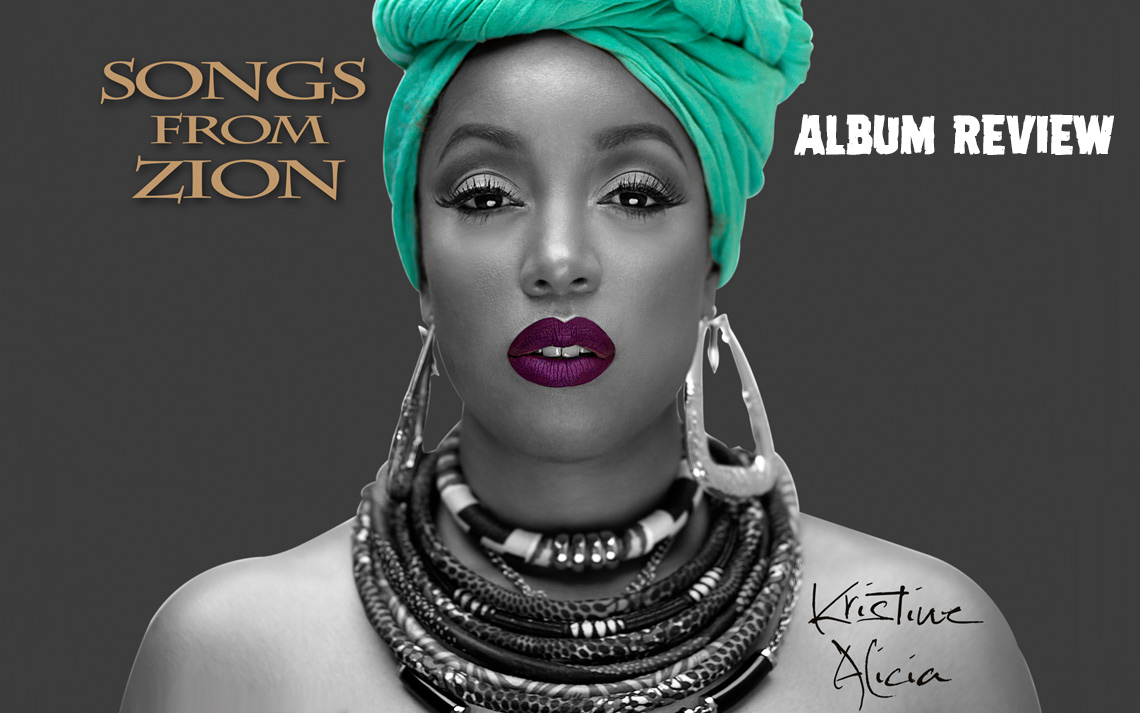 If music was a family, Gospel would be the prim auntie of Reggae; even though they are related, they don't necessarily have a lot to do with each other! With Songs From Zion, the two are brought closer together, as the eleven tracks on the album combine these genres in a way that's both natural and revealing. The artist behind this feat is Kristine Alicia, a singer who was born in Jamaica but grew up in Florida, where she lives until today. After being a background singer for many years, she first stirred some interest in 2007 with her debut Get Ready, which leans heavy on Gospel but touches Reggae beats as well. Ten years later, with an exceptional producer at her side, this approach is brought to perfection: Rory "Stone Love" Gilligan made sure that Songs From Zion is a true musical blessing.

Certainly, Kristine's extraordinary voice contributed to Rory's decision to do this album with her, and since his productions always breathe knee-deep Jamaican authenticity, all the tracks are recorded live in the studios of Black Dub Music with some fine musicians. Denver Smith, Kirk Bennett, Nambo Robinson, Aeion Hoilett, Lamont Savory, Kevon Webster, Dean Fraser and others create an almost otherworldly atmosphere which Miss Alicia fills to the brim with her passionate vocals. Still, she leaves enough room for the instruments to shine, as drums and sax do in Rising Sun or drum and bass in Come Home Natty, on which featured artist Zia can be heard as well. The listening adventure is made very personal by the lyrics, centring on the artist's experiences. She sings to her man in My King and Key Lock, but most titles, testify to the singer's deep faith. Blessed, Follow, Valley Song and Cry are directly speaking to Jah, making the Gospel-Reggae-connection very obvious.

Special gems are the Heavenless-relick My Story (Aaah this trumpet-solo!!! Oooh these drums!!!) and Roll It, a track (and video) set to go through the roof. No wonder, with this Real Rock version it rides on! My personal favourite is Zion, as it perfectly captures in words and emotion my own conviction that, once you found Zion (paradise, inner peace, Jah Kingdom, Nirvana, however you want to call it) in yourself, you can dwell there no matter where you are physically.

Thus, people, let Kristine Alicia and her unique album Songs Of Zion take you a step closer towards your personal inner paradise. Only if you find your balance within you can hope to be a peacemaker out there!

---
Release details
Kristine Alicia - Songs from Zion
DIGITAL RELEASE [Rorystonelove]
Release date: 02/17/2017
Tracks
01. Zion
02. Rising Sun
03. Cry
04. Valley Song
05. My King
06. Key Lock
07. My Story
08. Come Home Natty feat. Zia
09. Roll It
10. Blessed
11. Follow