Koffee & Thom Browne Team up for Pressure Video
06/30/2020 by Reggaeville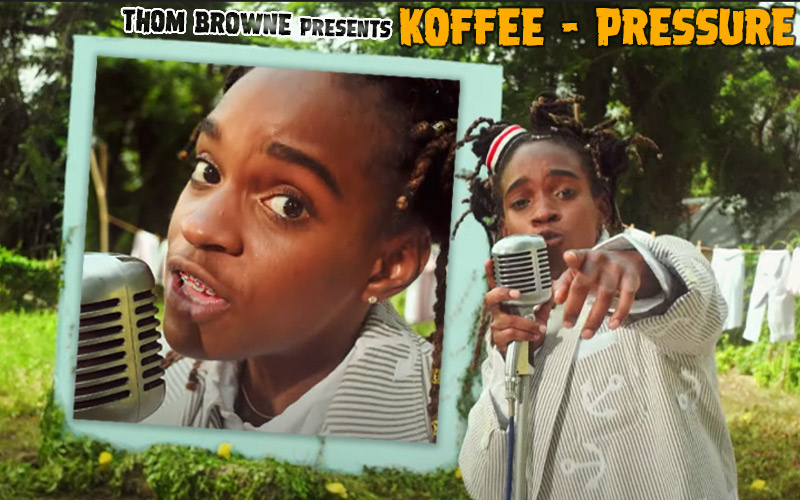 The collaboration between Koffee and american fashion designer Thom Browne features the release of Koffee's song Pressure in a brand new performance video. The song is part of her live sets since 2017, but was never released officially.
The video was produced as part of "Not In Paris," an online exhibition hosted and curated by Highsnobiety (A German-based streetwear blog, media brand and production agency).
When Koffee made history at the Grammy Awards in January 2020 [IN THE NEWS HERE], her outfit was designed by Thom Browne.
Under the umbrella of Highsnobiety the project was done in Jamaica: A suitcase full of Thom Browne's clothing was sent to Jamaica; creative direction, filming and post-production all happened within a week, and the result is phenomenal.
Browne told Highsnobiety about his thought-process behind the partnership: "I liked the idea of doing something interesting and individual, and new for me. I wanted it to be more of an image piece than a fashion piece, this was most important. I didn't want it to fit into a season, I wanted to show how my collection evolved, not in the fashion world, but in the [real] world."
Thom Browne about Koffee: "She's a true individual with a huge talent, that's what drew me to her. I knew she would bring an interesting sensibility to [the brand]."

VIDEO CREDITS:
Directed by SAMO
Director of Photography Fernando F Hevia
Produced by Tamo Ennis
Koffee's stylist: David Gangel
All Fashion by Thom Browne

WATCH THE NEW VIDEO BELOW: KOFFEE - PRESSURE
UPDATE - VIDEO OFFLINE: WATCH THE BEHIND THE SCENES... IN THE MEANTIME