Allen Jahsana - In Urgent Need Of Support
12/01/2018 by Gardy Stein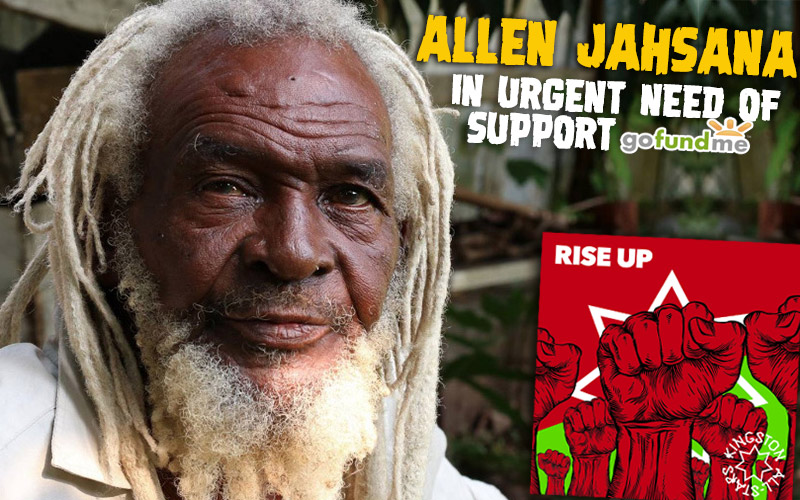 Time To Remember! These three words are not only an encouragement to dig into the history of Reggae music, but also the title of a song written and performed by Allen "Jahsana" Johnson. Recorded in 1977 with legendary guitarist and producer Mikey "Mao" Chung, the original 7'' release wasn't an instant hit but, as water finds its way through solid rock, reached and impressed Reggae fans around the world.
Now, it's time to give back to this artist! Check the GOFUNDME PROJECT HERE

"Fi all these years (...), me never really have a hit song yet, me never really have nobody fi push me to dat, dat make me song reach number one. But me hope seh things will change ya now." says the artist in an interview published last week (see video below). This spark of hope is spurred by a recently released production called Rise Up (read the album review HERE). When producer Moss "Mossman" Raxlen assembled the Kingston All Stars to record the album, Mikey Chung invited Allen in and the elder contributed two wonderful songs, Jungle Justice and Rising From The Ghettos. By the time the album was ready, however, Allen's physical health had dramatically deteriorated, as he now has advanced cancer.

Desperate to assure basic medical treatment and find a safe place for Allen to live, Moss started a fundraising project on Gofundme that just went online. Says the initiator: "The goal of this effort is to raise funds to get Allen a place to live and supply the basic amenities. (...) Allen is a gifted and gentle soul and has managed to maintain a positive outlook but life has dealt him a difficult hand. We hope that we can pull the community together to help give him some support in these trying times. All funds will go to acquiring housing, basic essentials and much needed medical care."

Visit the Help Jahsana Gofundme to find out more about this exceptional artist and, if you can, donate any amount to make his remaining days a bit more comfortable. Respect the veterans!