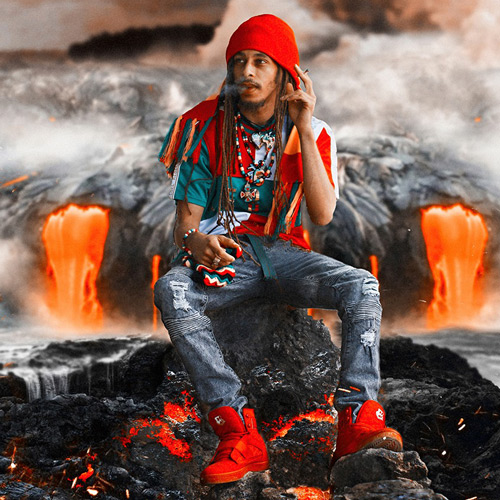 Born in a small and loving home in Jamaica Creek Street, 26 year- old Junior 'King Challice' Pennicooke at just 6 years old knew he was destined for greatness. 'King Challice' was the name he coined from the Challice which he describes as the highest form of purification for the herb and that is what his music is stemmed from: purity. No matter the genre. He then decided to stay true to his assumed kingdom by adding 'King'. He is a self-proclaimed 'rebel with a cause' whose music is a combination of social commentary and socio-politics - but is crafted in a way all can relate to.

Despite moving to the US at 6 years old, Challice still held firmly to his Jamaican roots and this he says is attributed to always being in the company of his elders, who exposed to him to his earliest musical influences: Burning Spear, Culture, Akae Beka, Midnite and Twinkle Brothers. He has always been in love with music despite not knowing exactly what path within that he would take. "My cousin had a sound system and I would always watch him set it up and envision myself either being a DJ or an artiste," he says. In fact, he claims he wasn't born a lyricist or a singer but rather worked his way to that point.

His musical influences later included the likes of Sizzla, Luciano, Turbulence etc but this didn't have a complete influence over his style of music. He hasn't resorted to styles that were 'common' and never found it hard to be himself; he doesn't describe himself as a strictly reggae artiste. King Challice is a fresh emerging talent whose music aims to purify the world through its content. His debut EP, entitled RED, does just that. The four-track project was self-produced and speaks to awareness, the pursuit of knowledge, building up the future generation and upliftment. The EP-titled track, Red sums up the project: "There are so many things that can be better for the world, instead they waste time fighting with copper and lead and so many youths are out there in the world to be fed". Another track on the EP, Maica was created after his return to Jamaica after being away for 18 years; the state of the country, "A lot of foreign-owned businesses with no benefits to Jamaican citizens. Senseless music inspiring youths to live impractical lifestyles. Jamaica is paradise but they can't see it because the are captivated by what they see abroad."

Challice's writing style consists of 'vibing' and 'reasoning' to arrive at the end result of his music - which he produces from his home studio. His tracks are recorded and then written after which further speaks to the organic way his music comes to life.

Prior to the release of Red, Challice released a track entitled Fall in Love with rising Tampa artiste, Awun. Challice has plans to release another track, Well Blessed within a year.