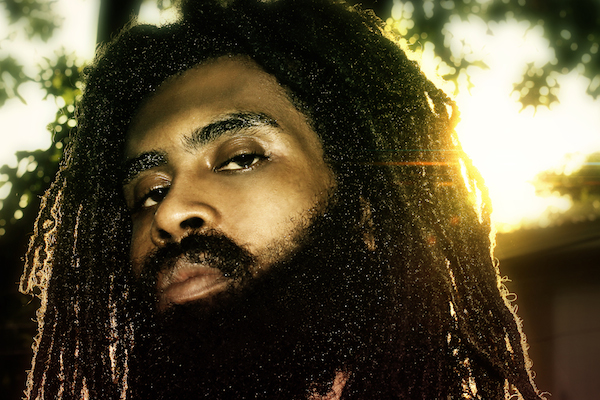 Born Girma 'Kazam' Davis, he is musically known as KAZAM DAVIS. 
A humble Rastafarian hailing from the Twelve Tribes of Israel, KAZAM has a promising music career which was nurtured throughout his youthful years. He often recalls singing for family and friends and later taught himself to play the guitar.
Kazam's inspiration comes from JAH and the great Bob Marley. "JAH and music itself are my inspirations. No one understood what I was going through while growing up, so I wrote to express my feelings and what I believed in" said the rising reggae artiste.
His mission is about spreading peace and love through conscious lyrics. His message resonates with people from all facets of life, as he believes his music isn't molded to meet a certain crowd or audience; it is a motivation within him.
A talented acoustic guitar player, mentored by Earl 'Bagga' Walker, Kazam was also a former member of the 'Jah Children' band that performed at venues such as 'Weekends' and 'Livity' in Kingston, Jamaica.
He has made outstanding performances on a number of shows and entertainment events such as: 'Conscious Reggae Party', 'Jamnesia Live', 'Junior Chamber International Kingston Chapter of Young Professionals', Alahambra Inn, 'TALK at UWI', Mona Campus, 'Liv It Up Festivals', 'Kulcha Fest', 'Living Live' and Inna Di Yaad, Trench Town. In addition, to commemorate Jamaica's 50th Independence Celebration, Kazam performed his song entitled "50", a catchy, thoughtful tune written for the historical occasion at the National Commercial Bank. He has also performed at South Beach Café in Kingston, featuring "Jah Ova Evil Movement Live", Veggie Meals on Wheels and Club Eras throughout the years 2012 and 2013. 
In March 2013, Kazam released his latest single and video titled "Ancient Warriors". Ancient Warriors speaks to the warriors in this time, evoking the warrior spirit inside, chanting the never-ending joy of upholding justice and truth. He further completed his EP titled Ancient Warriors which will be released in 2014. This dynamic and versatile reggae artist is rebelling for a righteous cause as he endeavors to promote positive music and the message of JAH to the four corners of the world. 
Kazam has released his first single off his EP titled "Be Humble, Be Calm" featuring Exile Di Brave which was debuted at his Listening Session held at Nanook on November 23, 2013.
This Ancient Warrior is more than ready; he is on the go, gearing to make his mark in the global positive vibration of Acoustic message music - Reggae Music.