Bounty for Junior Byles - If You Care, Share!
02/09/2020 by Gardy Stein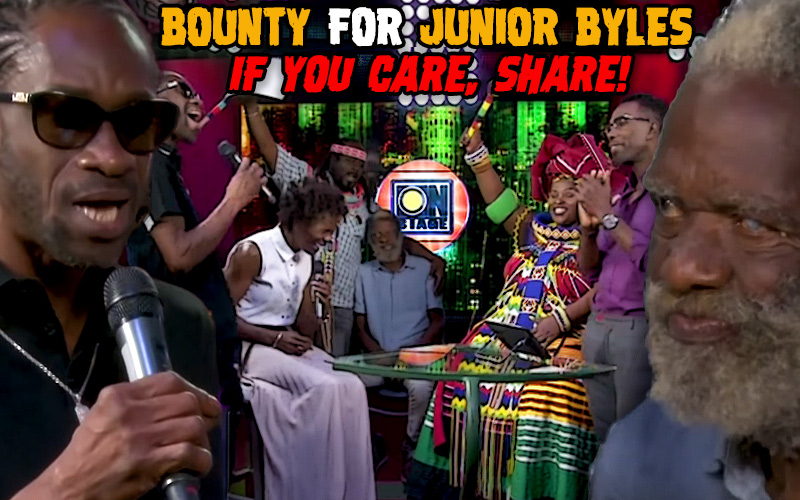 "He who seeks of only vanity, and no love for humanity, shall fade away, fade away."
Citing the song Junior Byles is probably best known for, Rodney Basil Price aka Bounty Killer made a touching appeal to his fellow Jamaicans on the latest edition of OnStage TV (Saturday - February 8, 2020). Host Winford Williams invited not only the "Poor People's Governor" to his show, but also the man Kerrie "Junior" Byles himself, along with his daughter Christine Byles, family friend Claude "Big Stone" Sinclair and South African acitivist and long-time fan Jessica Mbangeni.
On behalf of the Bounty Foundation, Mr. Price handed over a cheque of JA$ 150,000 (around US$1,000) as well as a gift certificate for medical supplies worth JA$ 100,000 (around US$700) to help treat the mental disorder and other complications Mr. Byles is struggling with. Says Bounty Killer: "Today this donation is very special to me because this is for one of our fellow artists, one of our legendary pioneer, veteran entertainers who has helped to develop the face of Reggae. (...) This is Jamaica, a music country, where so many thousands of great artists came from. I saw a video circulating with Junior Byles where you can see the struggle that he's going through, and it touches our heart to see that no one from the music industry or from the wider society reaches out. (...) You don't have to have a million dollar to give away something. I'm not saying we can stop his problem and his burden, but we can assist!"
While Mr. Byles has received continuous support from his family (who, for instance, organized concerts for his benefit) and community leaders like Earl "Chinna" Smith as well as small donations from fans collected by foreign organisations (e.g. from Germany, Action Speaks Louder Than Words and Adabu Foundation), this is the first time a Jamaican NGO has taken up the cause with such an impressive amount of financial aid.
Bounty Killer went on to insist: "Let's help ourselves! We always bawl bout government nah help we, but we no help we neither! Anybody can meet up on misfortune, you don't know what tomorrow may bring. Jamaica, please, especially we as artists, we need to form some artist union, we cannot wait on the government! We have to pull our money together and get this on, Junior won't be the first and won't be the last, somebody will always fall, and will have to get up back! Cmon Jamaica, if you care, share!"
Byles' daughter Christine was visibly moved by the support received from the Bounty Foundation, thanking him on behalf of the Byles family and addressing the audience thus: "There are a lot of things I'm working on behind the scenes. We will launch the Junior Byles Global Foundation, lending itself to mental illness. I encourage all of you to visit the website, we have three platforms out there, as well as a Gofundme-Campaign called "Reggae Superstar Jr. Byles"
At the end of their appearance, the microphone was handed over to Mr. Byles, who had a message for his fans: "Thank you. Love the Lord God Jah Rastafari with all you heart and soul. Jah!" Rastafari.

WATCH THE ON STAGE TV EPISODE BELOW: