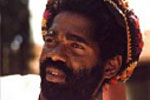 Legendary reggae vocalist Junior Byles (Kerrie Byles Jr.) was born in 1948 at Jubilee Hospital in Kingston, Jamaica. He grew up in that city's Jonestown ghetto, where his father worked as a mechanic and his mother taught school. His parents were deeply religious and Junior pursued his earliest musical training in various churches while listening with keen interest to the latest secular recordings by local heroes like Jackie Edwards, Slim Smith, Stranger Cole, The Maytals and the Wailers. While a youth in Jonestown, Junior was called "Chubby" in the neighborhood, and he later used this name on recordings credited to Chubby and the Honey-suckers, King Chubby and Chubby and Scratch.
Junior's first profession was mechanics, but by 1968, he was working as a fireman. In late 1967, Junior formed a vocal group named the Versatiles, with Louie Davis (who was also a member of the Morwells) and an Indian youth remembered only as Dudley. In '1967, they cut their first session for release on Joel Gibson's Amalgamated label. Three superb titles ("Just Can't Win," "The time Has Come" and "Trust The Book" were recorded under the supervision of Lee Perry with musical backup from Lynn Taitt & the Jets. During the late sixties the Versatiles cut additional sessions for Gibson ("Push It In) and Mrs. Barnett, who ran a label called Delltone ("Children Get Ready"). During the early seventies, they returned to Gibson, and cut the great "Warika Hills" and recorded the fine "Pick My Pocket" for Laurel Aitken.
Lee Perry, unquestionably Jamaica's most creative and talented producer, began his career producing sessions for Sir Coxsone in the mid-sixties before providing the same service for Joel Gibson in the later part of the decade. When Perry began producing material for his own Upsetter label circa 1968, he began recording many of the same artists he had produced for Gibson, including the Mellotones, Inspirations, Stranger & Gladdy and Junior Byles & the Versatiles. Perry, who rightly regards Junior as one of the top vocalists he ever worked with, also has continued great respect for Junior's own unique character combining equal parts of fierce and defiant Rastafarian fundamentalism with a personality described by his contemporaries as profoundly humble. Between 1968 and 1974, Perry and Junior collaborated in the production of over forth titles, including all time classics like "Curly Locks," "Rasta No Pickpocket," "Place Called Africa," "Beat Down Babylon," "King Of Babylon," "Cutting Razor" and "Long Way."
By the mid-seventies, Junior was a major star in Jamaica poised for international exposure. But, like his mentor Lee Perry, he was acquiring a reputation for madness. Perry's various lunatic excesses over the years have become legend, but no more than one would expect from the self-styled "Upsetter." While Perry was achieving his greatest success producing albums for Island Records by artists like the Heptones, Jah Lion (Jah Lloyd), Junior Murvin and Max Romeo, by 1976, Junior Byles was confined to the mental ward at Belview Hospital in Kingston. Throughout the later part of the decade, Junior was in and out of the hospital sanitarium and in this period he managed to make many great records for a variety of producers. There was "Chant Down Babylon" and "Pitchy Patchy" for the JaMan label, a remake of "King Of Babylon" for Niney and Lloyd Campbell, "False Leader" for Micron, and the classic "Fade Away" for Channel One. Two albums were released, the first from Perry material on Dynamic/Trojan and the second co-produced by Perry and Pete Weston ond Micron.
Source: nghthwk.com