Johnny Clarke Interview - The 50s to the Early 70s (Part I)
03/16/2018 by Angus Taylor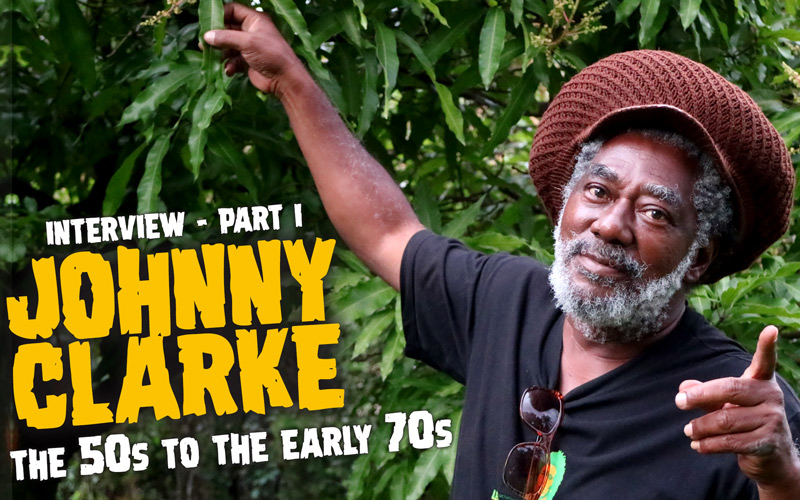 In the second quarter of the 1970s, a particular type of roots reggae was running the dancehalls of Jamaica.
It carried its messages on up-tempo rhythms driven by a swishing high-hat beat popularised by drummer Santa Davis, passed through the great dub engineer King Tubby's squelching high pass filter. The initial hit song using this sound emerged from Duke Reid's studio, rented to mobile producer Bunny "Striker" Lee. It was sung by Lee's new favourite singer, an imposing Rastaman with a smooth, soft voice and catchy vocal gimmicks, named Johnny Clarke.
1973's None Shall Escape the Judgement was the first of a slew of hits that helped Mr Clarke and Mr Lee govern into the mid-70s. Even as the "flying cymbals" trend faded, Johnny, now distributed via Virgin Records, adapted his tough tunes to the heavy straight-4 steppers pattern - attributed to one Sly Dunbar.
By the 1980s, Clarke had left both Lee and Virgin. Yet he continued to record for his own Hit Machine label and for UK producers such as Mad Professor and Jah Shaka - who prized his judgemental sound.
Today Mr Clarke still tours the world singing the songs from his ascendant era. On April 1st 2018 he performs at the London International Ska festival for the first time.
Angus Taylor sat down one Sunday with Johnny in a beautiful garden near the singer's home in Kingston, Jamaica. There he found a man more jovial and talkative – and far more pragmatic and business-like – than his stern Rasta image might suggest.
In this 3 part career interview, Mr Clarke shares many interesting insights – some of which may surprise his fans. Part 1 concerns his earliest days and influences.
Where in Kingston where you born and where did you grow?
The same place I was born is where I grew. I was born in the Whitfield Town area which is Kingston 13. I attended Rousseau primary school as a kid and then I went on to Jamaica college just up the road here. When I left I was working with a company named Grace Kennedy just down by Harbour Street down in Kingston - because the manager of Grace was also the chairman for Jamaica College, most of the youths that left school ended up at Grace Kennedy.
I used to do billing. Not accounts but billing. Grace Kennedy did a lot of food production. They are the top productive company here and they've been around for years now. And they do supermarkets, farming, food stuff. They're involved in a lot of things. Even in money transfer, like Western Union. They are really some top people here in this country.
You were awarded a scholarship to Jamaica College.
Yes, I went there on that basis. But, actually I didn't make it to the top academically. Going to Jamaica College means that you would elevate yourself to getting through with O-levels, A-levels, university, doing degrees and so on. I left school, and Grace Kennedy was the company that was responsible for some of the kids who didn't go on further. They left school but they still wouldn't be out on the street because they would have a job straight after school. Grace Kennedy would fill that vacuum.
Your older brother was a Rastaman. Was that how Rasta came into your life?
Yes, yes. My big brother at home. And yet he was not a locks man. He didn't carry locks. But he'd speak a lot about Rastafari. And as a kid I grew up hearing that. My big brother plus his friends that came to visit, they would always speak of Rastafari. So that's how that was inside of me. He was so into it that he sometimes did have the volume come out loud! "Rastafari!" He would yell at times. "Rastafari!" "Selassie I!" Especially when there were rainy times and the thunder was rolling, lightning was flashing, to him that was the time he was ready for, he'd gather strength.
My mum now she was like a totally different on a different side. She was majorly focusing on Christianity. Going to the church with we, as kids, singing along with her on Sunday. She would never miss church. You'd go to school in the morning, you'd come home and then in the afternoon - church right back until the night.
My brother now he was the opposite. He was not into that. He was a Rastaman but then again he was a lot older than me. So as a kid I used to have to sit with mum. Because my bigger brother now he could stand on his own but although we would all live under the same roof but he was like the elder one who was working when I was more stuck in at home with mum. So when it was time for church I had to go and run along with mum. Because she was not leaving me.
I remember when I was a kid my mum will take me to church and I wanted to sleep, so she usually spread some things on the floor and I would be lying there sleeping while everybody else in the church was going on with praising God and spirituality and hallelujah! And I was just there, a kid under her feet, lying on the floor snoring. And then when everything was all done and over she took me up now ready to go home now.
And what mum used to do to on a Sunday was this… I liked fudge. You know the fudge man? On a Sunday, cream cakes and all that sort of thing. You know if you went to church with her you were going to get a fudge. On a stick. I used to like fudge and she knew that. But if I didn't go I wouldn't get any fudge. (Laughs)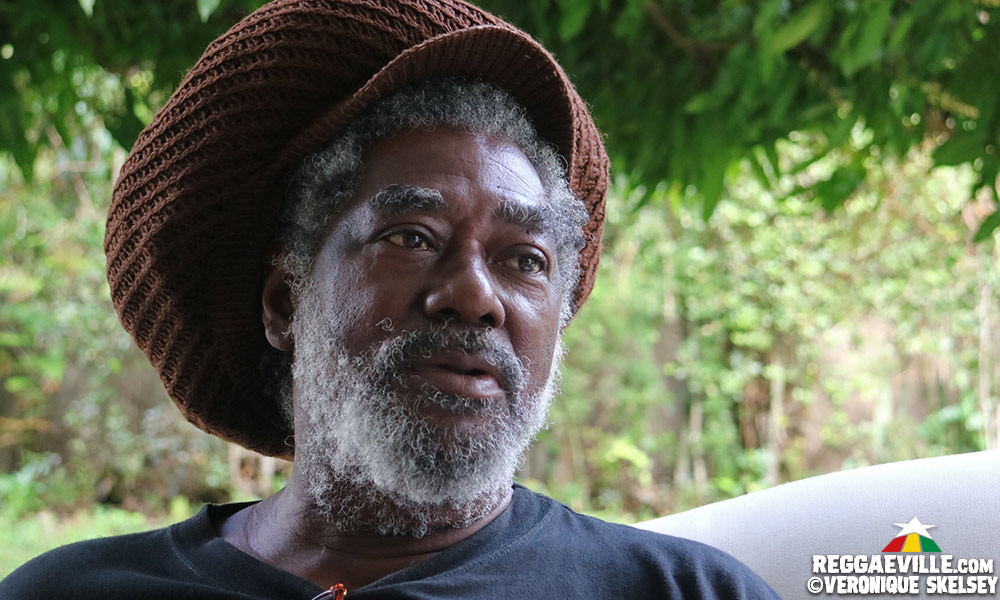 Did you do any singing in the church?
Oh yes! That's where it all started. Although to tell you the truth we did a lot more in school. It was a blessing going to Jamaica College because as a young kid just entering the first form, the elder boys, in the lunch period break time, they would search for the younger kids who are just starting school and they would have to sing for them. And that's the only school in Jamaica that did that. There were other schools like KC, Woolmers and all of that, what they would do is they would hold your two hands and your two feet and bomb you. They called it bombing. One guy would hold your two hands and the next I would hold your feet and they would bomb you on the ground. But JC didn't do any bombing - you would have to sing! (Laughs)
Ian Lewis from Inner Circle told me that at JC they had a tradition called candle-waxing where if you sang well you didn't get candle-waxed. He said you were a good singer so that didn't happen to you.
Oh? (Laughs) Yeah, he was a bigger boy. When I went to JC he was already there. He was two years ahead of me. I went there in '67 and I saw Ian there so he was possibly there from '65. Or '66 roundabout there.
But you sang for the older boys and they liked what you did?
Yeah! I was like the top. I went to do an old boys event in Canada and I met people who are going to JC from 1934. Because I did something for the Old Boys Association in Toronto they flew me in. It was to raise funds for computers and so on. And the other guys who were there my time they were saying to me I was like a saviour for them because [the older boys] needed all the boys to sing but when they found out that I was the cream of the crop they started ignoring them! So all eyes focused on me now. When it was lunchtime they were looking for me! So they were like "Alright we're not worried" because it's me they were looking for. We were having that discussion in Toronto the other day.
So you were at school with the people who would become Inner Circle and Third World.
Yeah, Inner Circle and Third World. Because Ibo Cooper was there too. He was elder than even Ian because I think in those times he was even in the sixth form, like a prefect. And the son of Carlton Alexander, the manager for Grace Kennedy, Teddy Alexander he was in my time. And this other person who was running for politics the other day named Peter Blake. He was in my time also.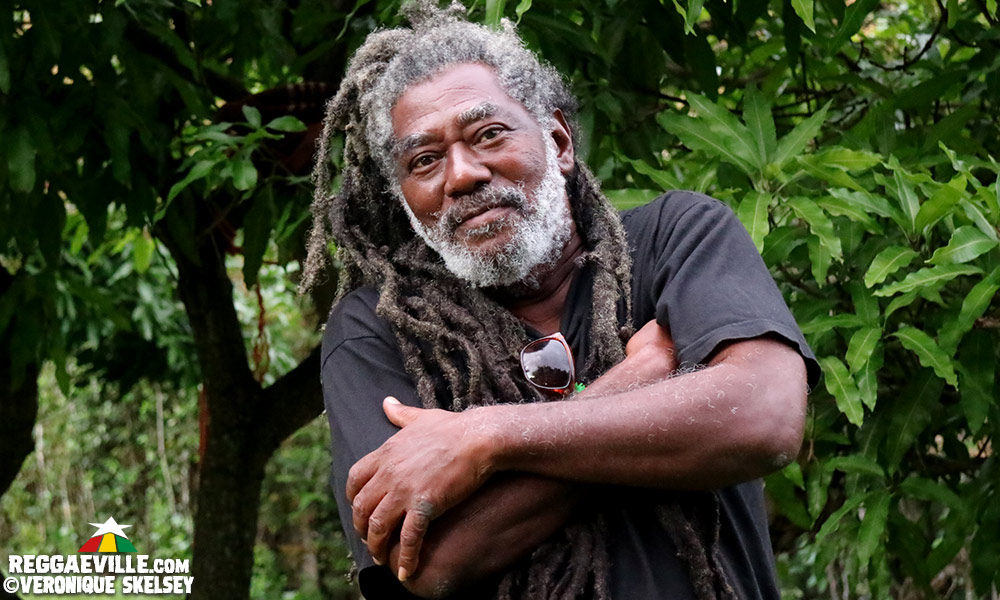 Can you tell me a bit about your other brother Eric who was a drummer – and went to Alpha Boys School?
Oh! Well he was also a motivator because he went to Alpha Boys School and he would come home on holidays because he was boarding there. First he was at Maxfield Park, he went on to Alpha and he'd usually come home at Christmas time to spend time with the family. At Alpha, they would do a lot of sport as well and he was a good goalkeeper. He could keep goal and play football. But he was mainly focusing on music so when he would come home he would usually come home with a musical vibes.
And then my other brother now, which was a bigger one than the one I told you about who was yelling out "Rastafari!", he was connected to a group where it was him and two other guys. They would usually congregate around the house corner when I was young and you'd hear "Woo woo, aah aah". They were just practising harmonising. They were more focusing on the group type of thing.
And my other one who was in Alpha he wasn't really a drummer as such, at first he was doing singing. So I didn't even know he could play the drums. It was after he left Alpha school that he was more focusing in the music territory. Because there was a certain area in those days where mostly musicians would congregate. Like Downtown Kingston. Orange Street, where you'd have Prince Buster up top, you had Bunny Lee down there, you had Joe Gibbs, you have Randy's, you had Miss Pottinger.
Idler's Rest.
Yeah, Idler's Rest. So that's where he mainly was focusing. Because a lot of his friends like Horsemouth Wallace, he was at Alpha, and a lot of other people who came into the music were at Alpha also. So they always tended to follow each other. Wherever one would go, they were all there. So I just found myself knowing how to sing but I needed to take it to a higher level. I knew that I could sing, so why not try just get myself recorded? It would be bad for me to be a good singer - I wouldn't say great yet in those times - but to be a good singer sitting alone by myself - that's selfish. I thought it should be known. It should be spread out there.
And one way, the route, the vehicle to take you there was to get yourself in the headquarters area downtown, mingle with the musicians and the producers, from one to the next. Because they were all in the same area: Clancy Eccles, Rupie Edwards up the road, Glenn Brown over the corner. Then you had Randy's who had a studio, Joe Gibbs, so they're all around in the same region. And then you had Downbeat Coxsone up the road and then you had Duke Reid again around the corner, so if it was not one it was the next. So I kept moving around until eventually I found Bunny Lee.
Is it true that you nearly recorded for Coxsone?
Yes, because Jacob Miller was like my sparring partner. We usually sparred together. He was the kind of person that you would have as a troublemaker! If you would spar with him you'd have to prepare to try and run! Because he would make worries. Throw things. Like if he would see a mango he would just take it up and throw it under a bus or throw it upon a man and then we would have to run because the man would come and check and look for you! But it was just like a joking thing to have a kind of fun.
Normally he could go to Downbeat on a regular basis because he wasn't really attending school at the time in those days for your parents the music wasn't a top priority. The music wasn't on top of their list as far as success is concerned. They sent you to school to become a lawyer or a doctor or some high academic-al person educationally-wise. So I had to go to Studio One when I got the time after school. When I went there he found out that my voice was in the category of being recorded so he called to Bob Andy and he said "Bob, come over. I want you to see if you can write a tune for this youth here".
But I couldn't be there every other day because I had to go back to school and all of that. So it never went to anywhere. I didn't really know their procedure because it was long after that I learned that Downbeat was a place where you have to be there. That's why I say we came into the business when it was harder. The people in the days of rocksteady they had it easier. The reason why which turned out better for we now was because in those times most of the songs were given to them, adopted songs, overdone songs.
From America.
Right! So very few of them came with original stuff. But when I came into the business I didn't have that luxury. Because what they were asking for, they didn't want to hear a song that they had been hearing playing around the place. They wanted creative stuff. Original stuff. That's what they said to you. All the producers would say "Make sure you're coming with the song that we have never heard before". Which is an original song. Which now pays off because…
Because of the publishing.
Right! So if you were doing over a song that was done in America those are the people who were going to be claiming. So it worked out good for me now and the producers were doing good for us.
Can you tell me about some of the talent contests that you entered during that early time?
In those days it wasn't like recording time, those days were live shows, amateur, in those little small clubs. Those little clubs where artists who don't have a name yet. And that's why this guy named Tony Mack is so important in the thing because he would search for people who he would see had a talent, so he could groom you but you still didn't reach the stage of being a recording artist. I started being a recording artist was when I went to Clancy Eccles. No… I went to Federal where I met a guy named Steer and he was an engineer at Federal. He did a song with me there but it wasn't released or anything like that. I had my first experience going around microphone.
Do you know what the song was called?
Wow. It was just a little freestyle thing. In those days maybe those little things were good songs but the competition was so high. In those times Clancy Eccles and Rupie Edwards, Sunday evenings there would be auditions. You would go up to Halfway Tree and Rupie would sit there and he would have Flabba Holt playing the guitar and then Shorty the President would stand beside him. You would have a lot of people in the yard like upcoming artists like Barry Brown, Sugar Minott was there with a group named African brothers with Tony Tuff and another guy. And they had the Diamonds who I can remember, and you had Jah Woosh.
Every Sunday was an audition and the yard would pack up with the artists who wanted to become singers. One by one you would go before the producer and you would sing your song and let him hear it. And he'd listen to it and he would say "Bwoy, it sound like a song that I heard" or he'd say "I think you need a chorus" or "I think you need some verses" and he would send you back and say "Come back in a month's time but change that verse". I was so lucky when I started with (sings) "Julie, don't you know, every day you're wondering". "Oh bwoy! You go up there!" I was like chosen! To standby myself. Because each person they chose they would go in a separate corner and then they would listen to the next person.
Rupie Edwards was sitting on the stool as the producer, listening to the artists so he would know which songs sounded like he could really take it to the studio. Mainly he would need two songs because in those days usually you would have to turn over the record and you would have another song on the other side. Because I came into it before the version flip side. There was a time when you'd turn over the other side of the 45 and you would have another song that is not really as good as the A. So the producers would mainly be interested in two songs because you needed to have another song on the other side.
So that's how we came into the thing with a great testing. It wasn't just run in there, you know? You had to be doing the thing and you had judges who were listening to you and if you're being chosen he would listen he would say "Yeah, you can get yourself ready for next week going to the studio".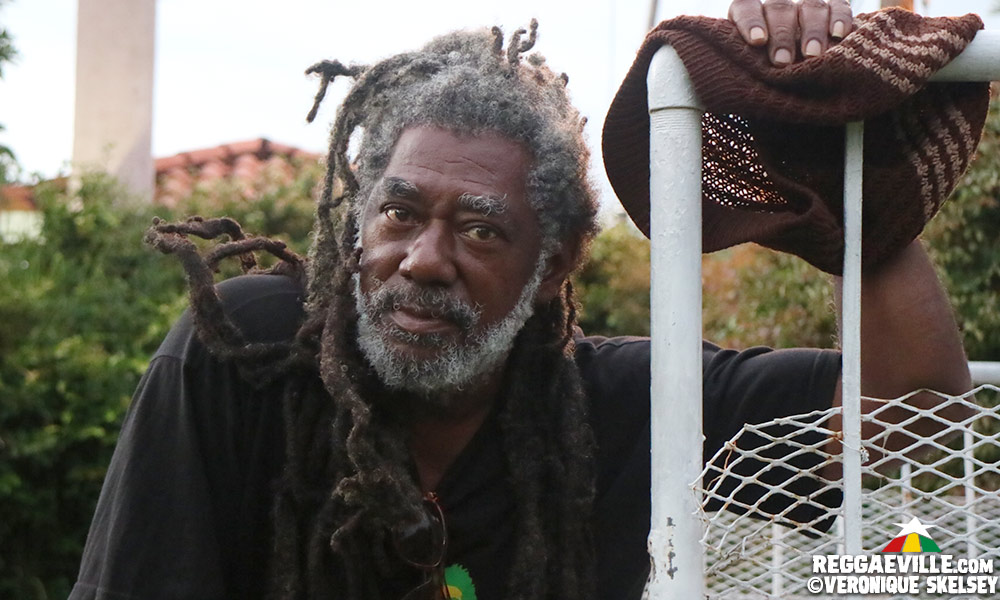 Can you tell me a bit more about the work you did for Clancy Eccles and Rupie Edwards?
Yeah, well Clancy now I would say is the man who decided to give me a break still. After moving around. Because Bunny Lee - that came after. Because in those days if you were living in the country it would be harder for you to come to Kingston to be involved and start doing recording. But I was at the headquarters day after day. When I left my home I was there. So I just got connections because through Clancy all of the people were right there.
Clancy he got to know me and he heard me sing a song God Made the Sea and Sun. He liked it so he said I should come up to Harry J that night. I went and he gave me a bly and we did that song. He gave me a break but it was just on a test press label. White label. He never had a label printed out or all of that. So I never knew if it was that serious and he just gave me a try but then again the competition was on a high.
Those days, the people who were singing were really professional. So if you were going to be coming with a little ordinary thing a man was going to ignore it. He might take you to studio but he was not going to have it as his top thing because of the heights that it was. On top, top, top. He was looking for the pass mark then that was above 50 or 60. So if you came with 50 or 60 you might get yourself in the studio but it won't be recognised as far as releasing is concerned. So that's where it got stuck on the white label.
Rupie Edwards also did that, but what saved me now with Rupie Edwards was a man named King Tubbys. Rupie Edwards was now linking with Tubbys, and Tubbys was a man who like to play the songs that were not so popular. He liked to play songs that were not being heard on the radio every day. Because if you're going to leave your house and go to a dance and hear some songs that you've heard playing on the radio it's not so much interest. The reason why Tubbys was so highly respected is because the songs that he played, you wouldn't stay at home and hear them. He wanted to play songs that are not going to be released yet.
Exclusives.
Dubplates and so on. So that's how Wondering was the first tune that hit in the dancehall. Because in those days the radio was mainly focusing on R&B, American music. When you'd go on FM you'd get some real American Stylistics and Chi-Lites and the Supremes. But the reggae music, the reason you'd usually hear Studio One and Treasure Isle was because those programmes were being paid for. Like a special hour, like 9 to 10 you're going to have the Treasure Isle or you're going to have Studio One. So you'd have to be paid to have a programme on there.
When I was downtown at Idlers Rest I had brethren. Because I never lived downtown. All the way in Waltham Park, Kingston 13, Whitfield area. But downtown now was a lot of excitement because you had a place named Dragon Gym on the south side and when you'd go to a dance there, the dance was a crowd of people. Full up! They recognised in those days, they usually loved hearing the sound. King Tubbys was playing there one night but I did not attend that dance. So when I came to downtown the next morning some of the brethren who went to the dance came to me and said "Bwoy, you should've heard Tubbys last night - the man draw your tune and the whole place!" Every Day Wondering, he drew it, he played it at Dragon Gym and something developed.