Review
EP Review: Jerone - Rising
12/05/2020
by Gardy Stein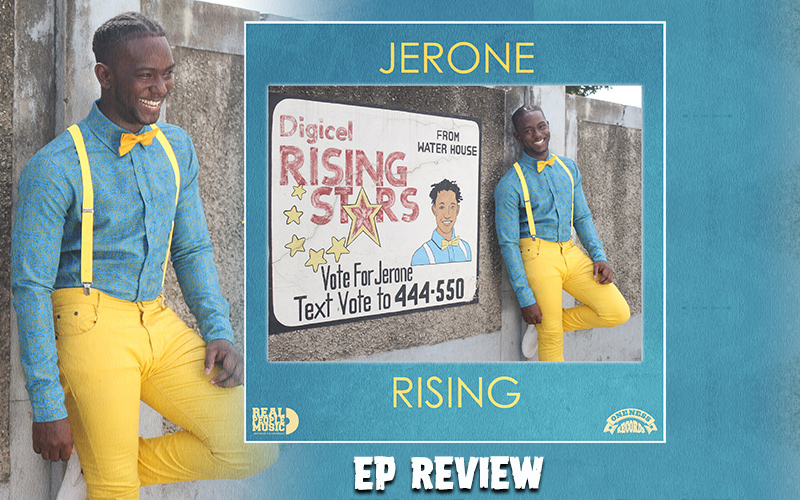 Debut releases always harbour a certain magic. Like footprints on an empty beach, the first ever tracks presented to the public trace an artist's journey into the fascinating realm of music, and as such should be subject to thorough planning and scrutiny.
In the case of Jerone's debut EP Rising, that's exactly what has happened: teaming up with Germany's Real People Music (founded by Reggaeville's own Ursula "Munchy" Münch and Alex "Drummie" Domhöver) was a true blessing and gave the young artist the opportunity to work with a skilled and experienced squad of music lovers. The five tracks included were composed by drummer and producer Alex Domhöver, and their earthy, rootsy and soulful vibe are the ideal match for Jerone's melodic and emotional singing style.
Next to the impressive array of instrumentalists who ensure the high-quality live sound (among them Errol "Flabba" Holt, Franklyn "Bubbler" Waul, Lamont Savory and Aeion Hoilett) it is the lack of auto-tune that makes this release so special - Jerone has a voice that is best heard in its purest, most natural form!
Prime example of his virtuosity is Keep You Safe, a sweet and tender love song in which he implores his empress to stay with him, both on velvety low timbre and incredibly high-pitched notes which never sound forced, however. Paired with the easy flow of the underlying riddim, this song is an instant favourite of mine, just like the subsequent Kool It Down. Listening to its perfectly arranged brass interludes, the inviting drums and, most of all, that rolling bass-line makes us long for partnered movement and the forced deprivation of dances feel even more painful. Kool it down, Corona!
While Give Me A Minute is another one for the ladies (make sure you check out the refreshing video!), the more serious topic of proper education to reach your true potential is addressed in The Search Is Over, the only feature of the EP. Together with No-Maddz' Evie, Jerone evokes some important names of Black History: Martin Luther King, Rosa Parks, Mohammed Ali, Nelson Mandela, Walter Rodney and Marcus Garvey. The search has to start from within!
This leaves us with the last tune of the EP, Brother's Keeper. You might have encountered it already, either as Jerone's version of the 2019 released Buff Baff Riddim that was well received both within Jamaica and abroad, or through the inspiring video that comes along with it and was part of a campaign against bullying which Jerone accompanied with a school-tour. Thus, not only is this young man an amazing vocalist, performer, musician and song-writer, but he's a social activist as well, encouraging peace, compassion and love!
For those who care more about the audio quality of the release, rest assured that this aspect, too, is well taken care of by Philipp Winter aka Umberto Echo of Oneness Records, who was responsible for mixing and mastering. Rising is indeed an impressive debut, and those singular footsteps evoked above will soon be overrun by a plethora of fans, so Jerone, beware!
---
Release details
Jerone - Rising EP
[Real People Music]
Release date: 12/04/2020
Tracks
01. The Search Is Over feat. Evie
02. Give Me A Minute
03. Keep You Safe
04. Kool It Down
05. Brother's Keeper