Festival Report: Reggae Jam 2017 - Free Live Stream
07/28/2017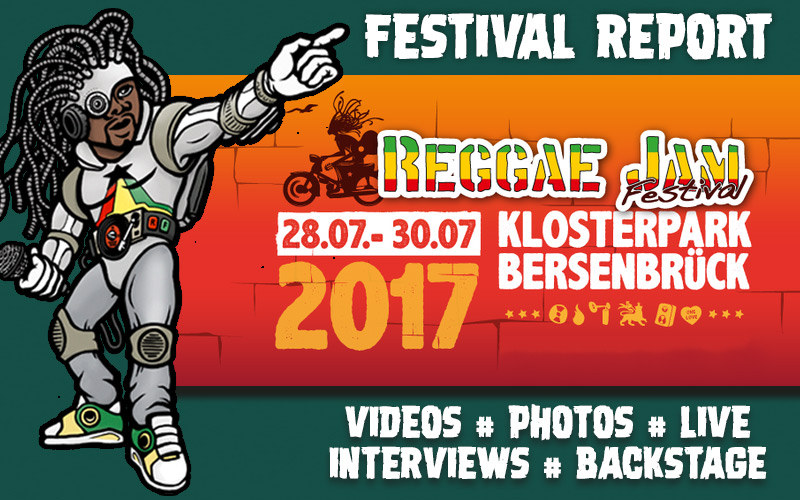 It's time for the Reggae Jam Festival 2017 in Bersenbrück, Germany. Team Reggaeville is on spot to bring you fresh videos, photos, interviews and vibes!
Watch our live videos and interviews in the VIDEO SECTION and check our photo reports HERE
Gardy reports from Reggae Jam 2017
Festival runnings, musical highlights, special moments on and off stage - find it all here! Our comprehensive Reggae Jam Festival Report will not only bring to your attention the artists who rock our weekend, but also the messages contained in their music and, since the 23rd edition of Germany's most beloved #1 puts a heavy focus on veterans, a little bit of history as well.

THURSDAY - July 27th
It's Thursday afternoon in Bersenbrück. The small, usually very quiet town in north-western Germany has turned into a bustling beehive of activity, as every year when the Reggae Jam is about to start. While people keep arriving, setting up their tents, meeting last year's neighbours or commenting joyfully on the already available festival program, we set out to explore the grounds. The mighty sound of Samba drums brings us to a group of more than fifty musicians called Bloco Sambanale who make their way rhythmically through the camp. Before their beat entirely fades away, it mingles with the sound of sweet Reggae music coming from the Sandwichmaker. Unlimited Culture, a young Bavarian band around singer Lenny, play an opening set that slowly attracts a small crowd to the vegan food stand of Steffen "Moa Fire" Prase. With one of their tasty Jamaican Sandwiches in hand, we proceed to the Dubcamp, where another opening act is in full swing. The Rude Reminders, an eight-men-formation, orchestrates fantastic live-Dub, original with Rhodes piano, sax, trombone and harmonious vocals that seem to carry us deep into the setting sun.

Meanwhile at the Dancehall tent: festival-dad Sheriff warmly welcomes his guests and gets them going with his Sound Patrol. When the Soca Twins start their set at midnight, hundreds of hands are up in the fog-obscured air. Kingstone Sound take over to introduce the first official stage-act here, Mr. Bay-C, who presents songs off his EP Better Must Come as well as T.O.K.-highlights like Solid As A Rock. Boom!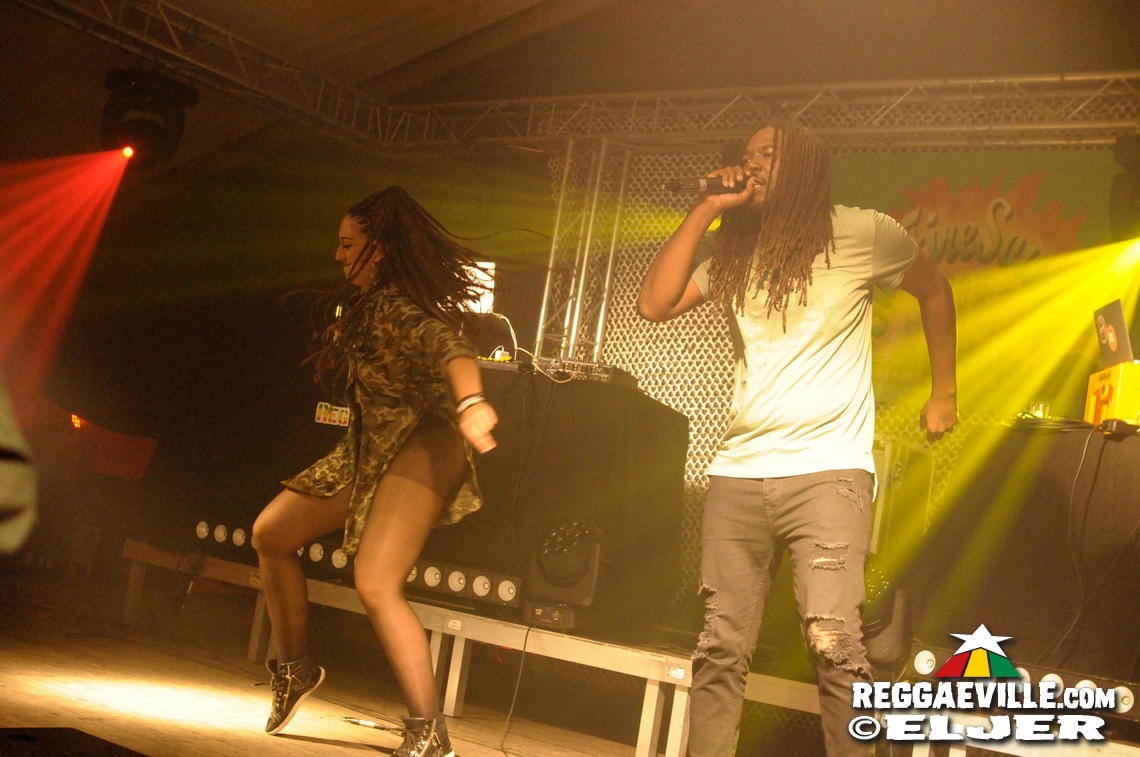 An opening like this promises an exceptional weekend. Make sure you check our report with pictures, videos as well as our daily report. And since what we have here is message music, quotes and statements of the artists performing will accompany the next days. Let us start with a message of Bay-C: "Rep where you from!" So, let your flags fly high and be a part of this 23rd edition of the one and only Reggae Jam!

FRIDAY - July 29th

4:12pm
The day starts at the Dubcamp: sunshine dancing with Irie Worryah! The impressive speaker towers erected by Zion Garden and Roots Plague Soundsystem on the fields on the far end of the area play a heavy bass-based selection all day long, and the artists taking up the mic make for a mini-festival within the festival. Luke Nuk'em, Mighty Howard and Black Omolo are only some of the names performing here during the day, but the tight schedule of the main stage doesn't allow a closer coverage.

6:20pm
Movie time! In the most relaxed onset ever, hundreds of visitors lounge on the festival grounds (on chairs, blankets or simply the wood-strewn floor). On the screen, the documentary called Kingston Crossroads by Oliver Becker and Jonas Schaul unfolds, picking up stories from past, present and future of the vibrant Kingston Reggae scene.

7:57pm
The first act is at the same time the only female one. Marla Brown makes her Reggae Jam debut with the Next Generation Family, a band of five that supports acts on the "Special Stage" to our left. The young singer carries a message loud and clear on her shirt: "Take your time preciosa", and that's what people in the audience do. Nice and easy! After warming up vocally and energy-wise during the first two songs, Marla presents tracks off her debut EP Survivor which has just been released, Crystal Woman and Mama Knows Best among them. Surprise: Indonesian signer Ras Muhamad joins her on stage in Zion, a song recorded fot the EP which they now perform together live for the first time ever. Fyah T, a truly fiery artist outta Munich, takes over from Miss Brown to expose us to songs off his current album Real Rebellious and brings this early set to an end full of motion.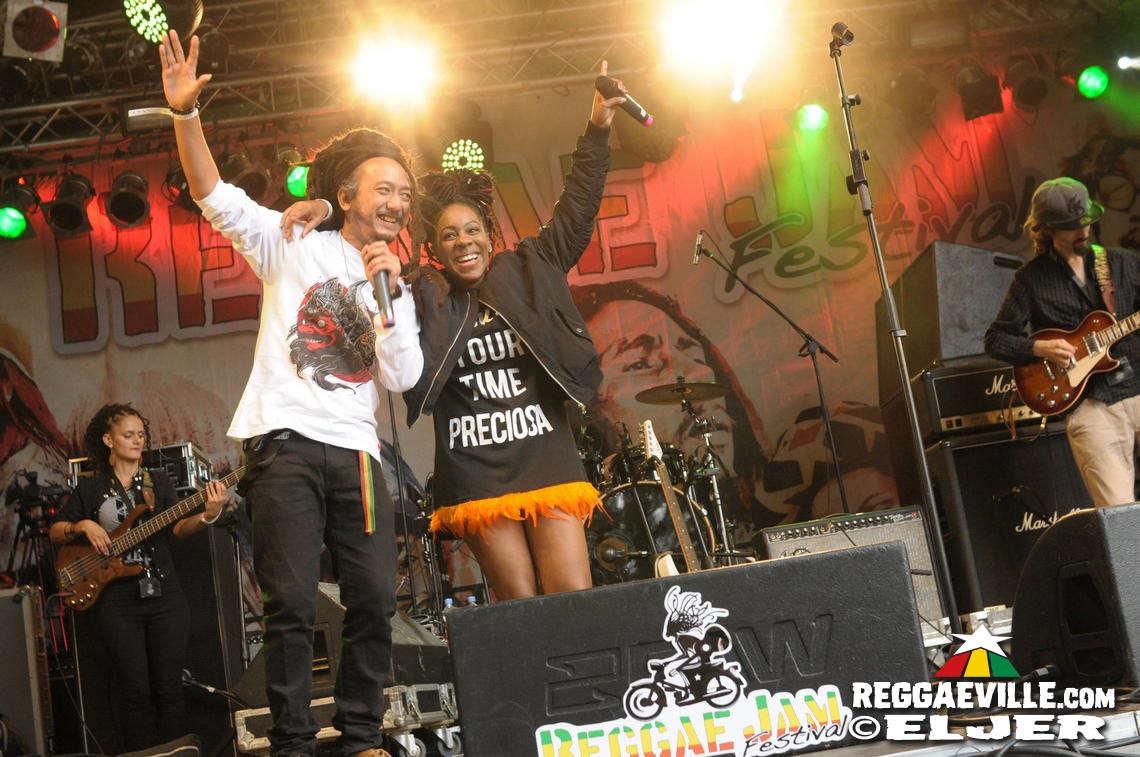 8:29pm
Irie Souljah and the Black Star Liners are up next. Whenever in Europe, the artist born in Spain but now living in Kingston links up with the musical family which is part of the production team of his latest release Immigrant. And a tight delivery it is indeed by Genis "Genious" Trani (drums), Pablo Yupton (bass), Pau "Natty Keys" Dangla (bass) and Isaac Lloses (guitar). In the title track, he asks Who Is The Immigrant and thus puts the global refugee crisis in focus. At the same time, he never forgets the musical roots: "This music comes from a very special place. Big up Jamaica everytime!" The Souljah has worked with Jesse Royal and Kabaka Pyramid and is a powerful live-performer, as the movement shows that spreads concentrically from the stage.

9:12pm
Each one teach one: the classroom heeds a teacher clad in black pants, red shirt, black tie and red sneakers. Style! Teacha Dee was indeed a teacher for some time, but has dedicated his energies to music now. Rumours and Stop Follow People off his current album Rastafari Way spread positive messages that partly stem from the ancients: "Do wha you fi do, stop falla people!" is an advice his grandpa gave him, the Teacha tells us. He continues with a special dedication to the Reggae Jam, the cover Other Side from the Red Hot Chili Peppers. Before he ends his set, he calls Don Tippa on stage, a childhood friend from Montego Bay.

9:47pm
I move closer to the main stage, as one of my personal highlights is about to appear: The Ones! The formation consisting of Blvk H3ro, Royal Blu and Runkus as well as the fabulous Old Skl Bond bring innovation on stage which, in my opinion, continues to develop the genre so dear to us. All three of them are extremely talented youngsters who are up and ready to leave their mark on the world. Musically, the band manages swift changes of tempo and style, while the artists perform cleverly arranged, lyrically interlaced content full of surprises. This is more musical theatre than a mere concert! 
Blvk H3ro is up first, delivering the title track of his upcoming EP Feet Nah Fail as well as some of the explicit Ganja-tracks he is notoriously known for since the release of the "WeedP" THC:The H3rb Connoisseur last year. His flow is picked up by Royal Blu, who has made himself a name with features so far, but is an equally amazing experience to behold solo and live. The beauty- and soulful Believe floats through the settling dusk, and his Barrington-Levy-cover Murderer has a massive set of hands up. A lively dance-choreo with background-singer Ashani marks the end of his set, and now Runkus appears. The youngster called Romario Sebastian Anthony Bennett should still be fresh in the memory of those who witnessed his exceptional performance last year, and tracks like Energy, Kindness or Move Yuh Feet are enthusiastically received by the audience. A special moment is when the singer begs for silence and prays with and for us: "Father, bless these people before me, and the players of instruments who have come here for the weekend, because they make Reggae music the spiritual experience it is." Full of humour, message and creative innovation, these youngsters are a joy to behold!

12:20am
While Voicemail passed me by in a blur of loud beats and movement, I pay close attention to the artists up next: the Twinkle Brothers are a living legend from the founding days of Reggae music. Founded by Norman and Ralston Grant, the songs they bring up are known enough to let the crowd join in the singing. Since I Threw The Comb Away, Rasta Pon Top (from their debut album in 1975), Faith Can Move Mountains or Babylon Falling are building blocks of modern Reggae music, and accordingly received. The messages delivered are worth listening as well, of course. With severe criticism, he comments on a song against pedophiles: "Stop it today! Leave these innocent girls and boys alone!" and on the importance of liberation in the hymn Free Africa: "If Africa no free, no man can free!" Utmost respect to this band who celebrates 55 years on stage and more than 60 albums!

01:39am
Turning left again, EarthKry bring Roots Rock Reggae to the special stage, with a focus on Rock. They learned their craft at Edna Manley College, where they came together a few years ago, and tutors like the deceased Nambo Robinson shine through their fine instrumental delivery. Their set includes songs like 9 To 5 and Hard Road from their 2015 EP as well as tracks from the recently released debut album Survival. Wildfire, Survival System and Wake Up And Live aquaint the audience to their fine lyrics and melodies (although I miss the sweetness of my favourites Keep Dreaming or New Leaf, which you should definitely check out). An important message comes in the next song: "Do what you've got to do, or someone will do it for you!" speaks clearly to people who tend to miss opportunities due to being lazy or pushing tasks to the ever-moving tomorrow.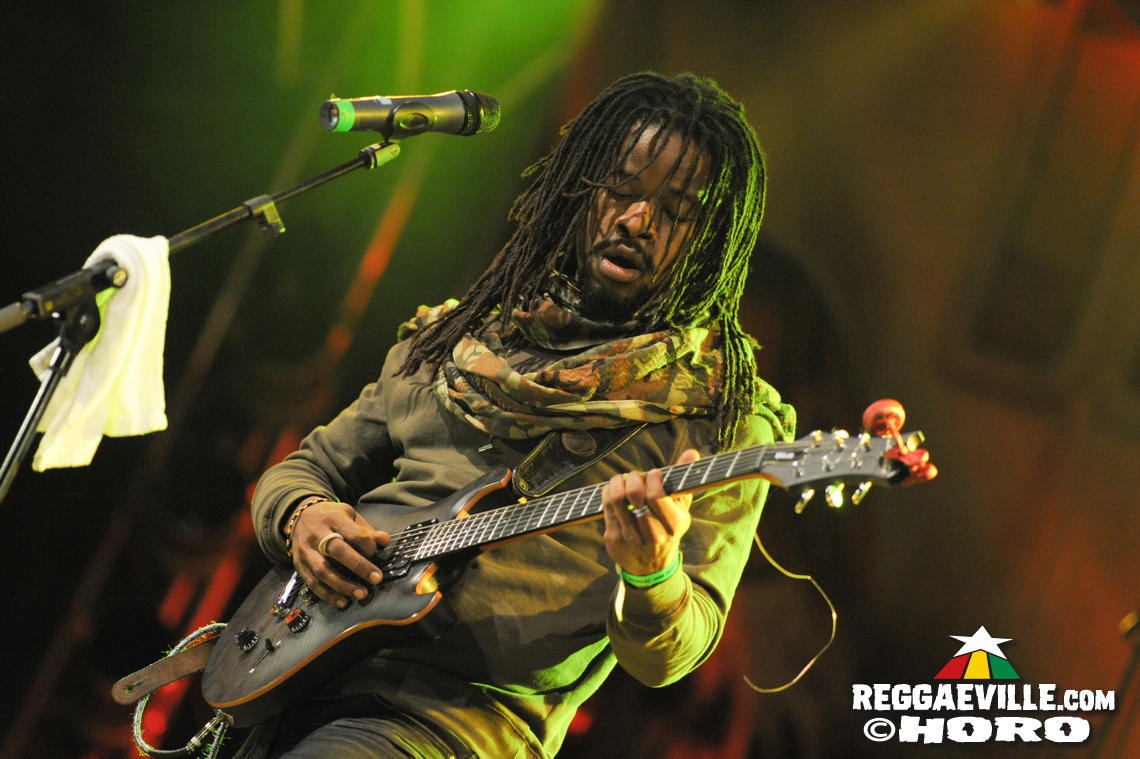 02:28am
Confusion on the main stage: Michael Rose, another important veteran and headliner of the night, temporarily mixes up two of his songs: "I got a stalk of Sensi.." he starts, realizing his mistake and continuing with "Shine Eye Gal is a trouble to a man!" Artists are only human, after all, and mostly small incidents such as this endear them to us even more. After the creative break Mr. Rose took to be a coffee farmer in the Blue Mountains, the former Black Uhuru singer (he replaced Don Carlos in 1977) is back on the scene since a few years now and plays through a set of his own songs (his most recent releases are the Jammys-production Rasta State and Strategy Of Rome in 2017) and more Uhuru classics like Solidarity, I Love King Selassie and - finally - Stalk of Sensimilla. His vibrant show makes for a colour- and soundful closing of this first festival day, and for those who wish to continue the party, both Dubcamp and Dancehall Tent (where Silly Walks Disqotheque take turns with Barney Millah) offer ample opportunity. Good night for now!

SATURDAY - JULY 29th

1:46pm
Breakfast with Ganjaman: even though we are not at the main stage yet, we hear every word he sings at our camping ground, loud and clear. The tradition of opening the Saturday is not broken by the outspoken artist, and songs of his album Sinnphonie float through the midday air.

2:34pm
When we reach the center of musical happenings, Mellow Mark is playing one of his final tracks and calls featured artist Uwe Banton on stage to perform Weisheit. The message contained: "Wisdom is better than silver and gold, everything depends on your intention!" And, with the best of intentions, hundreds of people have already arrived to spend another wonderful day here.

3:03pm
Formerly known as part of the duo Joint Venture, Götz Widmann and his guitar are up next. The German singer & songwriter has lots of experiences to sing about, and his repertoire brushes issues such as drugs, sex and politics - direct and unvarnished. Even though he is no explicit Reggae act, the crowd knows him and requests a song called Eduard Der Haschischhund. When he comes to that at the end of his set, humours are high and most people present sing along.

4:11pm
With a much bigger audience than during his opening concert last year, Tóke and The Soultree Collective are in full swing on the main stage. The youngster who was voted national newcomer two years in a row in the Riddim Magazine Reader's Poll is getting better with every show, it seems. After playing through a set of songs from his EP Troddin With A Vision and the debut album Wake Up Inna Kingston, he reaches the latter's powerful Open The World and is joined by Ras Muhamad. After they finish, the calls for encore are the loudest so far, but the tight schedule doesn't allow for more.

4:27pm
Another musical companion from the good old days, Echo Minott is up next. He has worked with greats like King Jammys, Joe Gibbs or Black Scorpio, but here he loses my attention with a rather dull cover of Eurythmics' Sweet Dreams. His skill and talents shine through at times, though, especially when the Next Generation Family band start a vibeful version of the Answer-Riddim.

5:06pm
Are you ready for a lesson in Reggae-music history? For the combined four acts of the next set, the tour promoters have thought of something special. Jan, one of the initiators of the charity-organization Action Speaks Louder Than Words, gives a lecture about the development of Jamaican music from Ska over Rocksteady to Reggae as we know it. Each section is underlined by a live presentation, and up first are the legendary Silvertones. Founded 1964 by Delroy Denton, Gilmore Grant and Keith Coley, only the latter is still part of the original trio-set-up. Denton was replaced by Joel "Kush" Brown in 1977 and Grant sadly passed away in April 2016, a blank that is filled by Anthony Fuertado since. With silver jackets and tracks like Confession and Gun Fever they bring the vintage vibe back to the sound of the Vintage All Stars, a group formed from members of the Six Nation band.

5:42pm
After the next part of the lesson, it's time for The Heptones, another living legend founded by Leroy Sibbles, Barry Llewellyn and Earl Morgan in 1965. Today, Earl is the only remaining founding member, as Leroy left and Barry passed away in 2011. Robert Dacres and Carlton Scarlett complete the vocal trio, and each of the singers gets his spot in a delivery of four songs, the wonderful Party Time among them. "Let's live our lives the best we can!"

6:01pm
In a show-set-up that is as innovative as it is exciting, The Silvertones take over again, making people dance along after another dose of teachings. Even the sun makes her appearance during this part of the show, illuminating my personal magic moment of the day (and probably the weekend) at...

...6:26pm
Book Of Rules! The Heptones deliver their timeless classic while I am in the crowd with a circle of friends who all sing along at the top of their voices. When we reach the One Drop in Jan's lecture, he announces a world premiere: Kushart, one of the "best kept secrets in Reggae music" is about to perform a rare live showcase, never before seen in Europe. Apart from Silvertone-members Joel and Anthony, Barrington Lord is the third member of the trio, a singer and manufacturing artist who is just about to set up an online-shop under kusharts.com, because (as we all are painfully aware) the income of Reggae royalties is just not enough to support our foundation artists. "It is our responsability to better the world and pass the legacy on!" says Barrington when I express my gratitude for the musical blessings after their intense performance.

7:19pm
Californian singer Jah Sun is accompanied on stage by our Reggaeville-boss Julian on Handycam, and people who follow the Livestream experience most of his opening track Guess Who from the artist's perspective. Other songs from his most recent album Between The Lines make for a fine soundtrack for my belated breakfast of Ackee & Saltfish (oh, can those food stand please move back home with me?), and while he hands over the built-up vibes to compatriot Big Mountain, we take you on a little excursion to...

8:12pm ...the Riverside Disco! Powered by Bassment Sound, Fob Soundsystem and Risin High, they organized a little warm-up for the Soundclash ahead of us. "Six bullets and leave" is the name of the Dubplate Showcase that has ten sounds play their favourite Dubs to a growing crowd. I nick a peaceful moment on the Hase river bank, pondering the wealth of this festival which provides hundreds of such spots and moments.

9:07 pm
Back to the main stage. 15 years ago, this artist enriched our lives with Virtuous Woman and other beautiful tracks, some of which found their way into his live-set today: Warrior King is up! Apart from a few new songs off his 2016 album The Rootz Warrior, he delivers the beloved classics, of course. "No, I never lose my culture!" is the booming answer of the crowd to his highly energetic performance, and a grande finale with an elder on drums has everyone cheering.

9:44pm
Legend time again: Max Romeo, who recorded his hit-single I'll Buy You A Rainbow 50 (!) years ago, takes us back to a time when all you needed to Chase The Devil was an iron shirt. Other hits roll from the speakers, and as a special and unannounced surprise, his siren-like daughter Xana appears with a few of her own songs in tow.

10:14pm
Change of shoes, change of scene: the muddy track leading to the Dubcamp is best dealt with in boots of some sort. The trip is worth it, though, because iLLBiLLY HiTEC and MC Longfingah have some serious live-Dub-action happening. On the speaker towers of Zion Garden Sound, their tracks are bassy fire, and they even take it over from Max Romeo with a wicked version on the Chase The Devil riddim.

10:50pm
On my return to the festival premises, I see the tall figure of Eek A Mouse on stage from afar. Clad in Mexican Poncho and Sombrero hat, Ripton Joseph Hylton takes us on a vocal rollercoaster through his impressive output. Of course, Virgin Girl and Ganja Smuggling are part of his highly appreaciated set. Not even a short rain shower stops his fans from holding their ground and singing along, especially during the last track Wa Do Dem.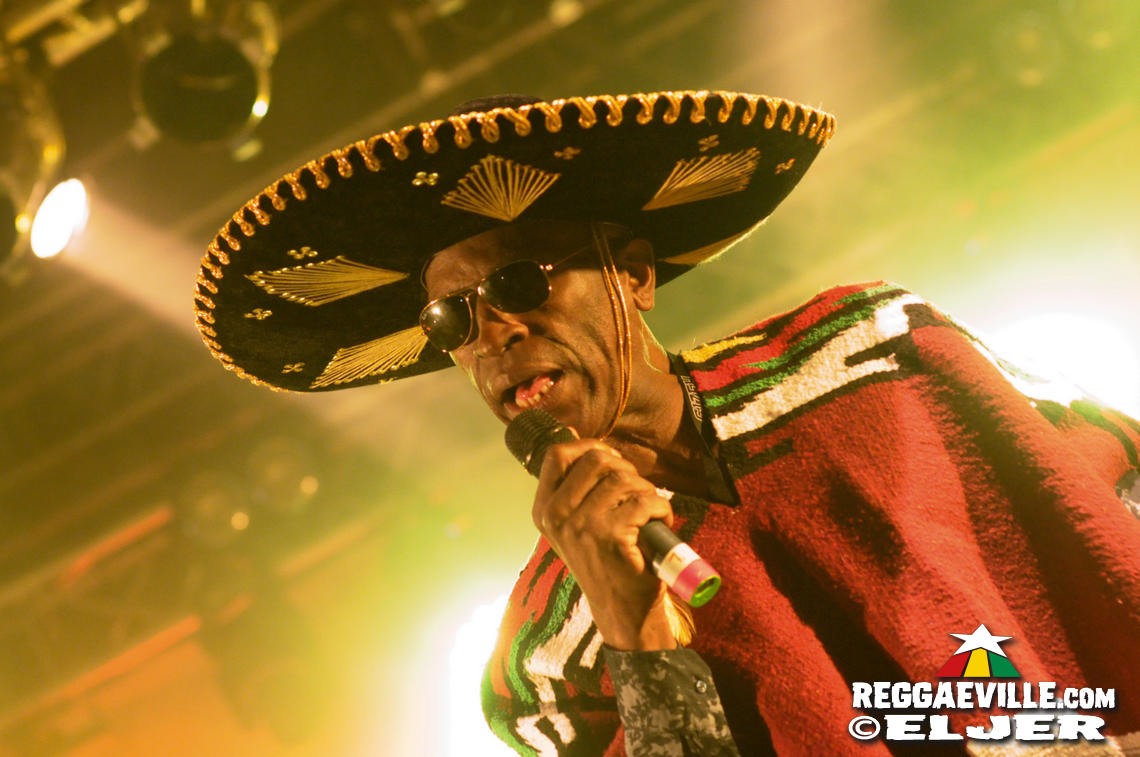 11:10pm
Meanwhile, a massive workload of musicians has assembled on the main stage. I count 11 musicians, stylish in jacket and tie, who are introduced as the Ska Nation band from Salento, Italy, by Jamaican performer Richie Stephens. The musicians accompany Ska-infused tracks like Foundation Sound, Fire Fire and Kingston Salento from his 2016 album Internationally. Spice is added by the equally present Sud Sound System, and their combined efforts leave crowd and Richie steaming after a haunting orchestrated final of O Sole Mio.

12:43am
Ladies' time! The next act Christopher Martin swells the ranks of female fans in the front rows, and tracks like Pirates, Cheater's Prayer or Big Deal from his homonymous debut album create an expectant atmosphere, into which the sudden appearance of D Major drops like a bomb.

1:04am
Battle Royale: David Rodigan vs. King Jammy's unite for their first ever clash on European soil. For the next two hours, singles and Dubplates fall on us like rain, and especially Rodigan shares both personal memories and insider's knowledge about Soundsystem culture with us. The last round is a speedy one-for-one session that teases us with first notes of Dancehall's foundation riddims and artists. Of course, both legends are the winners - as Rodigan puts it, no student can be put above his teacher.

4:15am
In yet another highlight of this experience-dense day, Sensi Movement send the Dancehall Tent rocking to the original tunes of Buju, Spragga & Co. For the final minutes, we find ourselves face-to-face with Spragga-nephew Amlak Redsquare as well as Kazam Davis and Nish Wadada at the Dubcamp, where they make sound use of the huge Roots Plague speakers until curfew marks the end of this exciting night.

SUNDAY - JULY 30th

1:24pm
Reggae Bunny Boo delivers his message for the little ones to the backdrop of Yellow Umbrella, followed by Jampara and the Batta Lion. The band is reinforced by three drummers from Burundi, carrying heavy clay-and-wood drums on their heads, still managing to beat and dance at the same time. Their music, influenced by African rhythms and melodies, is followed by the more Ska-driven performance of The Busters. The band was founded in Bremen in 1987 and has 11 members today, most prominent among them Dr. Ring Ding, one of the festival's moderators.

3:40pm
Rastafarian culture galore: with waving red-gold-and-green flags, in Khaki suits and tam-hats, IQulah and The Giddeon Family appear on stage and open their set with Nyabinghi drumming. IQulah stands for Integrity, Quality, Unity and Love for Africa as Home, and his warm, touching voice as well as the melancholic sound of a live Cello make the track Zion an almost spiritual experience. "What would the ancients say? Unite! Fight for our rigths!" is the message he brings across.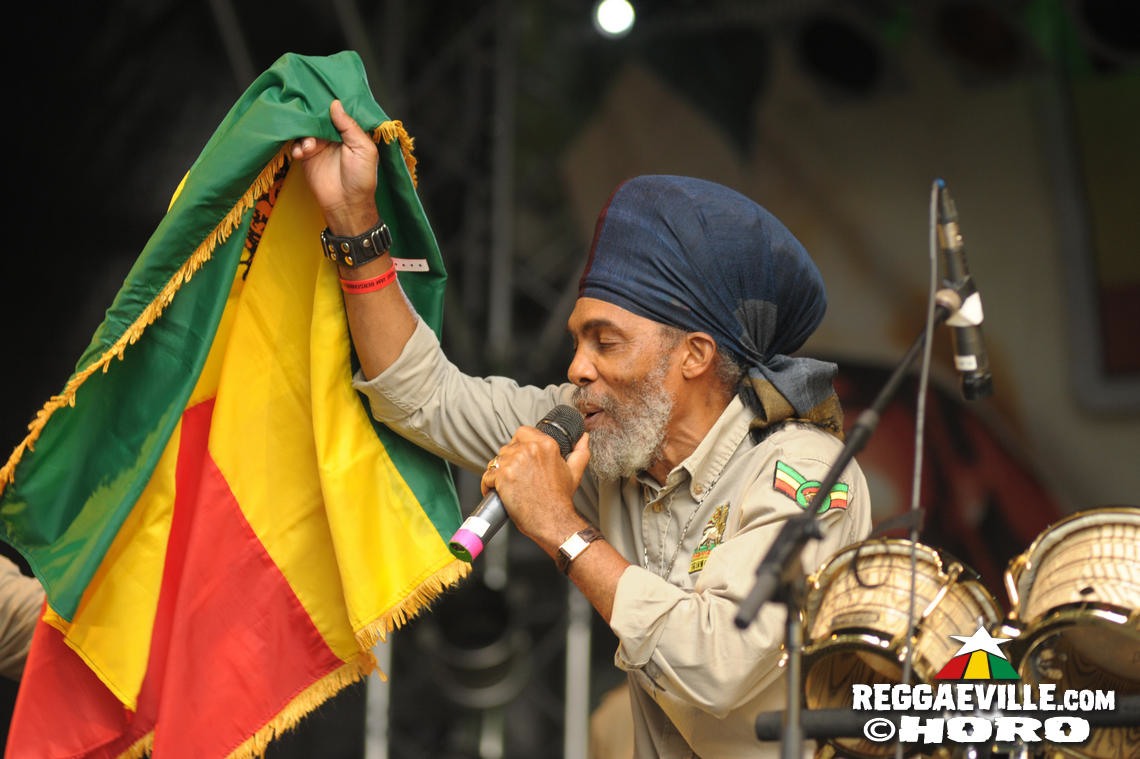 4:52pm
Continuing this conscious vibe, Kiddus I (a name meaning "blessed one" in Amharic) is sharing deep insights on life and Rastafari. He delivers his lyrics in a style that is more Dub Poetry than singing and doesn't hesitate to touch crucial issues: "This is the problem of the world - money! We misuse and abuse the earth all because of greed of money." The six musicians who back him play tight and bring movement to the gathering crowd.

5:35pm
Full again! With Don Carlos, another important foundation artist is about to appear. Founding member of Black Uhuru and a massive three decade solo career. His tracks are heavy manifestations of Roots Reggae, and Suffering or Pass Me The Lazer Beam are as much felt by the audience as by the drummer, who keeps jumping from his seat whenever the music becomes too intense. And intense it is - far beyond the usual set-up of backing-bands, this is yet another one whose fine brass section make the musical experience of this festival so special. "I want you all to know that I love you, we love you, but Jah loves you more!" says the vocal master who is both a loving soul and an extraordinary artist.
6:16pm
Stage MC Ganjaman acknowledges the specialness of above-mentioned moments with an expression of gratitude that is greeted by booming shouts of agreement & applause. "Reggae Jam is the only festival that brings so many Foundation Artists to your attention. Thank you, Sheriff!" The audience is in a mood to rock, it seems, as Chuck Fenda has no difficulties at all to get people moving. The "Poor People Defenda" delivers a breathtaking performance with a ride through his impressive output, and Warning is a climatic explosion of colour, emotion and sound as thousands of hands are up and voices all around me sing along. Both his interaction with the crowd and his introduction of the House of Riddim band who is backing him is the best since Runkus' show on Friday, and all of those who have missed his show should definitely check out his current album Concrete Jungle.
7:21pm
Another fact that makes this edition of the festival so special is the sheer diversity of the line-up. After Roots, Ska, Modern Reggae and Rocksteady, this is the moment for all Dancehall fans: Cham is up! Backed by an all-female band of three (drum, bass, keys), he speeds up the tempo considerably, bringing sexy dancer Malena on stage for some additional fire. His well-known tracks like Stronger and Ghetto Story get huge forwards, but it's his latest single Hero (taken from his current release Lawless) that makes for the most touching moment in his set. "Don't judge me from the look on my face, don't judge me until you take a walk in my place."
8:18pm
The later it gets, the busier the specially erected interview area backstage becomes (big up to everyone involved in puzzling out this logistic challenge!), and so I miss the start of the next show. Who is the guy on stage next to Perfect Giddimani? He almost looks like one of the Jah Ova Evil twins, but I am told he is called Young Shanty. As much as the effort has to be appreciated, I much prefer the following solo show of Perfect. In his ususal manner of combining clever, critical lyrics (Rasta Rebel, A Baby, 30 Pieces Of Silver) with an energetic performance, he brings the already hot mood to a boil. Of course, Hand Cart Boy can't be missing in his set, and the easy communication between the artist and the House of Riddim band who produced his latest album Live My Life Again is much evident.

9:01pm
Veteran time again! For Horace Andy, riding on foundation riddims like Entertainment is easy with yet another fantastic backing band, saxophone and trombone and all. "Money is the root of all evil!" he continues the Kiddus-I-musings, but it's his phenomenal Skylarking that gets instantly pulled up. Even though his more recent recordings are very innovative (he has recorded with Massive Attack, Mad Professor and Dub Pistols), it are his Studio-One-classics that are loved best here, it seems.

9:57pm
Mr. Anthony B is announced as one of those artists whose slot was cut short by the storm that hit the Jam 2 years ago. Today he's back with a full show, high spirits and his typical energetic self. With over 25 albums out, there is plenty of material to choose from, and many of his songs which turned classics are presented (Waan Back, Mr. Heartless, Time To Have Fun...). With Imagine he gives it up to the veterans, with My Yes And My No to the ladies, and he makes a clear statement what else is important to him: "My message to you is: love yourself!" Judging from the suspiciously wet shimmer in the eyes around me, a moment that touches everyone listening deeply is the intense acoustic cover There Is A Reward For Me originally sung by Joe Higgs.

10:24pm
Vibes thus pushed high, the fall seems twice as deep: Aswad is, for me, the most disappointing performance of the weekend, singing their well-known songs to simple backing tracks, without band. After the first few minutes I thus leave the concert to take a look around - let's see what's going on at the Dancehall Tent!
10:38pm
Nothing but fog there... at the Dubcamp, instead, a few hundred people skank to the combined bass-power of the final show of Roots Plague and Zion Garden, featuring the Irish singer Cian Finn. Since I can't really linger, I pick my way through the densely-populated camping grounds, marveling at the creativity of the tent-inhabitants who used flags, candles, neon-lights, puppets or flowers to make their little space here special.
11:19pm
Back in time for the main-stage-final, I witness how Ky-Mani Marley somehow manages to wrap up the vibes of the weekend and pass it on to the audience with a brimming fill. The persistent rumour of a special surprise guest is falsified by the continuing absence of both Gentleman and Beenie Man, but the artist present is enough on his own to make people happy. Positive Vibration, New Heights, Warriors and an excursion into Ska - together with the expert band he was able to bring (big up to the head-banging guitarist!), Ky-Mani creates a fine live experience worthy of closing this day and this festival. Well, not quite, because actually it finishes at...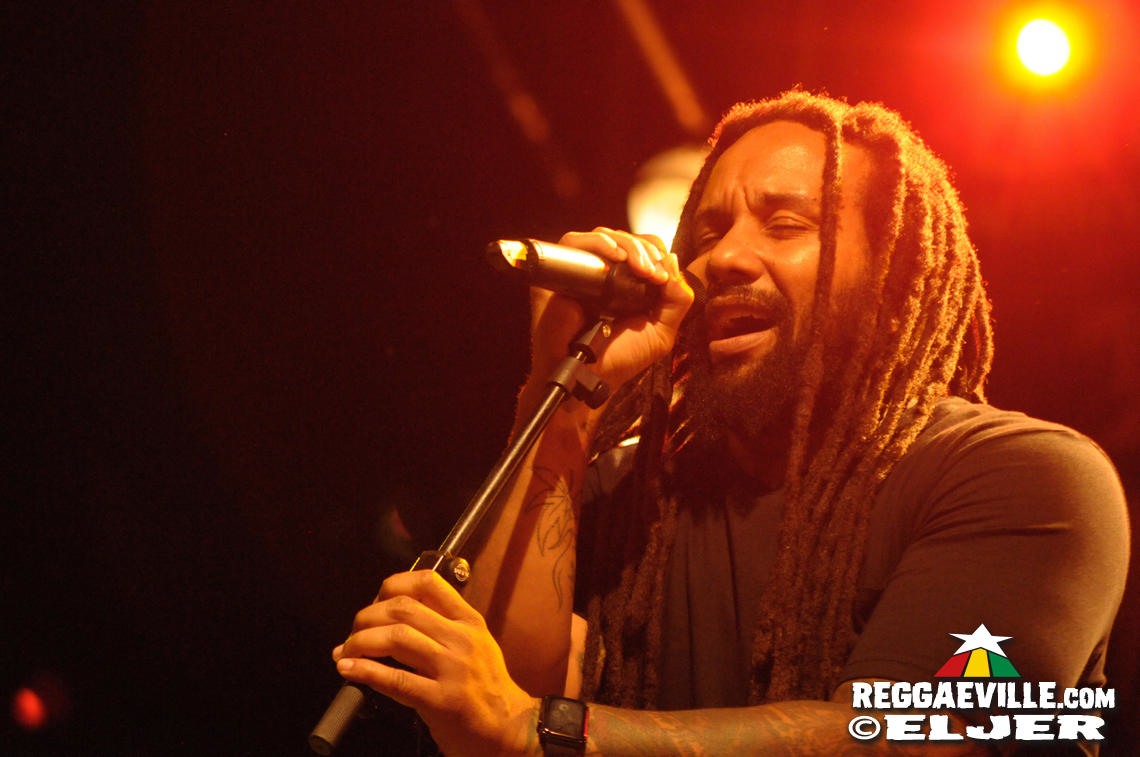 ...00:21amwith the traditional JUMP and the equally traditional concert of the Bersenbrück Marching Band (this time in Ska!). Festival organizer Sheriff expresses his gratitude to the city of Bersenbrück, to the 1.500 volunteers who helped, to the crew who had to set up this year's festival in a downpour of rain and a sea of mud (60 tons of "sludge shit" had to be removed from the place in front of the main stage!), to the artists and musicians who came, to the stage hosts Ganjaman, Dr. Ring Ding and D-Flame who led through the days, and of course to each and every visitor: "Thanks to all who made this festival possible. You are a part of Bersenbrück. I am happy about every single person being here, and about everyone who'll come back next year." And after these words have been greeted with heart-felt applause, we have to say good-bye for now.
In a nutshell: This year's edition of the Reggae Jam had a special magic touch. Whether it was the foundation-based line-up, the extremely fine choice of backing bands with an exceptional amount of brass, the smooth organisation, the friendliness of crew, security and backstage-caterers or the overall patience and kindness of the visitors, I cannot say - probably a combination of it all. Perfect vibes! The only improvement I can think of is a more prominent booking of female Reggae acts (the list to choose from is long: Marcia Griffiths, Jah9, Hempress Sativa, Kelissa, Queen Ifrica, Sevana, Kristine Alicia, Aza Lineage, Tuff Like Iron, Adahzeh, Nicole Miller, Vanessa Bongo...) - why not try a woman's day next year? For the 23rd edition of Reggae Jam, I'd like to say a loud THANK YOU to Bernd "Sheriff" Lagemann and Joana, all helpers and crew, all singers and players of instruments, my incomparable Reggaeville-Team, all journalists, video- and photographers (can't wait to dig into your fine works!) as well as my much beloved press-camp fambily. And now the wait begins...