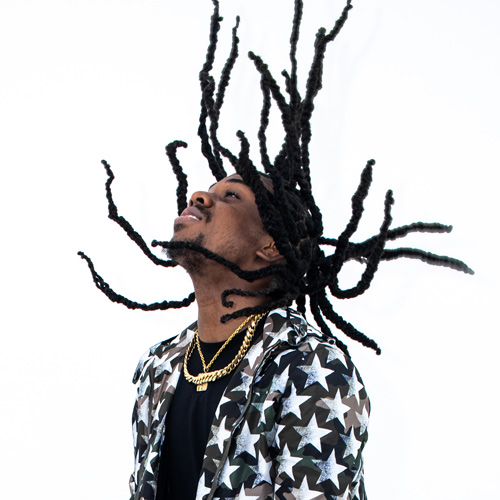 The road to "overnight success" is always longer than it seems. It's a journey that's seldom completed without pitfalls and stumbling blocks along the way, but through perseverance and determination, the fittest of the fittest fulfill their mission. Just ask JAHMIEL, one of reggae music's most exciting new voices. He knows all about that journey.
In a few short years, Jahmiel progressed from promising newcomer to indispensable star. His is a voice for the ages, blending the rock-solid reasoning of classical roots reggae with the freshest digital rhythm tracks, and investing dancehall music with a spiritual power that we almost forgot it was losing. Somehow Jahmiel managed to do all this without sounding preachy or cliché.
The artist's 2015 breakout hit, "Gain The World," produced by the little-known production team at Quantanium Records, elevated Jahmiel to new heights within the reggae industry. A song about people who sell their souls for success and the importance of resisting material temptations, "Gain The World" affirmed the importance of loyalty over luxury, setting a new standard for songwriting within this generation of Jamaica's dancehall.
"Me no frighten fe Benz and Beamer," the artist sang with unmistakable conviction, "me nah sell out me friends them neither."
Listening to "Gain the World" it was clear that Jahmiel meant every word he sang. He knew all about sharing one box of food with his day-one friends, never hesitating to tear off the box cover so his bredren could hold his own dinner. The power of the song's truth resonated with listeners around the world, and suddenly "everybody" knew that Jahmiel was on his way to the top. But the journey began long before. "Life comes with stages," Jahmiel mentioned in the tune. "I'm just on the other pages."
A young man blessed with wisdom beyond his years, Jamiel Foster was born August 30, 1992, in Portmore, a bustling city just outside of Kingston, Jamaica with a rich musical heritage. Jahmiel's passion for music became evident as early as age four. Giving his first performances around age seven, he began recording for some of Jamaica's top producers while still in his teens. Inspired by the likes of Bob Marley, Buju Banton, and Sizzla Kalonji, Jahmiel set out to create timeless songs using words and sounds that empower the human spirit.
"I know what music can do, that's why mi continue on that path," says the artist. "I can always remember when I go through a down situation I listen to a Sizzla or a Buju Banton and my spirit get lifted," he adds. "Anytime me come off track mi just listen to any of dem man there." Any member of Jahmiel's rapidly expanding fanbase could easily say the same about what his music does for them. Rather than indulging in fantasies and platitudes, Jahmiel sings thoughtful songs about real people going through through real-life situations.
Never one to waste inspiration, Jahmiel drew upon his daily experiences to write the follow-up to "Gain the World." It was a song about struggling to get past life's gatekeepers, the ones who don't believe in your vision until that vision becomes an obvious reality. Again the truth of his words resonated and the song became one of the artists' biggest hits to date, "Where We U?"
"Do you remember me?" he sings on the track, playing out a dialog between a suddenly hot artist and a formerly uninterested producer. "No I don't" the artist replies, unmoved by the "badmind producer" and his attempts to claw his way back. "Where were you when my mama hungry?"
In an interview Jahmiel confirmed that this song was inspired by his own experience. "Before 'Gain the World' and all of them songs, people did neglect me," he reveals. "As soon as 'Gain the World' break through, them ah go on like they were with me." And as the artist mentions in "Where Were U?" a paper and pen are his preferred weapons for dealing with adversaries. "Me write some songs weh hurt them feeling."
Do not mistake Jahmiel's calm, grounded humility for weakness. He won't hesitate to send a message to anybody who tries to front on him. It takes heart to speak such hard truths in a dog-eat-dog music business. "I don't carry a grudge but I won't forget," he says. "At the end of the day it's about the music. I'm not gonna let nuttin' come between me and the music."
Though he's familiar with the realities of street life, Jahmiel's creative vision doesn't end there. In recent times his movement—and make no mistake, Jahmiel in 2018 is nothing less than a movement—has come to be known as "Patriots." The name refers back to the concept of loyalty and standing firm against all odds. "It's the type of person I am," he explains. "Defending kind of person. When we stand for something we stand for that till the day me die—never change. And that's what a patriot does, love them country and defend it. Lifestyle, defend it. Anything you stand for, anything you believe in."
These days the Patriots movement is often mentioned as part of a collective known as MVP—including Jahmiel's longtime mentor Mavado, and Alkaline also known as the Vendetta Boss. Each of the three distinct artists has his own unique style and fanbase. They not a group per sé, but have rocked stages together from the Caribbean to the U.S.A. and Canada, recorded with some of the same producers, and supported one another on their journey.
It's safe to say that Jahmiel's journey has changed a little bit since the days when he used to walk to the recording studio in Portmore. Currently headlining a solo European tour, the artist now catches planes to perform for international crowds. Still his fundamental commitment to making relatable music remains the same. "I find it a responsibility to do good songs the youth can relate to," he says. "When the people hear truth, they gonna relate. Jah people them time right now."
Although his days of tearing the food box cover in two are long gone, Jahmiel has not forgotten the journey that brough him to this point. Moreover he remains adamant about eschewing hype and gimmicks while maintaining his integrity in both art and life. "Some did say righteousness nah gone nowhere," he recalls, "some did say my songs too deep." Whoever those naysayers were, they're keeping silent now. Jahmiel's rise can be attributed to one factor only: the quality of his songs. He consistently delivers refreshingly sensible lyrics that convey timeless truths over up-to-the-minute tracks.
"My conception of reggae music is the message and not really the beat," he explains. "I classify my music as reggae because of the messages, but my riddim them different. Mi nah work with rules in music; it's about the feel. There's no boundaries."
Spend some time around Jahmiel and you'll notice that his demeanor always projects gratitude, a trait that seems deeply embedded in him no matter what hardships he may encounter. "The strongest soldiers get the hardest fight, and the realest people live the hardest life," he sings on one of his signature tracks, suggesting that this is a youth who has seen some real situations along the way. But in music as in life, Jahmiel holds tight to the torch of upliftment. "Sun always shines, even after the darkest nights," he assures his listeners by the song's end. "So better days are on the way."
Some people say the universe gives back whatever you put out. Whether you believe that or not, there is little doubt that now is Jahmiel's time.
"Thoughts become things," the artist says. "Never give up." He remind himself and his listeners of these facts every so often because he knows he is speaking for more than just himself. Jahmiel speaks to anyone who finds themselves in a similar position, hoping to make it big and live out their dreams—not just out of want but out of need. Jahmiel is set to release his debut album early summer 2019, titled Greatman.
"The journey continues, from them time until now."