Review
Album Review: Bermooda - Unsterblich
12/14/2018
by Gardy Stein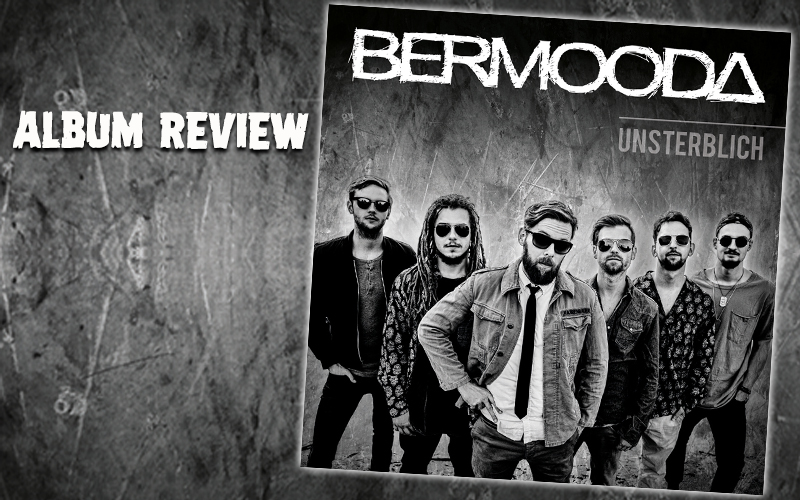 Quietly and almost unnoticed, a new German group called Bermooda has developed its sound and brought it to perfection. With their debut album Unsterblich, they bridge the gap between big, internationally well-known performers like Seeed or Gentleman and local talents on the rise - such as themselves!

Founded only three years ago, the six young men from Cologne (Georg Bremges, Martin Kuhlewind, Denis J. Ficon, Philipp Max, Simon "SeeMonKeys" Kramer and Borislav "Bob" Pankov) managed to find a unique expression of their music, a raw and direct instrumental beat accompanied by singer Georg Bermuda's simple, honest voice (which, in my opinion, wouldn't need autotune at all). Not quite Reggae, not quite Ska, not quite Punk and not quite Dub, but a mixture of all these and more - fine example of this recipee are the title track Unsterblich ('Immortal'), picked up again in the final Reprise, and the fast-paced, experimental Kinder.

Social criticism as in Sklave ('Slave') or Vorväter ('Forefathers') has its place as well as a glowing tribute to love in Aurora and visions of a better world in Utopia. With Jahcoustix, they added an established featured artist on Ciao, while Beschwörung ('Incantation') celebrates the togetherness that only a circle of friends can give. "Everyone is right the way he is, because life doesn't err..."

Meister ('Master') is maybe the most lyrical piece, perfectly plated on a calm, minimalist acoustic instrumental. "We are the teachers of mankind, the old and the new masters. We share our wisdom to make your life a bit easier. We talk about love and inner depth, and we want you to follow our words to where they lead."

Even though their lyrics are exclusively in German, it's well worth listening to the musical compositions, recorded in a live-session stylee in Cologne's Renaissance Studio, co-produced and mixed by sound-master Guido Craveiro. Executive producer is, beside Bermooda themselves, Dimitri Lichtenberg, a live sound and mixing engineer from Düsseldorf. It's them as well as the finishing touches provided by masterer Stefan Heger, that complete the innovative sound suggested by the band, a sound that lends a fresh perspective on Germany's Reggae output. And only time will tell if it's indeed immortal!
---
Release details
Bermooda - Unsterblich
DIGITAL RELEASE [Bermooda]
Release date: 12/14/2018
Tracks
01. Unsterblich
02. Aurora
03. Ciao feat. Jahcoustix
04. Kinder
05. Beschwörung
06. Meister
07. Sklave
08. Vorväter
09. Utopia
10. Reprise
Featured artists
Jahcoustix