Review
Album Revierw: Jah Sun - New Paradigm
01/20/2015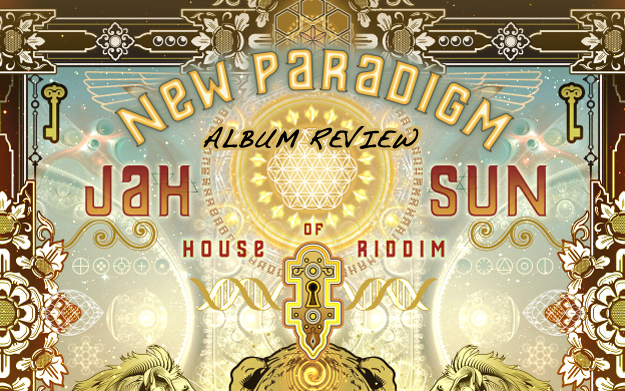 This is Jah Sun's New Paradigm and as the title track unfolds, the energy is very welcoming and full of encouragement: "Come a long Jah children, don't be late, it's you we await." Its an invitation to begin the journey toward a new paradigm, as the title lyric is sent through autotune effects, giving it an other-worldly quality. This is also a ticket to ride the journey of the new album, Jah Sun's follow up to Rise As One released in 2013. The song begins with sounds of a cheering crowd and a stage show-styled intro from Jah Sun and on behalf of his partners Austria-based House of Riddim. Its an invitation to come on this full-length collaboration, a diversion from the usual reggae album that employs several different rhythm producers. Here you will find great lyrical elements from Jah Sun as part of his wish for us all to be part of a new paradigm, a new reality. You can write your own story full of triumph and glory, but you must rise up and take a chance. The meditation sells itself with the chant "reach a new state of mind its not too far where there's no pain no sorrow no hunger no war."

Never Give Up sets the pace with important lines of encouragement that keep the vibes high, "Love is my weapon and faith is my shield…. When I start di ting, mi don't stop di ting until the ting is done." Its the first single from the album and a first-hand account of his life experiences and his own self-reliance as an artist with its shout out: "Even if the critics never rate me, I'm never giving up no way and to all the weak hearts who hate me, I'm never giving up no way." The production values on this tune shift the tones and stereo tracks during the phrases, making for a very rich sonic experience. The House of Riddim is just that, a hard-working production house led by Sam Gilly that implements many of the techniques that made some of reggae's strongest songs both in the past and those that are recorded in more of a retro-style in the current music scene.

Jah Sun links with Dre Island for Carry On, a lovely segue to Never Give Up which looks at external conditions that may impede progress. The combination of these two over this sweet rhythm with its bright keyboards and supreme drum mix is a recipe for success. They both ride it well, getting great melodic ideas down, with Dre Island's minor key styling and Jah Sun's rapid-fire delivery selling the message. Morning Sun triumphantly moves the spirit, as Jah Sun commands the chorus making a pledge or a type of prayer leading the meditation over a rhythm laden with intense horns. He chants, "Close thine eyes, receive the vision, close thine eyes, receive the meditation, Realize, that works must be done, now rise, like the morning sun". In typical Jah Sun style, as the rhyme piles a motherlode of golden nuggets in the verse, while here, the chorus takes on the form of a type of an incantation.

For Only Human Jah Sun envisioned an African polyrhythmic sound which he developed with House of Riddim and Nikki Burt whose support vocals echo the call and response of the mighty dark continent. His lyrical subject matter addresses the realities of life as an "imperfect soul inside a shell of a man." His lyrical delivery sounds a bit like Paul Simon here another part of his inspiration on this tune. I-Octane joins Jah Sun for Peace Cry over an "R&Binghi"-styled rhythm in a slower tempo that is a bit outside the square for the Jamaican artist whose hits are centered in dancehall for the most part. One aspect of slowing it down for I-Octane is that you can actually make out his lyrics in the mix. A very catchy chorus in "This is a peace cry, U-N-I-T-Y", it sends the message straight to the bigger heads weighed down by heavy manners.

In My Faith Jah Sun prepares us for another big hit, it has the properties that raises the confidence through a chorus that encourages, with a strong bass line at the forefront of the mix as well as bubbling keys and sweet horns. It sounds a bit like Damian Marley's, We're Gonna Make It in the chorus, but that is to say it is well constructed. Perhaps Jah Sun's best collaboration on the album is with Randy Valentine on My Brother's Keeper with its morality lessons, parables and imagery. This is mainly due to the fact that they complement each other in their verses, and in the chorus so powerfully sung by Jah Sun. The back and forth in the ad lib is where some of the finest gems of the song are found with Valentine singing, "If a negativity let it go, if a positivity then make it flow" and Jah Sun singing, "Cause no matter where you go you reap what you sow." This has a creative outro as well, as each instrument fades out except for a bubbling keyboard and Randy's ad lib.

Salute offers more on the mission and message of not giving up, saluting those fighting for a better tomorrow. This tune has a glorious vibe, a live feel with wonderful support vocals that encourage the listener to sing a long with the message. "You can't kill my joy, Jah bless my life so I have no fear." Horns rock the mix with a soulful retro feel always with that live drum higher frequency energy in the forefront. Jah Sun's message alone soothes the soul but the overall mission and delivery on the lyrics are well done and consistent. This song is a perfect example of how this artist has the formula down!

The Badda Than Me rhythm was created from scratch for Jah Sun and the album. It has a fun horn line as part of a driving hip hop type groove reminiscent of Digable Planets or Eric B & Rakim in style. What it exhibits is the artist's career origins in hip-hop. In true rapper boasting fashion the artist goes over his history and where he got his "start in '94 where he was rockin' the mic for the door". He points out that he is a real artist and that he doesn't watch those "Facebook artists" and how many "likes" they may have.

Liberator offers tempo shifts for a combination with France-based reggae artist Charly B. Jah Sun sings the chorus over a heavy one drop full of dub effects and horns. Charly B has a rapid-fire portion that is delivered in an interesting style over the groove. For The World is a Ghetto Jah Sun asks "Tell me where did the love go?" as he illustrates the woes of mother earth. "Every ocean a die, pollution in the sky." Many more issues are raised in this song, its really covering a lot of ground. He rides this amazing rhythm giving the state of the earth report in typical well-crafted poetry and delivery.

Jah Sun is joined by another European artist, Sweden's Million Stylez for Telling Lies a moody, truth telling track, where they both ask "Why you telling lies to the youth? You don't want to show them to truth? How dem a go grow?". Both of them sing in the same register on the tune which presents a different sound for Jah Sun, almost a West Coast reggae vibe on the song with supplemental deep Rasta messaging and patois!

As the 16-track album winds down Good Try turns up the vibe on one of the set's biggest boom shots. A lively tempo and an infectious chorus chant down Babylon one more time with, "Good try, me naw lie, you think that hate can conquer love you must be high." House of Riddim is very strong on this tune lending to the mission of the album to be a roots, analog, vintage, live, 'off the floor' recording. Jah Sun packs a lot of powerful knowledge in his conscientious lyrics. Addressing the alteration of history and propaganda as part of globalization he chants, "you never want the youth fi learn, how much book and library you did burn, to rewrite the history for your own concerns."

Slowing it down to an R&B tempo, Jah Sun brings his preferred support vocalist, Jamaican Nikki Burt to the forefront. Nikki sings the chorus on Hard Way and discusses unconditional love from a mother to a son in her verses. Jah Sun heads into a hip-hop schooling session on his vocals discussing the pitfalls and advice that a parent can offer to a son on the journey. This tune hasn't the live drums that predominate the rest of New Paradigm, so it changes up the mood rhythm-wise. To close the album, one of Jah Sun's greatest gifts shines in this re-fix on Mathematics which was released as a single produced by Spanish producers Heavy Roots earlier in 2014. His gift, his knowledge of Kabbalist teachings, numerology, quantum physics, sacred geometry and the "flower of life" lyrics all serve to raise the vibration!

Jah Sun is an energetic, driven connector, moving in the global scene as an innovator making music to uplift and shift while respecting the roots as he presents a new paradigm for the music.






---
Release details
Jah Sun - New Paradigm
DIGITAL RELEASE [House of Riddim Productions]
Release date: 01/16/2015
Tracks
01. New Paradigm
02. Never Give Up
03. Carry On feat. Dre Island
04. Morning Sun
05. Only Human
06. Peace Cry feat. I Octane
07. My Faith
08. My Brother's Keeper feat. Randy Valentine
09. Salute
10. Badda Than Me
11. Liberator feat. Charly B
12. The World Is a Ghetto
13. Telling Lies feat. Million Stylez
14. Good Try
15. Hard Way feat. Nikki Burt
16. Mathematix
Produced by
House Of Riddim
Featured artists
I Octane
/
Dre Island
/
Nikki Burt
/
Charly B
/
Randy Valentine
/
Million Stylez