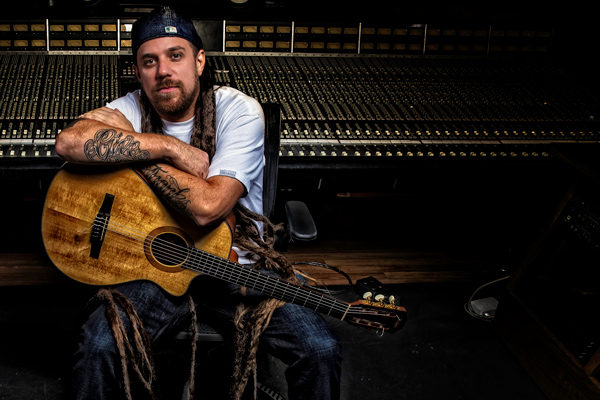 Jah Sun has quickly emerged as the pre-eminent California Reggae artist in the 21st Century. With huge international reggae anthems and a commitment to conscious living, Jah Sun's music and message has spread the world over.

From the heart of Humboldt County, California, where the redwoods meet the Pacific, Jah Sun emerges as an artist dedicated to global and social healing. Fusing the sounds of hip-hop, reggae and world music with conscious and uplifting lyrics, he hopes to awaken the human spirit and inspire others to live to their ultimate potential.

Jah Sun brings his message of love and unity with a variety of vocal styles. From fierce hip-hop explosions, to melodic ballads, rootsy anthems and sensual dancehall licks, he brings something for everyone. Regardless of style, the common theme throughout all his music is the consistent message of positivity, love and respect, and kindness to all.

Jah Sun has gained great recognition in the reggae industry and other mainstream markets. In 2006, he was nominated for "Hip-Hop Single of the Year" at the 'LA Music Awards'. In that same year, his single entitled 'Fyah Dance' was featured on the fall season premiere of MTV's hit show, "Laguna Beach". This momentum continued the following year when FUEL TV's Vans Downtown Showdown featured singles "The Height of Light" and 'Nuff a Dem'. To date, "No Bonez No Blood" has received the most international recognition with the highest rotation on radio and television worldwide.

In 2010 Jah Sun formed the Redemption Band comprising of International world class touring musicians. The band is lead by veteran drummer Dyrol "Chops" Randall and world renowned keyboard player Dane "Taz" Cole. Hypnotic bass lines from Kenneth "Badman" Bartley and the dub influenced styles of Seth "Million 7" Theodore, fused with the many talents of guitar virtuoso and veteran Gary "Jah Oil" Joseph, makes the Redemption band a must see for all lovers of reggae.

Together the band has shared the stage with some of Reggae's top performers, including Anthony B, Barrington Levy, Junior Kelly, Mighty Diamonds, Sister Carol, Frankie Paul and many more!

Jah Sun and the Redemption band have taken there message and music all over the world. Having performed in Italy, Thailand, Spain, Sweden, Puerto Rico and all over the U.S the band continues to gain new fans every step of the way.