Popcaan, Nas & Jugglerz Radio added to SummerJam 2017 - Line-Up Complete
03/23/2017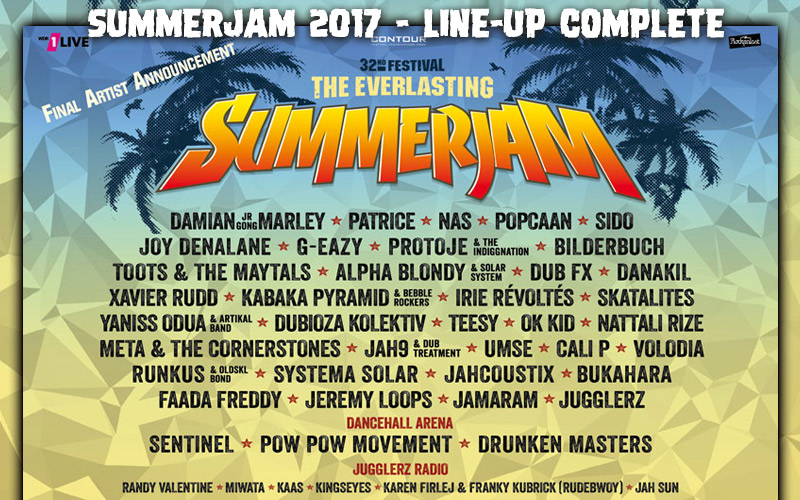 SummerJam just announced new names to complete their 2017 line-up.

But the bad news first: Beenie Man will not perform!

Here is the official statement by SummerJam:
"We received the confirmation for Beenie Man's performance at SummerJam 2017 by his agent who is responsible for his Europe scheduling, on January 30, 2017. For years, we have been working successfully with this agency, also they were taking care of Beenie Man's appearance at SummerJam 2012. On March 13, 2017 we have been informed by the management / artist that the agency rights for Europe were conferred to another agency unknown to us. Despite several attempts we couldn't get the artist's management to keep to the original agreement. Under these circumstances we can't warrant the artist's performance and therefore, had to cancel it."

And now the good news: Popcaan, Nas and Jugglerz Radio are the lastest additions to make the line-up complete.

Jugglerz Radio @ SummerJam is a brand new concept. Germany's most popular dancehall radio show goes main stage! Each day Jugglerz will open the Red Stage with a special program and welcome several guest artists:

Friday: Jugglerz feat. Kaas, Karen Firlej & Franky Kubrick (Rudebwoy)
Saturday: Acoustic Session with Randy Valentine, Miwata, Jah Sun & Kingseyes
Sunday: Jugglerz Soundsystem

Click here for the full line-up with Damian Marley, Patrice, Protoje and many more! The day-by-day line-up has not been announced yet.