Interview with Jah Sun
01/19/2015 by Justine Amadori Ketola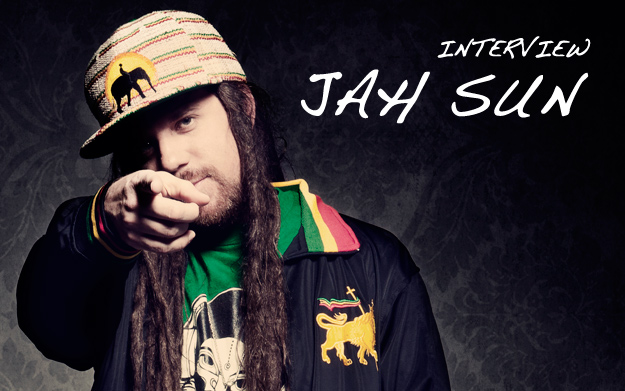 California-based Jah Sun and House of Riddim out of Austria have joined forces to create NEW PARADIGM. The 16-track album, with exclusive production by House of Riddim, features guest appearances by Dre Island, Million Stylez, Randy Valentine, Charly B, Nikki Burt and I-Octane. Since the release of his debut album, 2006's Height of Light, Jah Sun has been considered a force to be reckoned with in the reggae community. Reggaeville reached Jah Sun when he was just returning from a trip with his family to Tulum in Mexico.

You are traveling with your family in the New Year?
Even though I love making songs, I love making music all the time, but I also pretty much love it equally or maybe even a little more to take my kids around the world. Because I never left Texas, the place I was born and raised. I never left Texas until I was 21 years old. My Mom was 16 years old when she had me, never met pops. My mother went through hell. As I have become an artist who gets invited around the world, you know there are a lot of real dads out there and there are a lot of real artists out there, you hardly ever see them being both. I see all these tough, tough artists on the road that I love, their music is bad their CDs are bad, their performance is mad, but you know they are not carrying their wives, their kids their nanny. There's only been a few artists I have met that are doing it. It's tough doing it like that, but that is how I choose to do it.

Now you and your family are in Tahoe for a few days snowboarding?
Yes we have just been here a few days, we're having a blast, we have been on the mountain all day. I'm a decent snowboarder, I don't do like the big hills and stuff. I haven't fallen at all, not even one time today!

The live feeling on your new album, the drums and horns is all to be commended. How did the collaboration with House of Riddim for the entire album come about? Although this is not your first recording with them, your title track from the last album, Rise As One was done with them.
So basically what I think is I have been putting out my own music independently, working with producers from around the world. I hadn't been able to tap into that live, organic, recording experience although I always wanted to because I was kind of at the mercy of…when you are an independent artist pushing yourself, you can buy this rhythm, or you can work with this guy, this that and the other…I had tried everything but I hadn't had the opportunity to work with an organic process where every beat, every rhythm was going to be played live, by real saxophone players. There's others that this happens with, SOJA, Rebelution, all kinds of bands, Tribal Seeds. It used to happen back in the day with Burning Spear, The Wailers, but I mean Jamaica and reggae has kind of driven away from that and moved toward this producer-driven, one beat built on a keyboard, maybe at best you bring in a couple of players to give at a live feel. So I've been longing for that, this is all leading up to how this happened. I have been longing for that cause to me that's the real deal, when the words and the music are born at the same time, that is what speaks to the human soul. That's why these bands that are outside of Jamaica are following that old school ritual, John Brown's Body, Fortunate Youth, Slightly Stoopid, these bands outside of Jamaica who are having tremendous success. The reason they're killing it is they're following that old school pattern and putting their own truth, and their own expression and their own ideas and their own love into it. So I had been sitting here going like, 'Yo I love the Jamaican thing, riding riddims, the dancehall thing and this that and the other, but man there is something missing.' I finally had the opportunity when I was booked on the tour in Europe last year, the dude from Uprising, he booked me on the Uprising Winter Fest and House of Riddim was the backing band. I never met them, never saw them, never rehearsed with them, I heard of them, but that was about it. I showed up without one rehearsal, and when we took the stage together, in front of 2,000 people in a high end theater like a nice Warfield, in Bratislava, Slovakia, and we took the stage together and we just mash up the place. The telepathic communication was happening it was real. They've worked with so many artists, Anthony B, Kabaka Pyramid, the list goes on and on and I can't even begin to name how many people they worked with. But our experience was so cool that we decided to make an album.

So last summer were you able to work with them in person or did the recording process take the shape of voicing back and forth from continents?
We did a little of both, we took some of the rhythms that that they had already built, and they would send me a nutshell of it, I would voice it, bring in Nikki Burt, bring in Acoustic Minds. I produced all the vocals, then send it back to them. Then Sam Gilly, the creator and founder of House of Riddim would go back in and bring in musicians and decorate my melodies with live instrumentation, make it more into my song. Then there were some songs that they had never done before. I was like 'Listen, this is what I want, I want like a Paul Simon-Ladysmith Black Mombazo feel', and he would go in and hire Nigerian talking drum players and we put out the single Only Human. It was different for me, Jah Sun, it was one of my most experimental tracks that I've done.

It brings home your point of trying to have a more organic experience, for me the whole album feels like a live show, and that song is a great song as part of a set list in the live setting. Its very special in terms of its tonal quality and frequency in terms of polyphonic rhythms. What type of shows do you have planned for 2015, how will you present this music in the live setting, do you have plans to perform with House of Riddim?
First and foremost, wherever its embraced, wherever its possible, we will promote this album in the same form it was created, with Jah Sun & House of Riddim, we will put as much time and intention into the live performance as we did into the arrangements, the song order, the artwork, the mastering. We put a lot into this record, we love this record, all of us. We would put into our live show the same amount of energy and attention. At the end of the day we just need support from festivals, promoters and stuff, 'cause they're in Austria and I'm here. There are costs to bring the show together, but if we have support, Jah Sun and House of Riddim can put together a killer live show.


Never Give Up is a beautiful example of your travel interests. It was filmed in Costa Rica, and has a wonderful visual presentation. You have a lot of great videos with Tim Cash. Did you set out filming a video there first or did you have a show that brought you down there? Are those some of your children in the video?
They are my children in the video, its also Tim Cash's children in the video. I was booked on a tour there that had nothing to do with the song, and I was like, let's shoot Never Give Up there and we got to work with some wonderful friends of mine, Noah and Jahricio from Costa Rica who I have also worked with on a side project. Costa Rica, the pura vida, its a beautiful spot, we worked with a message that transcended across every nation, every genre, an anthem that I felt transcended across every race of the culture so, its just as good as any other place in the world to shoot a video for that song. It's the first single on the album.

Your video for the song Foundation has an amazing amount of plays particularly through Reggaeville's YouTube channel. What can you say about videos, streaming and technology in terms of how they shape your career as an artist and help you in terms of various income streams and as part of your strategy?
When it comes to video, I mean, every song I've ever written, for myself as a writer, for the people who are helping me write as co-producers and/or writers, as soon as you're hearing it visual stimulation happens as well. So aside from revenue and streaming and money, I think at this point people are loving the videos and its also offering another place for people to get creative, outside of strumming the guitar, outside of mixing, outside of rhyming, outside of writing, outside of singing outside of performing. Its just there, its breathing and its alive and its amazing and we are getting better and better, like Randy Valentine with his new thing, Lock Me Up. Me and Tim Cash have been at it for awhile but Cash is taking it to the next level. Video is very important, its crucial in this day and age if you are trying to promote yourself, a song alone is not enough. You've got to give a face to your song, a storyline, visuals, its just crucial.

When you discuss New Paradigm this concept, you address the fear- based reality, iniquities, war and famine, and your willingness to reinforce the notion that the world is full of magic and possibilities. Can you speak further to this concept and how it reflects in your release and where we are at in the world today, a very troubled time?
Well I've first got to say, me thinking of the New Paradigm is far from new, it was me trying to blend a few of the worlds that have inspired me. I've been inspired the roots struggle, Black American, Black African, Jamaica. I've been to Addis Ababa, I've been to Shashamane, that whole side of me. Then I have also been exposed to Alex Gray, Tribe 13, Satori Movement, this beautiful possibility of what can be and now in the middle I see it. It used to be that reggae was so underground, basically just underground and about the struggle and now cats like Kabaka Pyramid… Cause I actually called Kabaka and I was like 'Yo, do you think I can drop an album called "New Paradigm" in a reggae genre. Do you think they are going to be like 'what's a para-dig-em?' I was afraid of that concept and what a paradigm is and I didn't want to sound like psychedelic reggae and I called some bredrens. Kabaka said it and a few bredren said it like, 'Yo, the world is ready, everyone is waking up.' I felt like it was safe to drop that record, that concept that name, and basically everyone's struggling, we are all going through something. Everybody is trying to shift the paradigm and wants to create a new reality.


You typically have collaborations on your albums and this time you have , I-Octane, Dre Island, Randy Valentine, Nikki Burt, Charly B, and Million Stylez. How did you coordinate them, how did you choose them and where did these recordings go down? Did you record any of the songs with the artists featured in person and if so which ones, or was it a matter of sending recordings back and forth?
I've kind of been the same way on all of my albums, how I choose my artists. In the past like Rise As One, Battle of the Dragon, (albums) I divided between - you know Rise As One had Kabaka Pyramid, Chronixx , Sizzla and Richie Spice, so that it was a split between old school and new school. Battle of the Dragon before that had Alborosie, Gentleman, J-Boog, and these are artists that just inspired me like crazy, so I always am creative on how I choose my guests. But I will always have guests, because I feel like an album is a painting, and voices are the colors and the instrumentation are the colors. If its just my voice through the whole album…I feel like it is more colorful when I bring in friends. In choosing this album's guests, part of it, it was a blend of all the things like, I knew Dre Island. I met him on the Foundation video shoot on the set, he was in the video. We went into the studio, I heard him in the studio after the shoot and I was like 'Yo, this kid is going to be…'. He's talented man, he's got a vibe. So I voiced him a year ago. I-Octane was taking over the headlines in Jamaica as this dancehall artist, this bad ass dancehall artist, so I chose to put it on one of the softest songs on the whole album, Peace Cry. That was one of the rhythms that was created organically for us. We voiced it over a different rhythm, a Dynasty rhythm and then I sent it to Sam and said, 'Yo, remake this rhythm, make it a Nyabinghi, soul, let's call it an R&Binghi, let's make it an R&Binghi'. He built it, we voiced him we went through three weeks of back and forth, putting harmonies. Randy Valentine it was like, 'Yo this kid is straight killin' it.'

You have said that you feel this is your best recording to date, can you tell us why you feel this way?
I guess the reason there are probably pieces of every album that all add up to have the greatest work. The reason that I feel this one is my greatest work is that I feel the most challenged project, I have never been challenged on a project before, cause every other album I took one from this producer, two from that producer, to where I just picked what I liked, whatever came easy to me. House of Riddim was the title track of my last album, it's so funny I wrote that song while in Costa Rica, I was sitting in Costa Rica just vibes and I had just met Sam and I said, 'Man, send me some rhythms.' He sent me like 50 rhythms, you usually ask a producer, 'Yo send me a rhythm' and they send like 2 or 3 rhythms. Sam was just like 'Yo, Bam, here's what I am, here's who I am.' I went through his whole catalog and I was like 'Dude there's so much dope shit in here, let's do an album.' I was like, 'But only half of it can be this shit that you already wrote, that's old. Some of it you have to do just for me.' Badder Than Me he wrote for me, with the horns, period.

Anything else you would like to share with the Reggaeville massive?
Well me and Phanso from I-Kronik are about to bring Jamaican reggae back in a big way to the US market. If you think you like reggae, if you think you might like reggae, if you know you love reggae, just keep it locked to Reggaeville.com because the whole massive do their best and don't stop to cover real reggae music, Jah Sun says that Bam!