FESTIVILLE 2015 - Reggaeville Festival Guide
06/17/2015 by Markus Hautmann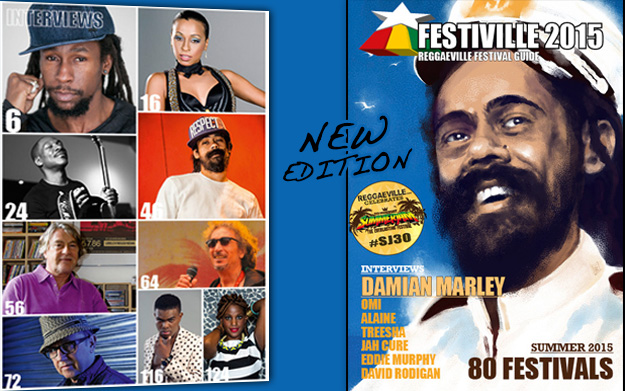 It's anniversary time! Let's celebrate!

Five years ago Reggaeville presented the first FESTIVILLE magazine. To discover the sheer quantity of reggae festivals was a big surprise and a tremendous joy, even for us. And obviously for you, too, because the positive feedback to our comprehensive festival agenda was a stimulus for us to steadily improve the Festiville over the years. Now, with the fifth edition we are proud to say that we are pretty sure to have accomplished that goal.

Not only do we provide you with information about dozens of festivals but also with interesting interviews with some of the most renowned or most aspiring artists you will be able to see this summer.

It has been five years that our cover captain Damian Marley has toured European stages (together with Nas) for the last time. So we asked him about what to expect for his upcoming extensive tour. David Rodigan, the embodiment of international sound system culture, is featured in a q&a section as are Jah Cure, Alaine, Treesha, OMI and Eddie Murphy!

So our interview partners are as diverse as are the festivals in this magazine. Each of them is unique but for us at Reggaeville the SummerJam, probably Europe's most renowned reggae festival, is the most unique. It's where everything started six years ago. It's where our first FESTIVILLE was distributed five years ago. And most important, it's where our beloved festival culture was inaugurated 30 (!) years ago. We say thank you SummerJam by highlightning two legends of the business, promoter Klaus Maack and MC Andrew Murphy aka Mr. Summerjam. Follow us on a journey back in time and see the very beginning of the one and only Summerjam in a precious photo gallery.

We wish you the best of time, the best of weather and the best of fun in this year's festival season. Reggaeville will again provide you with numerous live footage, interviews, reports and information.

What else to say? Nothing more than… …Maad! Sick! FESTIVILLE!


READ FESTIVILLE 2015 BELOW OR GET THE FREE PDF HERE!