Festival Report: Sierra Nevada World Music Festival 2018 - 25th Edition
06/30/2018 by Justine Amadori Ketola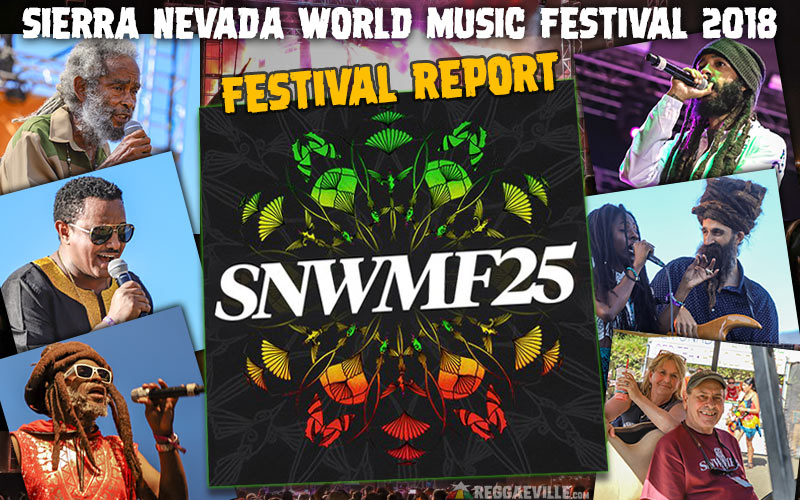 Sierra Nevada World Music Festival 6/22-24/2018
@ Mendocino County Fairgrounds in Boonville, CA - USA


DAY ONE - FRIDAY JUNE 22, 2018
In these troubling times in the US, SNWMF presented an alternative reality for the family who have gathered for 25 years, many industry types noted how many times they had attended, 15, 17, 19 times, one agent for several artists realized he had attended each of the 25 years! Rastafari elder and teacher Prof-I and nyabinghi drummers opened up the show on the Valley stage with a blessing and performed a special Sunday night closing ceremony session on the Solar stage.
The Friday night lineup was altered based on three different artists being denied entry into the US when passing through immigration. DJ/producer Jah Shaka from the UK was slated to headline the dancehall but was turned away. Alika from Argentina and Flavia Coelho from Brazil were each turned away and replaced with Jah Sun & Queen Makedah. The Jah Shaka segment was replaced with a Tribute to Jah Shaka organized by Jah Warrior Shelter HiFi that featured a freestyle all star cast with Protoje, Jah9, Randy Valentine, Nattali Rize, Rocker T & Kelissa trading lines over the same riddims.
Reggaeville checked in with Jah Sun to get impression on the 25th staging of the festival, as he explained "These festivals and these gatherings are so important to me because I think we are all feeling global events that are going on in different directions, we are divided. Its hard despite our best efforts not to get caught up in that, and I know that it affects us all differently. Sometimes I feel many of us on a societal level, the masses are feeling lost from their purpose, feeling disconnected from the divine, and these festivals are places where people can come and recharge and be reminded of who we are, why this music is so important, why this culture is so important and all cultures, all people and all nations working together in unity. Its a strong reminder of why its so important in a time like this. So that's why I love coming here and having the opportunity to share my music and see all my friends and be inspired by other artists and other people."
Natty from the UK performed twice during the weekend, his first set opened the Valley stage. Making his SNWMF debut, the artist's roots reggae songwriting and conscious messaging influenced by African & vintage rock instrumentation was a refreshing experience from this artist who has appeared on numerous large festivals in Europe, both reggae and non-reggae! Jah9 performed to an expectant crowd many of whom sung word for word along with her set. With Zion I Kings' Jah David on the bass, the band soared with Jah9's seasoned travels through her complex compositions. Reggaeville checked in with Jah9 for her impressions of the Friday night slot as she noted, "Its a blessing to come to this festival, the response from the crowd was really great. I performed here before in the dancehall with Rory from Stone Love who produced New Name, but this was the first time I appeared at the festival with a band." Jah9 also performed during the freestyle set at the Tribute to Jah Shaka in the dancehall Friday night.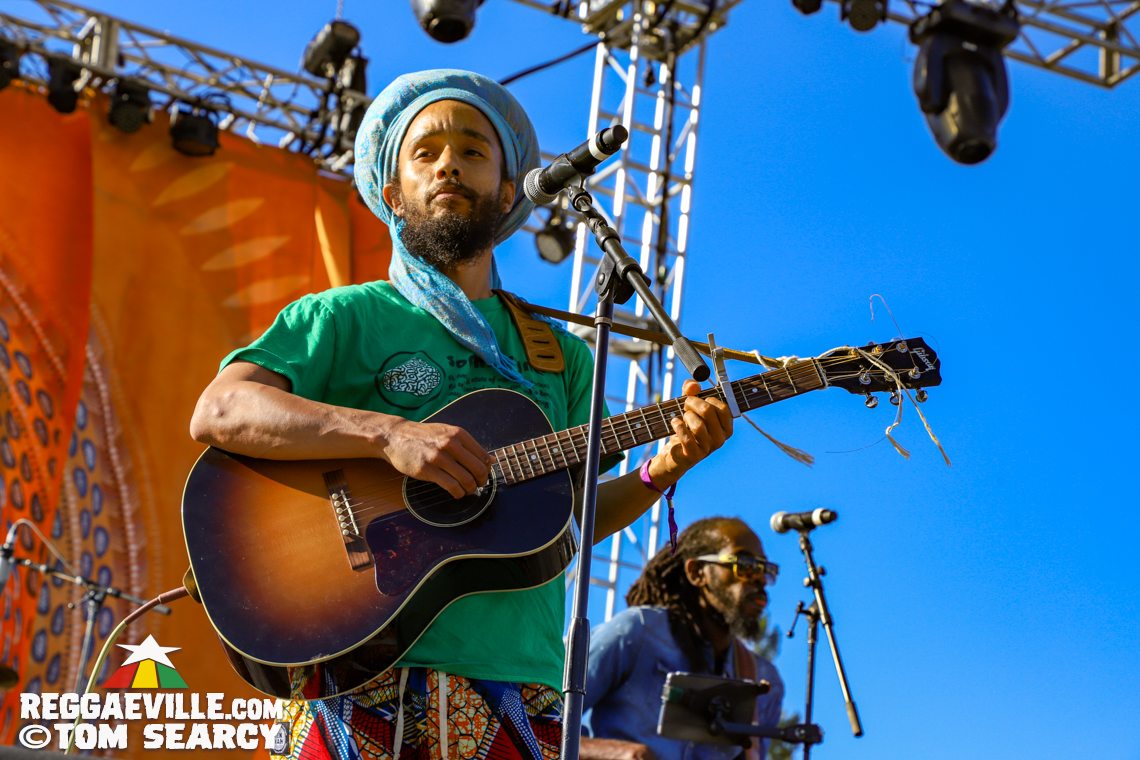 Protoje brought his modern roots vibes to the SNWMF 25 massive, performing a breathtaking set of originals with his band, at one point sharing a new song from his album A Matter of Time.
Tarrus Riley is a highly suitable headliner, along with his band Blak Soil, he returned to SNWMF 25 after performing last year, this time to close the Valley stage. He was vocal about the celebratory feel for SNWMF 25 on stage and even developed a chant and dance for it he called the "25" during the set. In the post set press conference, he broke down the formula for their winning running order, explaining that they "Like making music and we like making different kinds of music, I think that is what adds to the stage show, cause you have a different kind of vibe, you have a moving vibe, you have a listening vibe, you have a Lover's Rock vibe, a roots vibe. We do dancehall, reggae, rasta, different kind of moves, its always clean, there is always culture, so that is how the mind work, we don't just do loose songs, even if its a dancing song. its still conscious. Kids are listening, kids like dancing and kids like this to be flashy and we don't want the roots music and its boring, I try to get a likkle peppa inna the food…not too much to burn you up but something to pick you up."
Reggaeville asked Tarrus for his impressions of the 25th SNWMF and what means to him as far as Jamaican music is concerned, he explained "its a big platform to present our music from Jamaica to the broader world, its a big reggae place from the days long before Tarrus Riley, you know so, a lot of roots youth in Jamaica hear about the festival, the ones who are really into the culture know about it. Those who know want to be here and perform, I will say I have a very special memory about Sierra Nevada music festival, one of my harmony singers who is not here anymore, Connie Campbell, we performed there I think it was my first time, and she's very special to mi heart and every time I come here I just remember me and her ya know mean…performing here. Its a premier concert and a premier festival and its a pleasure to be here once again and I'm going to be here as much as I can be here with new songs rocking the place."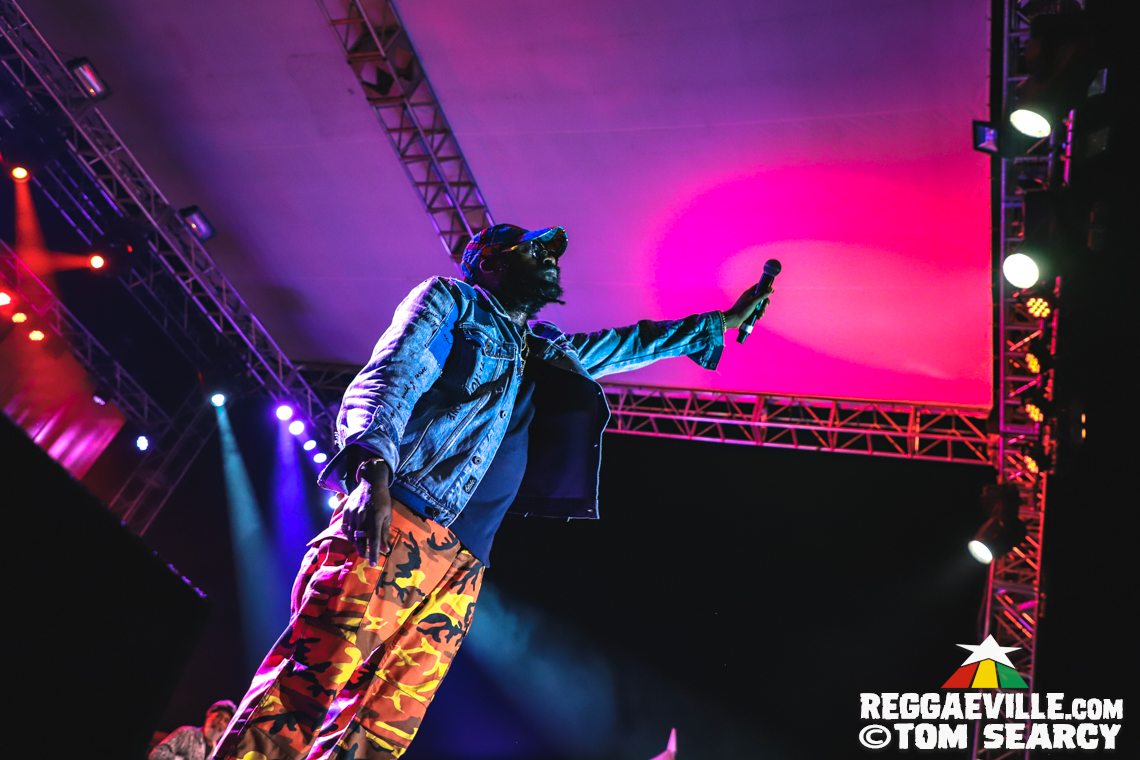 As the press conference ended, the late night dancehall turned way up. A historic freestyle was made possible by Bay Area sound system and artist/producer collaborative Jah Warrior Shelter Hi-Fi who gathered artists in tribute to Jah Shaka when he was not able to make the trip to SNWMF 25. Unlike some sessions of this type, where artists ride the riddim one at a time, all the artists shared the same riddim and traded lines. The most remarkable part, especially in light of the #TimesUp movement to engage more women in positions of power in entertainment, as soon as the freestyle started while the three women on the stage, Jah9, Nattali Rize & Kelissa took their turns, the man dem a back way, making space for the women, not anxious be the next man to grab the mic as can often happen in these settings. Randy Valentine, Protoje & Rocker T each took a turn as well, but it was a seamless, balanced, presentation that set the tone for the whole weekend and was a deep, powerful tribute to the sound system forefather and producer Jah Shaka inna dancehall style.
DAY TWO- SATURDAY JUNE 23, 2018
Spiritual made his SNWMF 25 and US debut performing two sets, one on Saturday and one on Sunday, his baritone voice and commanding roots reggae presence on stage were a perfect fit to the deep roots aspect of this year's lineup.
Randy Valentine also made his SNWMF debut with his full band, performing barefoot, the humble songwriter and producer from Clarendon and London sung melodies from other worlds that reached the rather sizable crowd skanking in the 2pm Mendocino sun at 90 degrees F 32 degrees C. Noting the long journey he took to get to the festival and in his career overall, Randy hailed up fellow UK-based artist Natty who was watching in the audience. Singing along on his varied set list from reality tunes, to lovers rock, fans were treated to an acoustic version of Carry On to close the set as they shouted for more! The SNWMF production manager David Claytor hesitated to take him off stage when his time was up, he so mesmerized the massive. The artist told the press conference after his set about the experience with the Havana Meets Kingston project he's involved in, meeting the musicians from Cuba, performing with Sly and Robbie and plans to perform the music on BBC Radio in the UK.
Romain Virgo performed a crucial set on SNWMF 25, his voice brought perhaps the most air horn responses of all from the audience as he ran tune after massive tune with his world class band, never remaining long in one place on stage, bringing the vibes!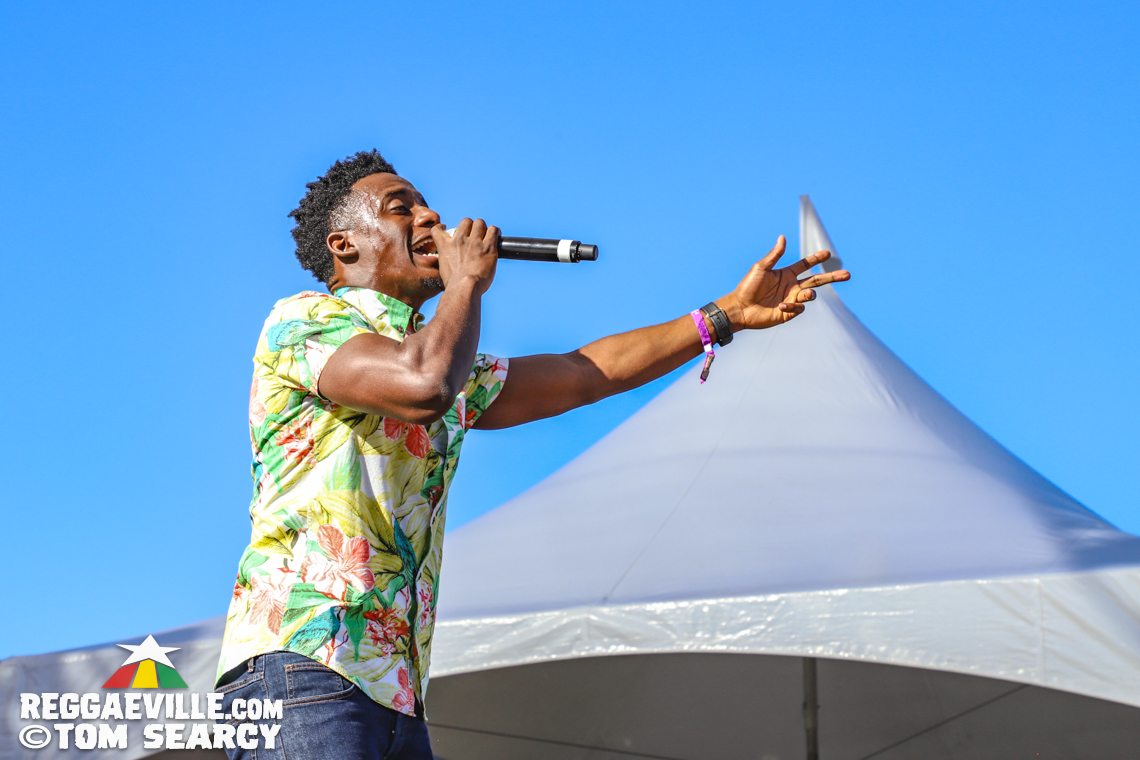 The Village stage featured David Halliard & Rocksteady 7 who moved through the various eras of pre-reggae like a college class, from blue beat to rocksteady with jazz influence on actual vibes/xylophone. The band includes percussion by legendary Jamaican Larry McDonald who has a 50-year history that has included performing with the likes of Gil Scott Heron and Taj Mahal.
Between sets throughout the weekend, Village stage production manager Mark Mason announced World Cup results. The Mexico victory over South Korea was announced while bands from both cultures performed sets on the same stage.
The one and only Cocoa Tea made a rare appearance on the West coast, and was another true crowd pleaser this year. The beginning of the set focused on newer material, songs like Medical Marijuana on the Top Shelf Riddim landed perfectly in the area now in the "Green Rush" days of legalized recreational ganja. But once he began going back in time, to tunes like Riker's Island and Truly he got the party got going perhaps like no other could with his combination of showmanship and deep cuts sung in his unique vocal tone.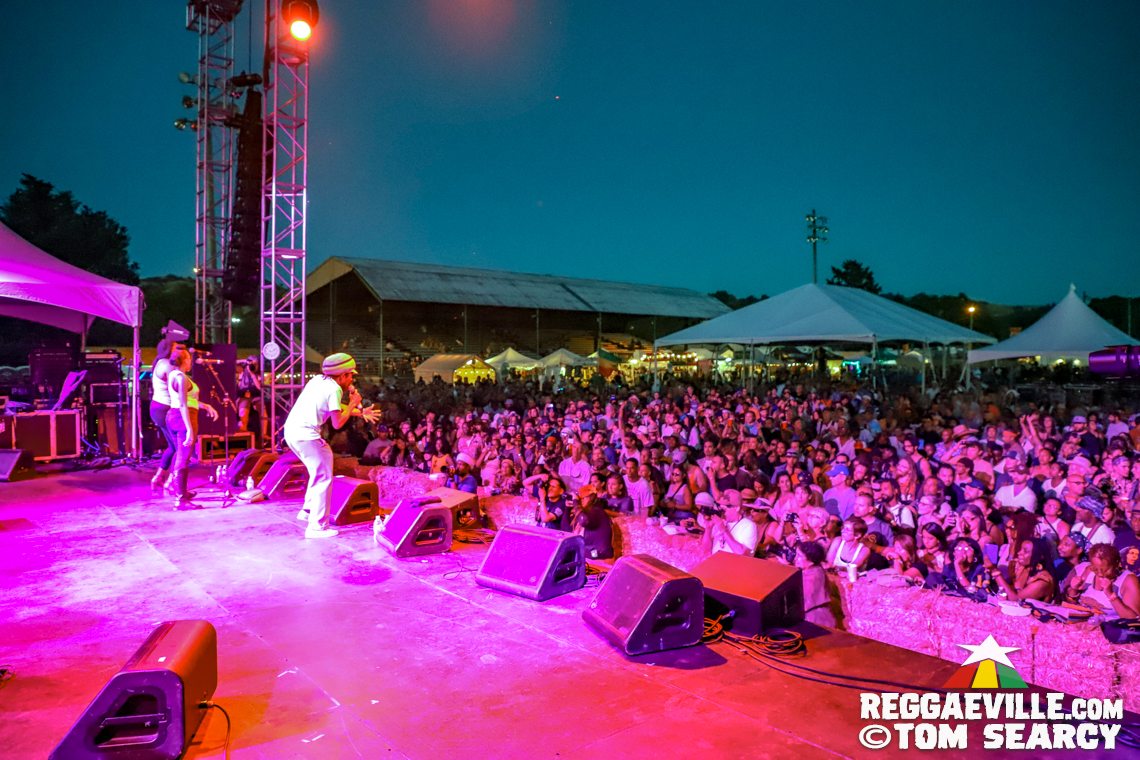 Beres Hammond returned to the festival this year to headline, after first appearing two years ago. With sweet friendliness he engaged the crowd, many of whom sung word for word and shouted requests to him.
Saturday's late night dancehall featured Rory StoneLove/Black Dub whose vast collection of dub plates and lengthy history of sets at SNWMF over the years, meant that he delivered the deepest roots at the beginning of the set moving up to modern-day roots, a respectful intention to reflect original dancehall and sound system culture that the festival also represents.
DAY THREE - SUNDAY JUNE 24, 2018
Sunday featured sets by artists who performed two times on SWNMF 25 including Kingston Rudieska from South Korea whose ska gymnastics with a full horn section and lyrics sung in both Korean and English were uplifting and polished. The lead singer jumped the photo pit and came out into the crowd to create a festive finale.
Kelissa performed at SNWMF during the Nattali Rize set in a cameo for one song and explained to Reggaeville that she is doing two songs on acoustic guitar to open up on club dates and performing one song with the band in that setting.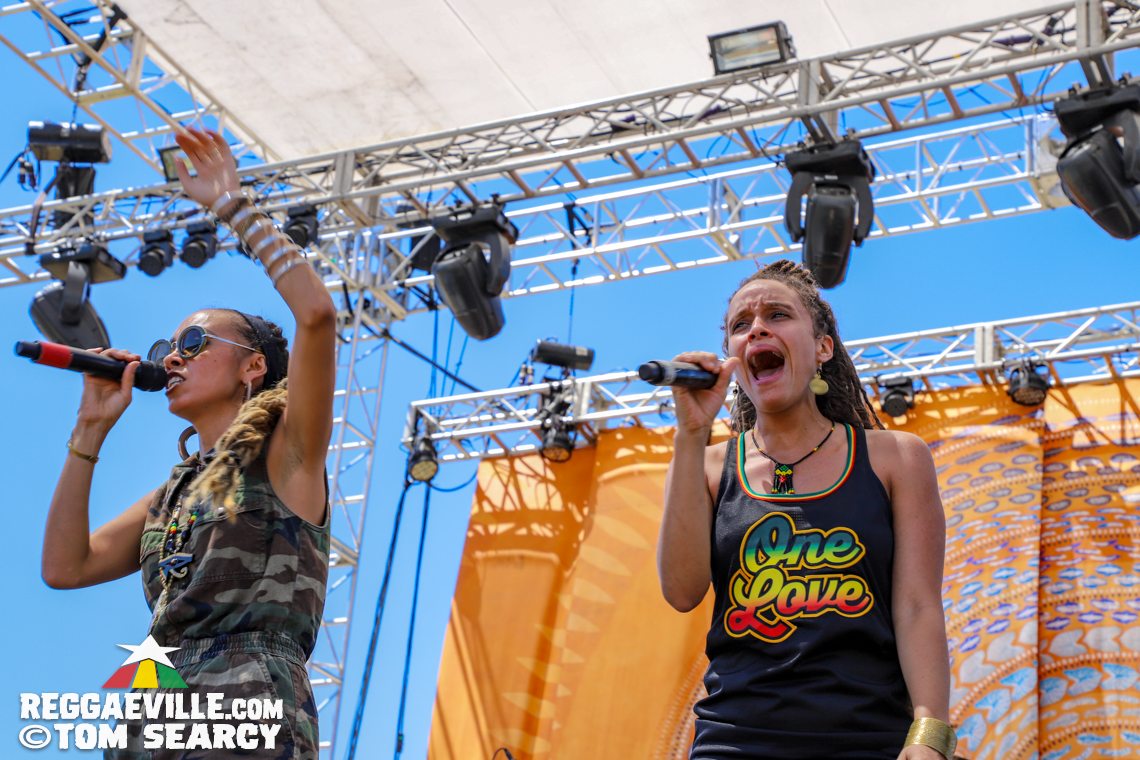 Nattali Rize really has cultivated a devoted following who came out for what the artist delivers - a sense of belonging, a call and response, reverent, yet fun, she coaches the listener to free up and tune in to the "rebel frequency" along with her excellent band. She told Reggaeville, "These type of gatherings are so important for our collective experience, you have to come to these places, you have to witness and experience it and contribute your energy into the mix of what is. Even if its just for a few days, it is a snapshot of a new reality and how life can be lived, fulljoying music, conscious music, that's what it is for us, cause that's what we love. All this stuff happens organically, and there are so many children, its all ages, it feels like a family and we must take these experiences and let our atoms in our body absorb them, and let them resonate there, and when we leave these festivals, we've got to go back into our community and spread that energy around, so its not just a matter of experiencing it here, its a matter of absorbing it and going and sharing it and that's how powerful energy and music and community can be when we are consciously doing these things. So its our pleasure to be able to travel here, from Jamaica, from Australia for everyone whose come from all over the world to be here. This is a global party and we're here to represent it and be a part of the story."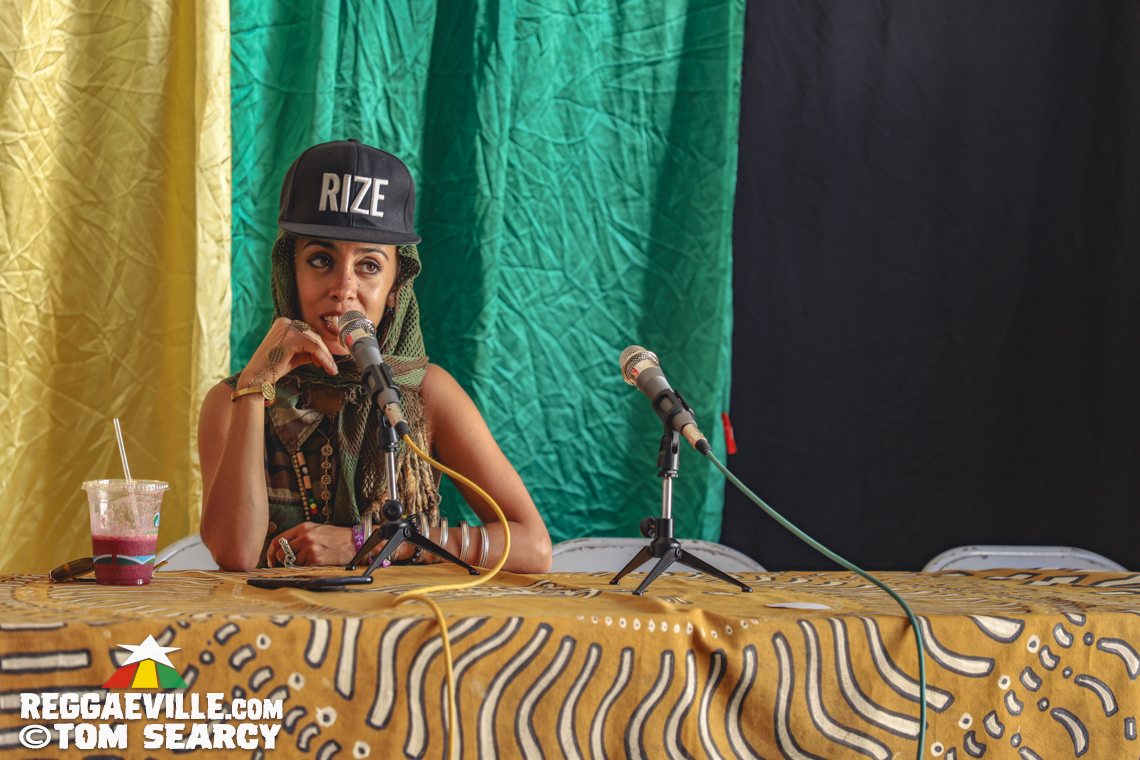 The only technical glitch during the weekend occurred during Max Romeo's fiery set. The generator for the main stage became overheated and gave out! There was about 4 minutes of silence, while the crowd began singing lyrics to his songs acapella and the drummer Jubba White played to accompany them. Once the sound was back up, Max Romeo had the classic one liner for SNWMF 25, "I guess the message was too strong for Babylon, going to tone it down a likkle bit."
Coming perhaps the farthest to perform this year was Ethiopian mega-star Teddy Afro. His fans are passionate and the sound was so large, the bass had not boomed like it did during this set for the entire weekend. At the soundboard was Errol Brown, responsible for sound on countless recordings while at Tuff Gong in Jamaica and who toured with Bob Marley & The Wailers as front of house engineer. His settings at the controls meant that artists who followed Teddy Afro, Dread Mar-I from Argentina and Steel Pulse both benefitted from the guru himself of reggae engineering, working with the equipment. He told Reggaeville that it was "a great system."
This year the festival featured the inside dancehall early evening with Downbeat the Ruler who gave a college level course on vintage tunes, one after another that he lectured on between, pacing around the stage, referring to his massive archive of 45s on CDs.
Dread Mar I from Argentina has one of reggae music's largest online following, he certainly had drawn a set of fans there that knew his lyrics as he serenaded the massive in his lover's rock style with a soaring vocal tone.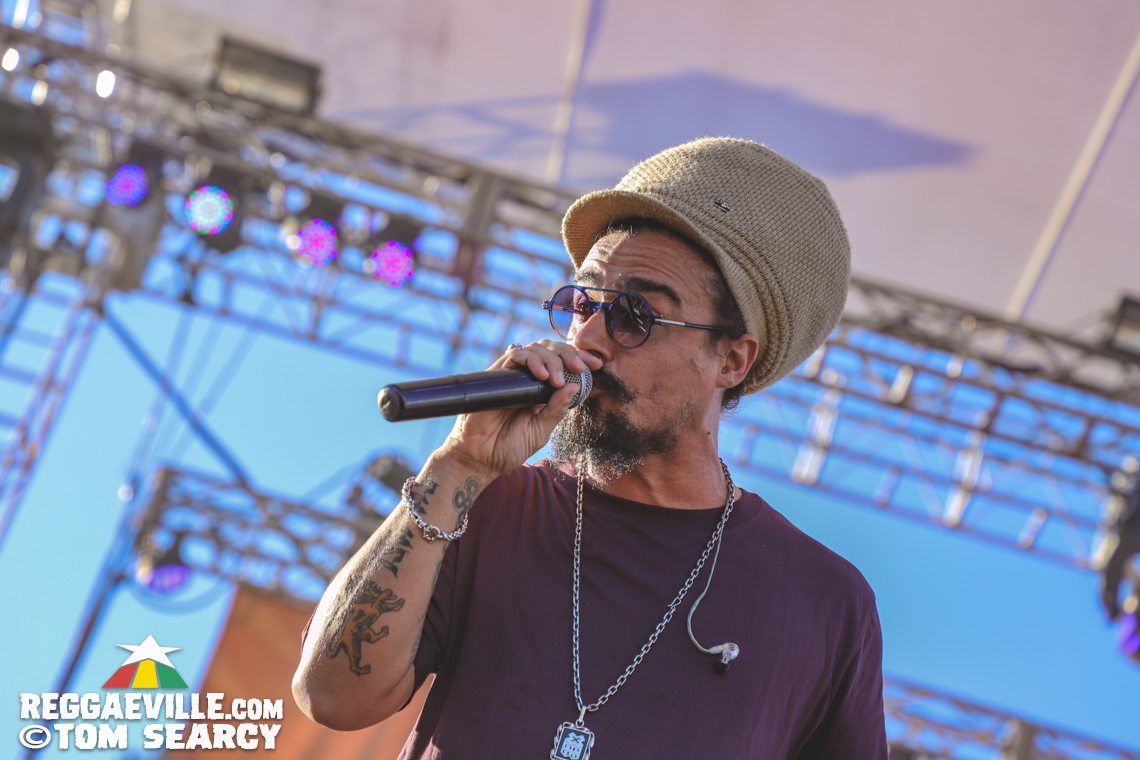 Like all good things, SNWMF 25 had to come to an end, Steel Pulse were an appropriate finale to the weekend, providing tune after tune of foundational music in keeping with the celebratory, conscious, global vibe of the proceedings. The festival organizers announced 2019 dates June 21-23, despite rumors that this would be the last SNWMF.