Festival Report - Reggae On The River 2016
08/15/2016 by Justine Amadori Ketola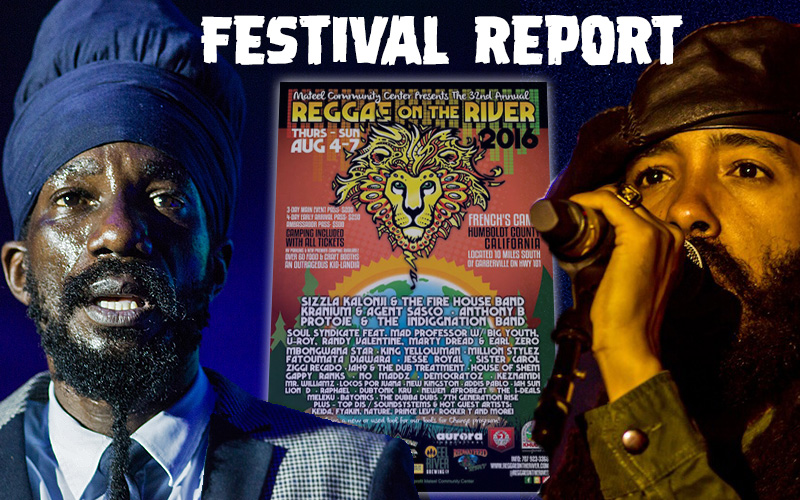 This year's staging of Reggae on the River maintained an authenticity in its curation of the artists that is unparalleled by any other reggae festival. Combine this lineup with digital displays on stage, a live video and radio stream, including press conferences, Reggae purists and afficianados could be satisfied with the rich offerings from today's current music landscape that were presented at the 32nd annual event. It was not a festival with a few artists that maintain big marquee value but it represented those that have solidified their base either by their geographic location or through video plays that reach across the globe. Headliners on Saturday and Sunday, Sizzla and Anthony B were making their first appearances in several years after reinstated visas, sponsored by the festival allowed them to make a triumphant return to an elated audience.


DAY ONE - Thursday August 4th
VIEW THE PHOTOS HERE!

Thursday saw the first appearance of Democratoz from Algeria who've been performing together since 2011, performing in the rai style which incorporates reggae and drum and bass with rock and North African rhythms and melodies. They performed on Friday as well, and in their remarks to the media during the KMUD radio live stream, they explained their name is "like Democracy but with no sense, Democra is from democracy and toz means like "no sense" in our language so not the sense that we want to see in our country because we do not have like the real democracy as it should be." The band further explained that the music is conveyed in their country is different than in first world countries, "we use like fun rhythms and melodies but meanwhile we send messages so our music is inspired deeply from the way we're living and the way we want it to be as the younger generation." As to how the group made it to Reggae on the River 2016, they explained "We are part of an exchange program by the U.S. Department of State which is called Center Stage an exchange program taking bands from the U.S. to the world and from other countries to the U.S. We're touring the U.S. for the first time."

Dubtonic Kru performed with artists including Jah Sun, Lion D & Raphael on Thursday, and Jesse Royal on Sunday, and they performed their own set of potent medicine on day one. As core members Jallanzo (vocals and guitar) Stone (bass) and Jubba (drums) explained "Its not like we are a backing band we have our friends that have their thing going, too and we collaborate with them and join together, tour with them and record with them different projects. We are not really a backing band it is more of a family thing. A lot of people might get it mistaken because they have seen us with a lot of different colleagues on the road and friends that we have supported over the years but that is a result of the years we have spent in the industry and thats where our foundation came from we've worked with a lot of pioneers in the industry." Since 2000 Dubtonic Kru has toured and recorded together and as they told Reggaeville. "Reggae on the River has been the highlight of our summer, the sound we've developed comes from the experiences we've gained traveling to different cultures, you hear Jazz, Afro-Cuban, Rock, we've spent a lot of time going through Europe, Jamaica is there the deep roots, drum and bass, a rub a dub vibe."

Dubtonic Kru represent the energy and platform for the resurgence of live bands as they created and produced events in Kingston, Plug and Play and Bands Incorporated that provided the stage for their generation, and presenting something new. As Stone from the band notes, "All these new musicians we started all of this. We are the ones that created it and they are the ones that are highlighting it. We are the stone that the builder refused." Jubba adds "We are very happy to be able to be a part of what's happening and as some of the originators, because before us were the Wailers and Steel Pulse. Within our generation to change the direction or allow a certain amount of evolution and independence on the part of the musicians. Because for years in Jamaica the musicians depended on the solo artist to get a job without realizing, that they could create something for themselves. We were very integral in the movement of live music in Jamaica not just about self-contained bands coming together but also being promoters. On our part it was like we did it very selflessly and it was not about us, it was about the collective, event though we are not one of those that are reaping the best of the fruits, we are very happy to know that the industry, the collective is benefiting from what's happening. its all of us together."

Jah Sun presented a solid set of his originals, that at their core are excellent songs, and translated to a high-energy performance with fans singing along to opener Foundation and songs like World Is a Ghetto, and Mad Up The Place. Jah Sun is based in Humboldt County so a crew of local children including some of his own, came up to wave flags and dance during the set. Part of this showcase were his Italian bredren Lion D & Raphael with whom Jah Sun has collaborated with in Italy and on festival stages, shareing a band throughout Europe.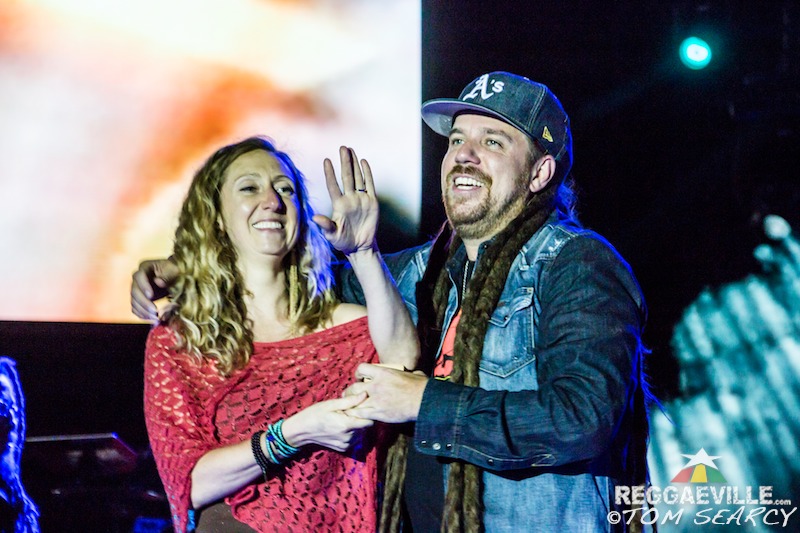 Both of these artists are part of the Sugarcane Records family and made an impact on fans as they took turns on the mic tune for tune. At the end of Jah Sun's set he brought up his partner Crystal Soleil and proposed marriage to her in front of the audience.

During the press conference with Dubtonic Kru, Lion D & Raphael, Jah Sun further discussed the important role the musicians play in helping translate the recorded music to the live setting explaining "Here is the reality, in the industry today, it's driven by producers. There is more artists and more producers than there are musicians that have the discipline to do what these guys do. We go into the studio, I'm telling you as an artist, and we have all these buttons and knobs, at our disposal and we make a great record. When it comes time to do that live, there's only a few people that can really execute that. So everybody's wanting for their live performance what these guys can do, that's why you see them, why they choose to be they can jump in they do it to lend their skills to us and we're blessed to have them. The term backing band is belittling to what they really are. They are incredible musicians, really and truly and unfortunately the reggae industry has gone that way, these guys have done a lot of work, I just want to salute Dubtonic Kru as musicians, they are incredible and that's why so many people draw for them and ask them to support us on stage."

Lion D explained that the reggae scene in Italy is "blowing up, its our first time here at Reggae on the River and its mad, it's a family vibe because I've known Jah Sun since 2012, he first came to Italy my band was his backing band so we did a lot of shows together. He invited us to California and we did some shows together. This year we are here at ROTR and its super as a youth from Italy." Raphael further explained "Italy has a very huge reggae scene a lot of bands, artists since the Bob Marley show in Milan, in 1980 that show became literally legendary so I think it started from then. The first reggae bands started playing in 1982-83. I was born in in 1986 and we had the blessing to grow in two cultures, both of our mothers are Italian, and both of our fathers are Nigerian. So it came like both of the vibes, the result of the union of different styles and cultures we found ourself here."

The discussion in the press conference turns to issues of racial discrimination and police brutality in Italy as Raphael explained, "For example today we are witnessing a humanitarian problem in Italy as we are the first European country lets say when you cross the sea from Africa and you come to Europe we are witnessing the incapability of the European Union to help and make properly aid to these people that are coming. So like we can see that the media and politics are pushing division and hatred to the people. So we are born actually in Italy but still there is a rising racism. There are wars going on in Africa and the Middle East so Italy is the first let's say door so right now a lot of bad feelings is rising." As Lion D notes, "I wrote a song about 5 years ago about racial discrimination, and the song it still is real. We face it every day, we have time where we go upon the street and buck up on the police, so I just wrote this song cause music is my weapon, (begins singing the song) This is reality we get inspired by reality, real ting."

Protoje closed the Reggae on the River early entry segment, making up his scheduled performance from 2015 which did not take place. His set was well received with many singing along to songs from his album The 8 Year Affair and his 2015 release Ancient Future. He also mentioned his free download project Royalty Free and performed a new song Make A Change. Towards the end of the set he brought a child from the side stage holding a gigantic Ethiopian lion of Judah flag to wave from center stage.

In his press conference, Protoje explained what the roots of his artistry were, who his influences are, "Reggae artists from the 70's everybody is around music in Jamaica but for me it was just studying the music, being a selector first so I could learn about all the songs and research every artist and then learn about different styles incorporate different '80s styles, '70s, '90s. I tried to learn from those that came before me. My Mom, Lorna Bennett, I learned a lot from her doing her thing, just wanted to be on stage. That's what it boiled down to more than anything else, wanted to be on stage. People love slackness you know, its a duality we all have two sides to us, let's talk about Yellowman and all these people from early, 80s slackness in dancehall never start in the 90s or 2000s but its just that there was always a balance so people could choose,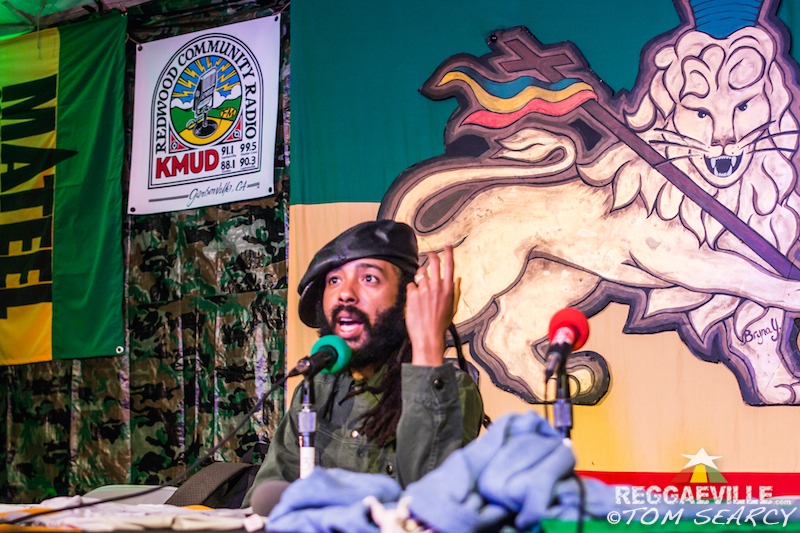 what really happened in the late 2000s, it's not that good reggae music was not being made because people get the whole Reggae Revival thing twisted because they think that because people were saying that there wasn't good music, and we were bringing it back, that is nothing that have to do with it. It's just a matter of there is always good music being made, it was just not being pushed forward. I was like 'I'm going to do the music that I want to' and going to have to find new inventive ways to get the music out there, can't approach it like its 2005. So for me the Revival was more 'How are we going to get the music out there to people?'. How are we going to make a thirteen year old think its cool to listen to reggae music without compromising….and without diluting the message and how are we going to teach them about the people that came before us. Cause we have to teach them what InI Kamoze is, what Black Uhuru is and to bridge the gap between generations. Ancient Future I wanted to make a seminal album to put in a time capsule, of my generation, what it was like in 2015. I was heavily influenced by Sly & Robbie and especially their Black Uhuru and their InI Kamoze project and I always wanted to make an album in that vein but I didn't want it to sound like 1983, to figure out how they made it sound that way, its like the eighth wonder of the world, I didn't want it to sound like I was trying to sound like 1983, I wanted it to sound like 2017 so mixing in the ancient with the future and have it come out in the present."

DAY TWO - Friday August 5th
VIEW THE PHOTOS HERE!

Meleku, son of Sizzla performed in the afternoon, taking elements from his father's vocal style to chant originals full of culture and meditative vibes. Early evening brought Gappy Ranks to the stage as the first artist from the UK, one of several on the show. Gappy has a special vibe on stage, he speaks to the audience between sets in a congenial manner. His comments included a remark about going on early, but "we won't complain". Gappy reminded the kids to "Don't do anything they don't want to" with regards to drinking or smoking or controlled substances. He explains, "It's not my first time in Cali, but it's my firist time at Reggae on the River. Remember EDM, Hip-Hop they all came from reggae, it's very important not all the time reggae gets a festival before there was a hip-hop category there was reggae it grows and help a lot of people." He also bigged up the producers and musicians stating "without them I would be nothing, support reggae music its the foundation." He refers to Sugar Minott and Bob Marley and moves into a segment of tunes from the album Put The Stereo On. By the time Mountain Top comes in the crescendo builds and the fans are singing along word for word. He allowed for some other associates to come on and sing a tune, during which time he was socializing with all of us on the side stage including fellow UK artist Randy Valentine.

Jah9 performed with her band Dub Treatment, bringing reverence and wisdom she rolled through songs from her debut album New Name expressing concern for our "troubled country" as she launched into songs like Brothers, Avocado, Revolution Lullaby, Hardcore & The Marijuana where she brought in Raging Fyah's lines from their own Marijuana tune, "Keep my eyes dem a darker shade…." She urged the audience to "try and cultivate forgiveness and our higher functions, not who drive the biggest whip and have the most money." She also discussed her upcoming album 9 and urged all to "embrace the feminine exiress your feelings peace and stillness over warmongering" She also bigged up Sister Carol as a "real revolutionary" also on the festival lineup. Jah9 reminded us that "the roots of this music is in revolution" and she went so far as to say its "Men who have this world in the state its in." To close she performed New Name with her Jamaican band, some of whom were making the trip to tour to the US for the first time.

In her press conference, Jah9 discussed the numerology associated with her new album set to release September 9th, explaining "When we observe these things in nature, sacred geometry we see that there is a great design, it is not randomness, we are all a part of one great design, and when we focus on the things that we have in common in this way, then we focus less on the things that are more superficial like the hue of our skin or where we come from or how much money we have. So 9 represents that holistic approach to life and relating to each other and livity and that's what we discover in the album and that is why we entitled the album 9 that is why we hold on to the number 9 even as representative of ourself."

A yoga practitioner and teacher herself, Jah9 gave some instruction to the younger generation on how to focus on self healing. "Breathe, when you breathe breathe deeply, inhale into your nose and in the breath going right up into your third eye. When you exhale imagine all of the weight being moved out of your body, the toxins being moved out. Do that over and over as often as you can every day. That is the advice that I can give to the youth. Teach the youths how to meditate, teach them how to empty out all of the noise because there is so much information, so much foolishness, so much to decipher so much information, its better to just still everything. As I said on stage, like everything you need you already are. If we could tap into that source knowledge, yes, remember you have indigenous people up in the mountains who never read a book and these ones can speak any language and they have access to any information they need because they are directly connected to source. That is what we need to go back to now because right now, if we are tapping into anything else, we are going to end up in all the -isms that you are talking about. So I just encourage the youths right now to empty out, just stop listening to everything, stop even listening to your own mind. Because until you master your own mind you can't even trust it."

This year's Reggae on the River lineup featured quite a few DJs and dancehall style artists as well as up and coming roots performers. The vintage roots aspect was represented in a package that included Big Youth, U-Roy, Earl Zero, Marty Dread and Randy Valentine & Nature, all backed by the Soul Syndicate Reunion band and mixed by Mad Professor. It was Mad Professor's settings at the monitor and front of the house mixing consoles that seemed to set the tone literally for the rest of the weekend, with a clear robust sound that emanated throughout the weekend, making the experience even better for numerous bands that did not bring their own sound engineers to the festival.

Although not advertised on the festival lineup, Nature came on stage with the band first to perform a few songs in a showcase as he did at the festival the year beforre. He told Reggaeville his next perforrmance would be in a few weeks in Rio for Usain Bolt's 30th birthday party on the last day of the Olympics. His Earl Zero came on stage and reminded the audience that it was he who wrote the song "None Shall Escape the Judgement" and that same riddim is now used as Rockstone the Stephen Marley/Capleton/Sizzla tune. He also chanted "no more racists and cited police brutality" in a song about Michael Brown the youth gunned down in Ferguson, Missouri in the United States. Marty Dread was up next with his soulful vocal style and upful messages. He declared "It's a huge honor to play in particular with these musicans, its my life's dream." He also reminded us that he was the sole artist on the lineup representing Hawaii. Songs like No Ice In Paradise and No to Monsanto had the audience grooving to his vibes sung while barefoot.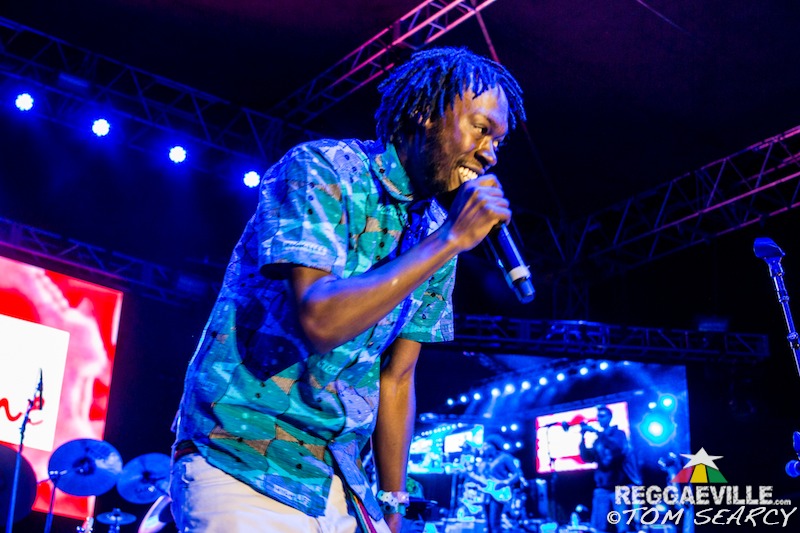 Randy Valentine was up next and relayed his theme which is "Love 365 days a year…too much confusion on the streets, don't let them spoil your meds. L in the air for love". He really works the stage switching from his rapid paced DJ style to one of reggae's most golden voices today, the first audible screams come from the crowd for his tune Lock Me Up the love song. U-Roy was up next dressed all in white, his commanding presence and role as a an originator of the DJ style were spellbinding to the crowd, he addressed the audience taking a moment to point out this historic night with Mad Professor at the controls and man like Fully Fullwood, Tony Chin and Keith Sterling playing. Big Youth who was up next could be seen singing along to U-Roy, darting around behind the stage, dancing, grinning with a twinkle in his eye, reviving up himself for his set on the showcase. U-Roy cites the area has having "some of the best herb, if you drink don't drive, try to stay alive".

Randy Valentine gave Reggaeville his impressions after the set stating, "I feel connected, I came off stage and from the first five people the first thing they said was 'thank you'. That for me means for me people appreciate the art and people appreciate the art so much and I appreciate that you guys appreciate it. That's it for me 360 degrees of love round here."

In the press conference that preceded the Soul Syndicate showcase, Earl Zero was holding court, telling stories from the past and singing excerpts of several songs to illustrate meanings. His mission was clear, as a cultural preservationis he explained, "Good reggae is a thing that will give you a recharge of energy, and a chance to make you live again. Good reggae is like praising Jah, good reggae is like teaching the people to love one another still. Good reggae is singing about life, no more killing, like a tune we write one time, (sings) Peace officer you deal like a warrior - you carry more guns like a air craft carrier."

Randy Valentine explained what reggae music has done for him in his life, "From my personal experience I believe that reggae music is like any art form when you want to express something, its about your personal truth, its about being honest. I think with reggae music its one of the genres that no one is even allowed to tell a lie upon, it's about being honest, reggae music is a platform, that allows you to do that. Reggae music is about truth. Most of the lessons I have learned in life, I didn't learn them in a school, I didn't learn them in a classroom, I learned them in conversations and meeting and greeting and speaking to people. These are the people I love meeting, people who don't try and tell you that you don't, that its all about hype its all about being loud and getting the glory"

Marty Dread further commented on the significance of reggae explaining, "For me reggae music is like a newspaper, they observe what is happening on the street at the time and they report it to the people cause you don't always hear every story on the news, you hear what the news wants you to hear, sometimes so for example, Big Youth and Mad Professor had a tune called London Burning, its a very recent thing after the riots probably got recorded during the riots and it was on the street like that and the people responded to it so its like a newspaper really so people can relate to the lyrics, the street people, saying it back to the street."

Kranium headlined on Friday night, bringing fans on stage to dance during his 15 minute finale for Nobody Has To Know. Gappy Ranks came on to perform Stinkin' Rich with the artist. Missing from this segment was Agent Sasco who faced visa issues. The after party took place along the riverside, with a updated DJ dome area that was held down by numerous regional soundsystems and dancers. Bay Area crew Jah Warrior Shelter closed the session with Keida from Jamaica rocking the mic in her hip-hop influenced flow, and Randy Valentine taking the microphone and wowing the massive for a few songs.

DAY THREE - Saturday August 6th
VIEW THE PHOTOS HERE!

No Maddz perfomed in the afternoon for their first ever appearance at Reggae on the River. Their sets take the direction of musical theatre, with members trading vocal duties and dynamic interplay around the stage.

Their press conference was an example of their natural gift for storytelling and authenticity as poets and musicians and how they came together as a group while in high school and competing in the Jamaica Cultural Development Festival.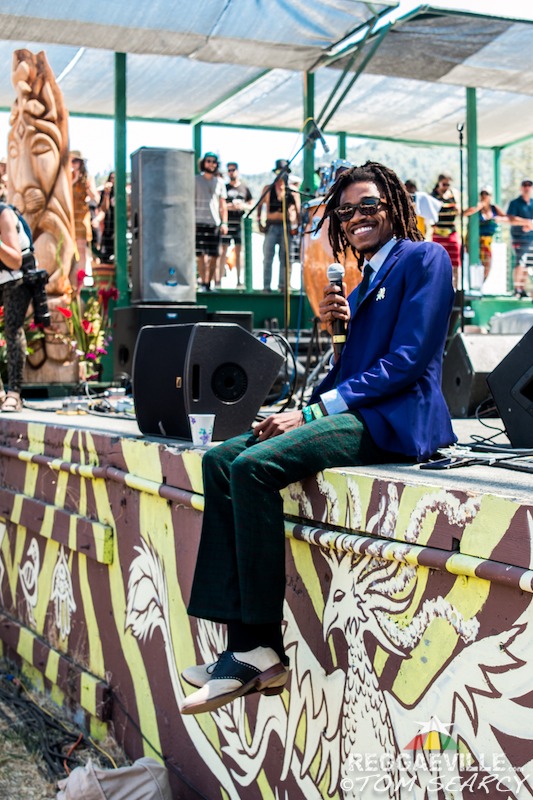 As for their impressions of how the set was received they exclaimed, "You know when someone who never saw you before, walk up to you and say that they are now a fan and all of that. That you played at 2:00 and you pulled out such a mass of people and they were dancing, that makes you feel that the experience was worth while because we went through a little bit of a struggle getting here it makes you feel that the experience was worthwhile." As for what they wish to create going forward, "We try to bring our vibe to the people and make people happy, the purpose of our music is for people to dance, for people to sing, to have fun and for people to see the messages in things. For example the single that we have out now called Promises which has to do with the various promises that our politicians give us in Jamaica. So when we sing "promises we no want no more of that" we look at it as a serious kind of vibe. That's just us and we're just performers that bring out different emotions at different times. When we sing "get up in the morning haffi pop it off…" its for the youth that has to shoot he has no choice, we have to talk about that. We have to talk about it or people don't know that these things are happening, its to bring awareness." No Maddz also announced their plans for a series of shows set for December in Jamaica, "Breadfruit in the Land of Bread, Five shows December 26, 27, 29, 30 on the West coast side of Jamaica."

Coming the farthest for the festival, from New Zealand, House of Shem performed a high-energy, R&B influenced set of originals that have poised them at the top of the Polynesian/island reggae charts for years. As for their impressions of Reggae on the River, Carl Perkins of House of Shem told Reggaeville, "Its a pleasure to be here for the first time to represent our people and our culture, our love for reggae music, sharing this love with the rest of the nations of the world. The nations of this country and each and every nation that dwells here, we love to represent positive beautiful music and to receive the love, so we're very thankful."

House of Shem is a great example of a band that has played and recorded together for several years, the musicianship and comfort with the songs as they were intended to be performed. Next up was Ziggi Recado from the Netherlands, who was backed by the Zion I Kings that include Jah David and Jah Oil both of whom played on and produced the Therapuetic album. Their set was magic, the songwriting is very strong with complex melodies and the musicians presented the material at the highest level. Ziggi Recado gave Reggaeville a snapshot of the set just before show time noting, "Its great to be here in Cali, I was here before and did a round of shows so I caught the vibe so to speak but this is my first opportunity to play on a festival this size, and get exposed to a lot more people, for me I am very grateful I am looking forward to getting out there. I will be performing older stuff that people know, I'm doing Therapeutic which was my last album some of that stuff. I'm doing Higher and Bless which is brand new from this year."

Million Stylez was not able to get a work permit visa for the festival, so in his place, Jamaica's Jovi Rockwell performed a short unnanounced set. She was also backstage earlier in the afternoon filming a music video for the single Mash It Up which she performed that afternoon.

As the other vintage artist on the lineup, King Yellowman performed an energetic, fun set of his classics, reminding us that there is "One Yellowman in a di world, tell it to the boys and girls."

Sizzla closed the show Saturday to a huge crowd, saying "its great to be back after eight or nine years" and starting off the show with the Nyabinghi chant New Name going into Words of Divine. He would big up the massive "over ya so" and "over ya so", bigging up Reggae on the River and Mateel Community Center the organizers. At one point King Yellowman came out and hailed up Sizzla, embracing him and then exiting the stage. For Dry Cry he initiated a great call and response with the crowd singing the lyrics word for word. He was adamant about the mission which is "no crime no violence, got to keep it clean, we the people rule the world with righteousness." His vibe was to reiterate this mission asking are the massive if they are "feeling irie? After all we are here at a stage show to have a good time, where di lighter dem?" For Black Woman and Child Sizzla showed off a seasoned singing voice, taking the notes to another soulful level. He sang just one line from Solid As A Rock - you can't keep a good man down, stating, "you've got to get into the musical vibration." Tunes like Things Got To Go My Way and Taking Over took on heavy meanings for the artist with a new three year work permit. For Be Strong the artist wheeled up the three piece band, a replacement for Firehouse Crew who could not get work permits in time for the festival. Another reminder of his mission is offered, "Keep your community clean heart, and mind, keep your brothers and sisters clean." He calls for a one-drop and then goes into Holding Firm. Songs like Good Ways had a higher meaning as a few rainbow flags flew close to the front of the stage.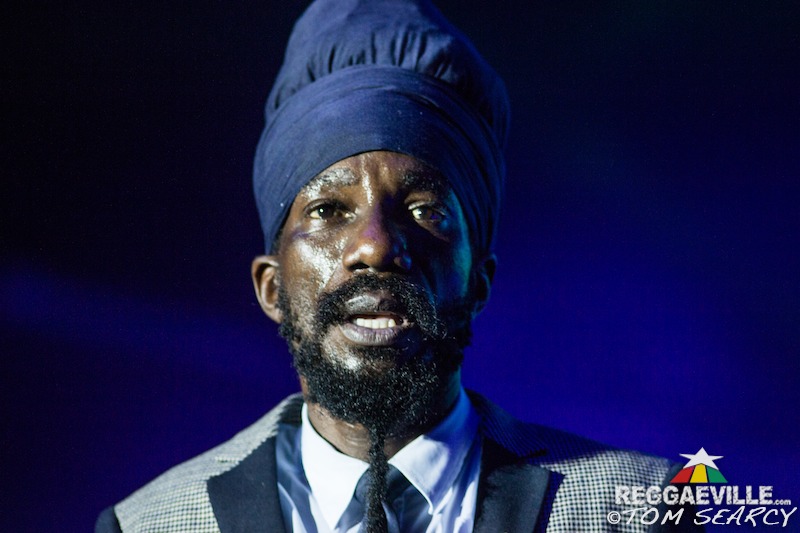 Sizzla gave an epic post show press conference into the wee hours of Sunday morning. He explained the configuration of the band that night, "My original band which is Luciano's band which is the Firehouse band respectfully, they aint got no visa, work permit so that's why they are not here. So we chose to go with Ruff Cutt but the first keyboardist came on the flight and he got turned back in Charlotte saying something about visa and then the drummer say, 'hey, I don't think I'm going to make it' and the drummer say 'hmm I don't think I'm going to make it either.' I say 'You know something, search and find someone and they said 'Eh Dada Yellowman is on the show, Yellowman drummer is there and I said 'huh?' I say 'Get my keyboardist from Mo Bay, get Ruff Cutt bass player and some others and we're gonna do the show. So that is why it was like this and it came off really well. Reggae on the River, have to do this show and the whole world is saying 'Sizzla, you have to do the show because you need to see New York, you need to see all over the world, so I say 'I'm going to do the show.' The petition for the visa getting here was through Reggae on the River, naturally and Patriot Artists Agency so its a whole business process."

As for his newly reinstated visa his main objective is to continue the work started by Reggae on the River to get him in to the US. "My duty here is to do Reggae on the River and to try and see if I could get some other shows based on the length of the visa being issued unto me. To unite the people, to spread the love of Jah Rastafari, we use the music to make money it brings a lot of incentives to us we use it to advertise publicly we use it to help our friends to get out of any little dilemma. We use it to spread the message to get across borders to inspire people to motivate people so I am here just to do the work, naturally to be earning so I can feed my family and help someone to feed their families also. To let you know its just peace and love its a vibe its what we do in Jamaica, a lot of people want to come to the Caribbean to get that spirit that love and be a part of the music industry in Jamaica. Its good to be out here and feeling the vibes from Reggae on the River, I'm a reggae artist from Jamaica so I should very much be a part of this package. I'm here and its a vivid experience being back here after so many years. The people they were well receptive and I like the spirit of the people, same as the last time."

As for his career, he was asked many questions to outline how he developed as an artist. One was based on the impact of the soundystems to which he replied "You've got to blend in and know what to do at one time its a cycle. All the sound systems in the world, cause when you are sleeping these sound systems are out there playing your songs while you are sleeping and rotating. So all the sound systems they are a form of importance to me. So all the sound systems from the genesis of my career like Caveman Sound System, Kilimanjaro, MetroMedia, Stone Love, my dad usually had a little sound system in the garage called Black Steel so every night or every evening I would go on the system and practice. They would just play any amount of riddims and your duty is to sing on every riddim that they give you. Sound system play a very important part in our career where it helps us to be balanced to be ready action time, as you hear a riddim get on it cause its the spirit. So when you are on the stage its a simple pattern you just transpose and there you go."

As for his videos and the type of material he has put out over the past few years he explained "I've been doing a lot of videos because in the ghetto you have a lot of youths, the music is just the only source where we can earn an honest bread where we its not violently being achieved or illegal in the criminal sense. So you've got young youths turning young musicians, new producers, each and every day so its a part of my duty to give them that chance. So they get a rhythm and its going and so you say 'Sizzla got a lot a dancehall songs' based on the rhythms the kids took me. I went into the rhythms. But I've got an acoustic album coming and I'm presently working with producers making a lot of new songs. In time you will hear songs come out here and there cause that's how we earn in Jamaica. Sometime we just wan to get a riddim out to get that start then I could go and get a Sizzla on the riddim I could go and get a Capleton on the riddim, or a Bounty Killa on the riddim, and so on and then there and then I could just eventually flip myself into music world right there. Its a channel so we've got a lot of stuff going on."

As far as his future plans Sizzla stated, "I want to say thank you very much for praising the Most High and seeking good for your health and for keeping the culture here so far in the mountains of Humboldt County, a County where I have always have on my favorite. In coming here, there is no hesitation, I want to thank the people for maintaining the culture and seeing the red gold and green and I like the whole decorum and I must say and be appreciative of the fact in having me coming here, because the whole initiative is just to start the works, you know what I'm saying, so I start the works here in Humboldt County and I hope to be in New York and any where else on the planet and anywhere else in the U.S. of A. so thank you very much for accepting something being created and from a Caribbean country and you have accepted it so well, in the way in which you have manifest and in the level where you can use it and harness it this reggae music here in Humboldt County where it can unite the people. It's an example which we should also take a page out of your book where you have also taken a page out of our book because looking back in Humboldt County and seeing the beautiful people coming together and appreciating our music in Jamaica that's a strength for us to go back home and get ourselves more solidified in the duty and seeing you doing all of that just give us more strength and any time you're ready just call upon Sizzla me deya to deal with the matter."

Saturday night's after party included Mad Professor taking the controls as Rocker T took the mic. Up next was again the unannounced Jovi Rockwell who delivered a few songs over riddims from her upcoming album.

DAY FOUR - Sunday August 7th
VIEW THE PHOTOS HERE!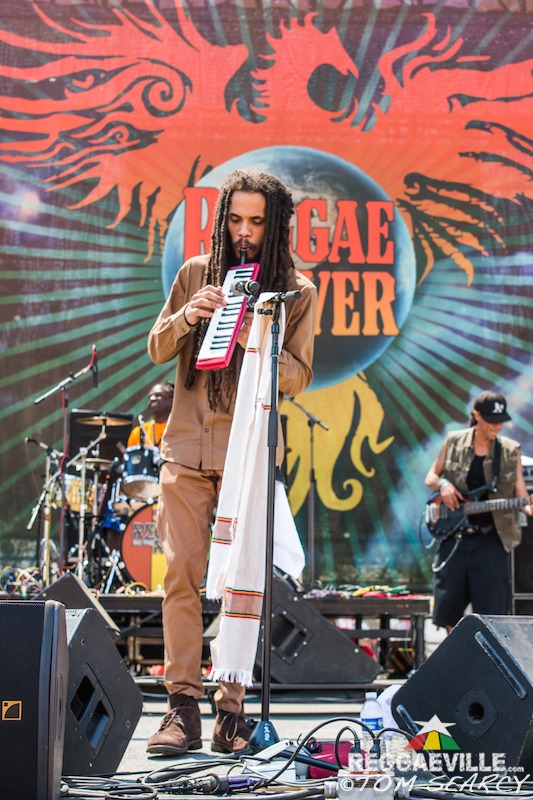 Addis Pablo gave a majestic set of instrumentals performing melodica, this was the Augustus Pablo tribute, in honor of his late father. His colleague Jhameila Smith was backstage on Sunday, doubling as a festival volunteer and support vocalist for Jesse Royal. Daughter of guitar and musical director legent Earl "Chinna" Smith whose birthday happened to be on August 6th, Jamaican independence day, she reminded us in that so many of the artists on the lineup were influenced and mentored and taught by her father in his jam sessions, recording sessions "inna di yard," where he is constantly focused on his playing and encouraging others to work out material. As for her involvement at the festival as both a vocalist and a volunteer she said "I am just really thankful for (Jesse) involving me, he's a very inspirational person, someone I look up to, and I just wish the best for Reggae on the River and his career. I wanted to feel the entire festival, so I volunteered, I was backstage security. I don't know what I can secure, but I tried my best and it's now the end and I had fun!"

Part of the UK invasion of reggae artists on the 2016 lineup, Mr. Williamz came in this year after experiencing visa issues in 2015. His set is decidedly raggamuffin DJ style over roots rhythms that included a rasta percussionist who would remain on stage throughout the day. After the set he gave his impression of the festival to Reggaeville "Its really awesome, you know its Reggae on the River its California, its Humboldt County its the highest grade, its way up into the sky."

Sister Carol and her daughter Nakeeba performed a seamless set of material that exhibits why she is an original dancehall artist, coming from the roots of the sound system and DJ style delivery. As she explains the place of reggae as an art form, "I'm one who love to clarify that the music is a fusion of all the different cultures, beginning in Africa and we establish what we call Reggae music and beneath that big umbrella, there's Dancehall, there is Dub poetry there is Lover's Rock, but the main thing is to keep the music positive, keep the message conscious because its a very contagious music that captivates every person around the world, even if you don't even speak the language, because the syncrhonization of the drum and the bass is very synonymous to the beat of the heart. So once you feel the beat you will feel the heat of reggae music."

Keznamdi is part of the next generation of artists singing from a social conscience as well as creating music that is unique within reggae. His show was rock solid, he's a natural performer with strong songwriting and vocal chops. As for his impressions of the experience he noted "Reggae on the River is definitely one of the most cultural reggae shows in America and the vibes is just straight love, yo this is good for humanity. Humanity need more of this kind of events to uplift the people…when people can forward inna love and joy like this the human race need it." He noted he was in the "middle of a little run right now" then go "forward to Jamaica and put the finishing touches on the project."

Keznamdi's song about Trayvon Martin, the teen murdered by a neighbor in Florida, prompted questions about police brutality and racism to which he responded, "I think what is important is that we don't get caught up with the media trying to divide us, we are one people, race is just an illusion, the King say 'Until the color of a man's skin is no more significant than the color of his eyes then there will be war.`This is just a vehicle, that is one thing that we have to realize with a human race with all of this violence going on right now. We are one people, it's not the black race it's not the white race it's not the purple race it's not the yellow race. I think art is the most effective medium in sending out messages whether it's music, whether it's visual arts any kind of thing."

Keida who was also on the panel discussion noted "It's another vehicle to let out your creativity and let out your message, sometimes its one of the best methods…but when you are trying to group people in these categories whether it's race or female, I just think as human beings we just all operate the same level and put out the same level of cosciousness, same level of good vibrations. So I don't really like to get competitive with it, its just you as a person giving the best you have to offer, learning from everybody around you, radiating good energy so you can learn from people people can learn from you. The song Stand For Something is a reasoning I had with myself about not necessarily wanting or constantly thinking that you have to depend on anybody else to defend your issues. Stand for something, find your cause, find your purpose, some of us are still finding it….that's a part of the journey."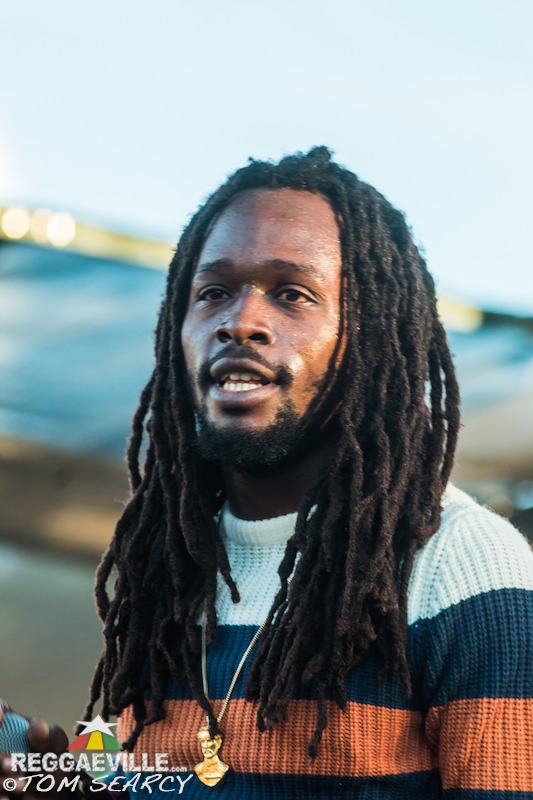 Jesse Royal flows from the wellspring of cultural roots and the MC/DJ culture effortlessly delivering his conscious messages in a deep rich baritone that is so consistent. He is one artist that you can hear live and he sounds just like the recording with excellent elocution and power. Songs like Modern Day Judas with its millions of views on YouTube took the crowd involvement to another level with fans singing along fervently to the reality tune. Songs like Butterfiles and Clear My Head showcased the efforts of the band and their engineer who was nicing up the front of the house to peak quality. By the time Finally the herb tune comes on the crowd has grown to a massive and the freed up herbs are burning strong.

Jesse Royal's press conference remarks reflected the journey of an artist. "What we get to learn is we understand why Bob Marley said he have "so much things to say". So after a while it harder to really hear yourself sometimes because once upon a time you are in a little corner wherever it is you do what you a do. True no bagga ting you can take the frequency dem as they come, then you have a bagga people they shift your frequency so you haffi remember how fi recharge, and kind of set back yourself in a little way for always keep the vessel in a way that you can really receive what come through because no man is an island and no man is it. We are just all vessels…"
As for issues related to police brutality and how to make art that addresses these issues Jesse Royal noted, "The voice definitely important you haffi let it out, cause what happened is the reality that all of we face, no matter where we are, so even if Kez call Trayvon name he calls John name, and lickle Timmy and Georgie and all sorts of youth weh face that same fate, of that youth deh down in Jamaica, youth in England face, the systems that were designed, is the systems that were designed. So what happened is the reality is that this is going to happen in these places. These systems and law they weren't set to regulate or fi look out for wi if you overstand what me a say. Police originally create fi recapture slave so we see certain things we haffi overstand. The root of certain things you will see the picture a little clearer, you can't look for the right thing in the wrong place you are not gwine find it. So you have to look for the right where everyting wrong where you concerned. We can't look for that we have to look for survival, I learn how to adapt and adjust, I learn how fi balance di ting, cah even the Komodo dragon, one time him see a bird, him rush the bird and tear it up quick fast. Now when this same Komodo dragon sight a lion, him take ten step back. Because him know say alright him haffi attack that battle a little different. Him know consciousness is a lion him know how fi deal with. So we have to know that this system we a deal with is a ras clat system. So you can't approach it light or approach it like its an over night fight. You understand? We make art for the oppressed, but at the end of the day every art is art. I and I express myself in English because Ras clot English colonized my country. Sad to say because I wish I could speak all 20 different native African dialect but I can't."

Anthony B closed the festival, a well-regarded artist in Humboldt County and throughout the Western US, the fans roared when he touched the stage to sing songs like Good Cop which took on a new meaning at this point in the artist's career after facing a ganja charge in Atlanta that meant his work permit was compromised three years ago. The fun, animated video for his song with Capleton & Sizzla, Best Of the Best was featured on the digital display right before he hit the stage.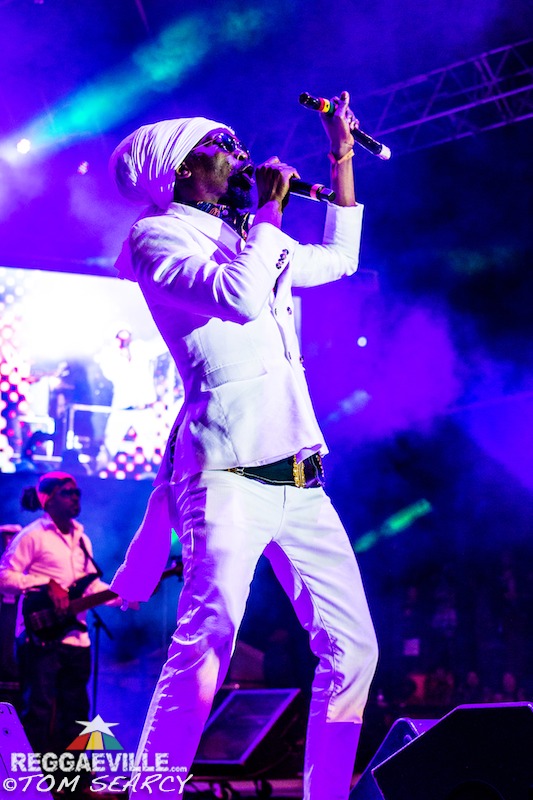 God Above Everything reminded the massive of the priorities in life. Waterpumpee had the crowd in the dancehall zone. My Yes and My No exhibited the artist's ability to write a great hook and love song. The artist performed There Is A Reward the Joe Higgs classic lamentation which he has recorded and released as well. Good Life moved the crowd with its positive message. Police took on the issues of police brutality that were a constant concern throughout the festival. As the set climaxed, Raid The Barn rocked into Life Over Death and Smoke Weed Every Day the latter of which had the massive lighting way up.

Anthony B put the festival and reggae worldwide in perspective of himself as a conscious artist by citing his roots. "Give credit to my grandmother, I grow with that old soul. From being a young child, its like you grow with your granny. My friends used to think me old. It makes you more spiritually aware, it draws some form of respect from early so its like my first approach to music, I've never wanted to sing a song and then have to turn it off when me see mi mother or if me heare my father or see my auntie a come and say 'Yo turn off that'. That was my first thinking of music because before I became a Rastafarian. Because I start out in music as a young youth, my first thought I don't want to hide that and feel embarassed over what you are doing. That was a strong point for me, and just keep doing what I am doing as I explained earlier, I am a very realistic thinker, but I try to break it down in reality. I say look at dancehall and look at reggae music in its true essence. I still don't see why I would try to become a dancehall artist, I would not see the benefits. It wont make you economically richer, it wont make you spiritually richer, it wont make you tour the world more. It wont make you more popular, it wont give you a longer lasting career, to me its child's play. That's why I have never tried to leave this part of being a very conscious and cultural artist. As many shows as I get around the world, its not because I am an entertnainer, its because I am a conscious entertainer. So I went to India not because I am a reggae entertainer, its because of what I represent. So they would send for me, its like a Women's movement. They said they are trying to fight for the rights of women, they put together a concert and I am an artist that they select from Jamaica. Its the same thing that they are saying that I am a person that stand up for women, as a man who stand up for women that is someone they want to perform on their show. When you look at the significance, when you stand up for something signficant. When you look at the people that you remember in life today, they stand for something significant, Bob Marley, Malcolm X, Peter Tosh, Martin Luther King, John F. Kennedy, John Lennon, its people who mean something will be remembered. I still can't search and see the avenue that make you more powerful when you do stupid music, dancehall music or do crazy music, there is no scale or no blueprint to put before me to show me that yes this make you more popular, cause where? No dancehall artist can go around the world like a cultural reggae artist can do. There is a dancehall festival in Miami maybe one in New York, maybe one in London, maybe one in Jamaica that's it. Let's say reggae festival, reggae festival is everywhere."

Whether from Jamaica, UK, Hawaii, New Zealand, Algeria, Italy, Netherlands or Humboldt County, the reggae massive was gifted with a great offering of today's best reggae from around the world, projected on digital displays and performed to the highest standards, both during the festival and in the late night dancehall, the artists, engineers, DJ's, festival staff and volunteers provided a high quality experience at the 32nd Reggae on the River.


WATCH SIZZLA's PERFORMANCE BELOW: