Festival Report: Reggae Jam 2015 + Live Stream
07/24/2015 by Gardy Stein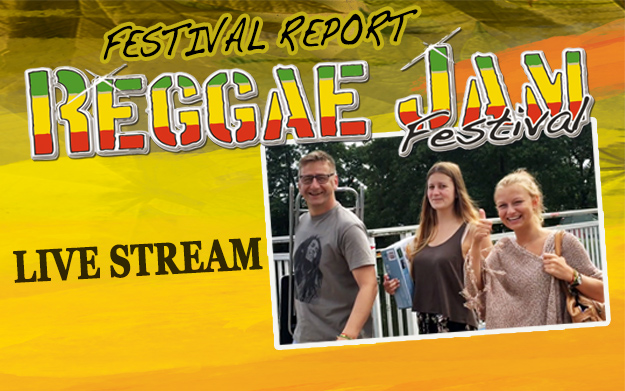 BREAKING NEWS - JULY 25th - 9pm
Festival stopped because of crashed tree. Watch the video HERE!
Update: Festival will re-start @ 11pm!


PHOTOS: EXILE DI BRAVE, RICHIE CAMPBELL, MICAH SHEMAIAH, EARL SIXTEEN, MONO & NIKITAMAN and many more...


VIDEOS: TÓKE, MICAH SHEMAIAH, JAH SUN feat. GANJAMAN & D-FLAME, ADDIS PABLO and many more...


Check the full line-up and much more in our new magazine: REGGAE JAM 2015 EDITION. Free PDF download HERE!


REVIEW by Gardy Stein

Thursday, 23rd July - Artistically speaking
It's always a homecoming. Despite the vicious police controls in and around our destination Bersenbrück I spend most of my year looking forward to this weekend. Or remembering the last one. Having arrived and set up everything Wednesday evening, there is time for a relaxed extended breakfast. Later that afternoon, we take a tour to the traditional hot-spots of the larger festival area: Ackee & Saltfish at Pelican's Jamaican Food, Rum Punch at Kalle's Kitchen, a Jam Session with Tóke at The Sandwichmaker... An exciting addition to the stalls and tents around is the white yurt of the Nanook Art Collective who are on an UP!-Tour throughout Europe right now. Entering the round tent is like arriving in an oasis of colors, art and peace. The artists Matthew McCarthy, Ashton, Jik-Reuben, Pete, Italee and Dan Tho as well as Nanook-founder Joan Webley herself take the time to explain and show their art-work and vision, visibly excited to finally be here.

After nightfall, of course the runnings are high at both the Rootsplague Dubcamp and the Dancehall Tent, where sounds like Bass Station, Big Mama Sound (who opened and accompanied a live set for Teacha Dee) and Trettmann Hifi play a runthrough of the last decades of Reggae & Dancehall top 100 charts. They definately attract the attention and dancing devotion of the early festival guests. The curfew at 3 am is strictly obeyed, so that we all get the chance to go to bed early and stock some well-advised (and in the next days much needed) supply of sleep.


Friday, July 24th - Of cinema, stage and rain

16:47 PM
The festival day starts with Rodigan - A Reggae Life. One of the rare screenings of the movie (a strategy David calls "cherry picking") gathers press, fans and interested visitors, as well as Sir David Rodigan himself. Located in the auditorium of the local high school, the stage is set with a large flatscreen and an even larger print-out of the beautiful Reggae Jam banner (I really have to find out who did the artwork). During the next 70 minutes, we follow five decades of the amazing life of this living legend, who, according to Ulli Güldner, "has done more to get people into Jamaican music than anybody else." It is thanks to the tireless zeal of Ulli and Steve Ganjaman that the material originally recorded and collected by Sooza Boehm has seen the light of day in the present form. Apart from the sheer information and historical input that makes the movie a must for everyone interested in Reggae music, it is a wonderful experience to follow the display of amazing graphic artistry and sound quality ensured by Steve.

17:38 PM
Coming out from the dim hall into broad daylight, my way leads me straight to the main stage where Tóke has already opened the festival. In fact, I'm just in time for the last three songs of his set. "Home is where your heart is!" - the closing of his set is swiftly followed by the Suns Of Dub. Exile Di Brave, who rocked the Sandwichmaker-Stand last year, is now on the Main Stage, opening the collective set. Micah Shemaiah gives me the first goosebump-moment of the day with his silken voice and message.

20:13 PM
Addis Pablo takes over from Jah Bami and dubs away with his sweet melodica tunes joined by a steel drum at times. With Earl Sixteen, a real Studio One veteran artist enters stage, feeling his way through the set in the setting sun. A first highlight of the night is the joint appearance of these five artists and the Suns Of Dub. There are not enough microphones to enable them all to sing at once, but the movement they create on and off stage is incredible.

21:08 PM
The crowd is dense by now and dancing balloons and waterballs populate the air. Richie Campbell is singing his heart out on stage and several ladies have "little hearts in their eyes", as my friend puts it. Covers such a s Turn Your Lights Down Low and original tracks from his Album In The 876 fill the place with vibes. The final What A Day is a joint venture between him, the 911 Band and the audience. Hands are up and waving!

22:11 PM
In a sudden burst of energy, the crowd welcomes Italee's wicked performance during the set of Cali P. She has the people jumping in no time! Cali picks up the excitement easily and, along with Boomrush Backup, pushes the Reggae Jam visitors into movement. "Can we sing a brand new tune?" Well, we can! The whole place is rocking again. Meanwhile on the left stage, the House Of Riddim band is getting ready for their show with Jah Sun. A soft drizzle of "liquid sunshine" (that's what rain is called in Jamaica) helps the dust to settle in front of the stage, so that breathing is no problem after the heavy dancing mood Cali P inspired.

22:55 PM
"We're living in serious times!" croon the beautifully dressed background singers (I wonder where they got the dresses from!). Jah Sun asks us to put up the lighters, and meanwhile it is dark enough for the lit ones to have a wonderful effect. Along with the beautifully illuminated ancient tree in the middle of the crowd, this is the perfect moment to bask in the unique magic of this place. The Californian Dread assures us how grateful he is to be here and jumps into a dynamic and well-balanced set of veeeery danceable songs. Nice move: "Make some noise for all the artist in the place, Richie Campbell, Cali P, all musicians and players of instruments, big up!" After the Peter Morgan feature Heart Like A Lion, Jah Sun calls a friend from Seattle by the name of Bobby Hustle on stage. He performs a gripping Kush Morning, and then Ganjaman and D-Flame follow his lead and join Jah Sun in a wicked freestyle that has hands and feet flying again.

23:19 PM
After David Rodigan and Bitty McLean, Micah Shemaiah is just finishing his session of Riddim Magazine's meet & greet. He is teeming with excitement to finally be here, to have such a crowd... Meanwhile on stage, Bitty McLean takes it slow. The gentleman performer builds up the vibes until they culminate in Baby Tonight and Dedicated To The One I Love which have everyone on board.

00:43 AM
While Mark Wonder and Fiyah Nation take their turn rocking the stage, Richie Campbell visits our makeshift Reggaeville work-camp (which consists of a foldable table, two benches and three multiple power-plugs) to look at the pictures HoRo took during his performance. Obviously, he likes them very much.

01:12 AM
The next show virtually drowns in heavy rainfall, lightning and thunder. Metaphorically speaking, the liquid sunshine is blazing brightly! But the Reggae Jam massive is holding its ground despite all the wetness, frantically celebrating the cheerful set of Mono & Nikitaman (as the two of them stated in the Reggae Jam-Magazine-Feature, they were looking forward to have a big party with the crowd). It takes more than some water from above to deprive us of sweet Reggae music! We are not made of sugar, as Northeners say. Instead of fleeing the site, the party mood seems to increase by the "little refreshment": Ready for some wet T-Shirt contest? Good thing the lights went off due to the unhappy marriage of water and electricity...

01:39 AM
With a tiny dely of 8 minutes (big respect to the smooth organisation!), the one called Pressure enters stage. The Busspipe bravely plays for and with the slightly diminished crowd (I guess a few people want to make sure that their tents are not simming away - at least I wonder if I should have a look at mine). Legalize It, Show Love and Bless My Soul are some of the advices he willingly shares with us.

02:26 AM
After Lockdown has played a brass-flavoured intro, the UK singer and MC Tippa Irie steps into the spotlight, wearing an Arsenal Trikot. He takes the last spot of the evening seriously, putting his everything into the set. The hard core of the crowd plays along: moving left and right and down and - wait - UP has everybody jumping in the mud. Roots, Rock, Reggae and some wonderful Ska tracks keep up the mood until the end. Having missed quite a few performances and sounds at the Dubcamp and Blessed Love and Barney Millah in the Soundsystem tent, I hurry there to catch the rest of David Rodigan at least. Good first night, Reggae Jam!


Saturday, July 25th - Storm ahead

15:17 PM
Preparations for the storm announced at 160 km/h for later that afternoon kept me from following the traditional Ganjaman kick-off on Saturday afternoon, as well as Mellow Mark. Police on horses and Fireguards on foot patrol the festival area to pass around the official weather alert and see to it that everything is secured and fastened. The first artist for me today is Ras Midas, whose red-yellow-green garment flutters decoratively in the increasing wind (in order to avoid the "sail-effect" on stage, the back plastic canvas had been removed already). His final song is dedicated to "the people who struggle to put food on the table and send their kids to school." You don't know!

15:52 PM
Hailing from South Africa, an (at least to me previously unknown) artist called Crosby Bolani is a nice surprise, both in vocals and performance. He takes turns on the mic with compatriote Vido Jelashe who appeared out of nowhere to share Crosby's set. In a Raggamuffin and Hip-Hop flavour they touch on the universal lyrical topics (love, life and Ganja) and even come with some linguistic teachings, trying to make the audience copy the click sounds of their native tongue Xhosa.
News trickle in that the Dubcamp has taken down the main tent because of the approaching storm. If worst comes to worst, the stage has to be locked off...

16:36 PM
Uprising Roots! I was so looking forward to this band that I don't mind getting a bit wet infront of the stage. Keyboard, guitar (Winston "Boopee" Bowen), bass (Pot A Rice), drums and percussion (Joseph) are enough to supply that authentic sound to which the voices of Rashaun "Black Kush" McAnuff, Hakinsanya and the two background singers Nio Sulann Smith and Kimmy Gold add splendour. The message they bring across is half sung by drummer Kush, half recited by keyboarder Hakinsanya in a dub-poetry style: Brightest Light and Blessing spread the word, and from their latest album Black To I Roots we hear Trenchtown. Big respect to this band and to the audience who endure the cold rain and hard winds to listen to their music!

17:42 PM
While undeniable physical necessities keep me from following the beginning of Nesbeth's set, I am able to witness his "grande finale". Talking about his deceased mother, he asks friends and family to join him on stage and sends out a touching message to the world: "I want you to hold the hand of the person next to you and lift it up, up, up! We are sending a message of peace through the world. If you believe in peace, say peace!" Wow, what a moment! Exactly the right thing to do in order to lift the slightly dampened mood.

18:05 PM
Obviously, the Dancehall tent is in the process of being dismanteled too. Damn! I was looking forward to the premiere screening of Kingston Crossings tonight, but the movie will be shown tomorrow at noon. All around, the less stable stalls and food tents had to be closed as well. The festival feeling is on the verge of diminishing rapidly, but luckily we have the "original legend" Triston Palmer who, alongside the Asham Band, saves the mood with wonderful songs like If You Knew.

18:25 PM
That's not Shuga! In a last minute program change, her slot had been switched to Sunday evening, so that now we have Mr. Lexx on stage. He brings some Dancehall vibes on and manages to excite the crowd enough to see some movement. While his voice is well adapted to ragga away on a riddim, he should not try to cover songs that are too melodic - his rendition of Lean On Me left people wondering if he's joking or being serious.

19:05 PM
With the Real Rock Riddim, Magic Touch opens for Winston Francis. Unfortunately, the rain is back with full force and the storm is far from settled (as a little break 10 minutes ago had suggested). In fact, a bit later the performance had to be interrupted because the PA has a breakdown. But show must go on, and soon the sound is booming and people are dancing again until...

19:32 PM
Drama strikes! A large branch of a tree gives way to the continuing guts of wind and falls directly on the passage behind and between the two stages. Fortunately nobody is hurt, but of course the whole event seems to be over. People are asked to leave the area, and along with countless others I trudge along to see if my tent is still where it's supposed to be. Will that really be the end of the second night of Reggae Jam? To be continued...

After the storm

21:10 PM
Walking over the camping site, the sheer force of the storm that is slowly blowing out by now becomes obvious. The field is a muddy mess, the river Hase swelled to at least twice its original size, ownerless tents are virtually flying around or sag sadly in large puddles of water. The DRK (German Red Cross) opens up the local gym for those who have lost tents, blankets or a dry change of clothes. While I pass the entrance, trucks arrive with bunk beds, blankets and hot soup. The helpers are over-enthusiastic and it almost seems as if they are thrilled to finally act out the emergency plan. Despite these quick help measures, some disillusioned folks gather their belongings and are off to the train station. The rest is making the best of the situation. Honestly, the vibes around are better now than they've been all day! At the Dubcamp, sound is still pumping, and down by the Riverside Disco, Muk assures me that I-Revelation will continue to play all night, no matter what.

22:35 PM
Good news: the party is not over! Those who have installed the Reggae Jam-App or check the homepage are informed that the program will continue with a little delay at 11 pm, and the message quickly spreads. Technic is working again and only a bit of saw dust remains from the fallen tree - big up the fireworkers!

23:55 PM
After an unspectacular set of Lisa Dainjah, the stage is owned by a smiling Aaron Silk. "Let me see the hands of the people who love Africa!" he says, and with tunes like Hello Mama Africa or Complain, he hails his deceased brother Garnett. Good to know that the legacy is carried on!

00:20 AM
Junior Kelly and his band are kicking it. "A brand new set!", the artist introduced the songs prior to this moment, but nobody could really sing along. Energy levels are rising when he comes up with his older stuff: Boom Draw and If Love So Nice generate cheers, movement and the first spray-can torch of the night. His last song is an acoustic extro, telling us to "reach out and touch someone; instead of spreading hate, please love someone!"

01:32 AM
Announced as "the man who brought opera to the dancehall" by moderator Dr. Ring Ding, Buccaneer appears with a classic intro and rides through hits like Fade Away or Bruk Out. It's great to see that the place filled up with people so quick - the massive is back! They hold up well, turning their attention willingly to Lukie D. who starts his set with a Let It Be cover. And the weather holds. By now even stars are visible in the sky.

02:10 AM
After newcomer Tydal Kamau presented himself, this is my Reggae Jam-moment. Right here, in the crowd. Right now, when Bugle enters stage singing Anointed. Boom! The artist who brings consciousness into the Dancehall plays a tight set (the slots have been shortened to 30 minutes each due to the delay). Some of his older tracks, some taken from his Anointed album - Nah Compatible has the crowd singing along fervently, and as enthusiastically the flag-bearer waves the black-red-and-green on stage. There is an intense moment when Boomrush Backup stop playing and Bugle squats down to finish his song in a swell of words. Authenticity!

02:42 AM
Ganjaman bridges the moment it takes to set up the keyboard to thank the city of Bersenbrück for their hospitality, especially for their willingness to extend the 3 o'clock curfew to 4 am, and everyone involved making this event safe. Then, dancehall veteran Spragga Benz in trenchcoat and sunglasses takes over. She Nuh Ready Yet, Backshot and Hunting on the Joyride riddim fill his set; at the end of it, he welcomes the upcoming artist Amlak Redsquare on stage. Together they mash it up, which however escapes my visual attention because I'm on my way to the backstage on the other side of the area. From there, Bugle is just being picked up by Citylock to get some work done in the dubplate studio they are running this year. A lot of things going on behind the scenes!

03:21 AM
Redemption Song again! Anthony B closes this eventful night with a selection every spectator can relate to. Well-known hits such as Waan Back (Waterpumpee), Good Life or One In A Million keep hands up and people smiling. It is still so full! Honestly, I am amazed at this crowd, showing their support bravely until the very end. No rain, no storm, no thing can stop dis ya Reggae Jam massive! Even though it's already past 4, it doesn't look as if people are willing to let the night end here. The Dubcamp is a likely destination, where hopefully we'll be able to catch the last minutes of Irie Ites set. Or Young Veteran Sound. Or Roots Plague themselves... we'll see. Thrilling second night, Reggae Jam!

Sunday, July 26th - Bright days ahead

11:05 AM
"The sun is shining, the weather is sweet now." What a song to wake up to, especially since its lyrics are actually mirrored by this Sunday morning. Crucial B is sitting in our camp, choosing songs for the set he'll play at the Dubcamp later on. Storms Of Life is a likely candidate, as is After A Storm by George Nooks. Over breakfast we exchange news and stories of last night. Robbed of their location, Silly Walks played a little set at the Riverside Disco, though only few people attended. Most of the party folks had obviously found their way to the dismanteled Dubcamp, where they danced in the mud in gumboots or even barefeet. I am devastated to hear that the movie Kingston Crossings will not be screened after all.

13:21 PM
A cover band called Staxx are just killing Leonard Cohen's Hallelujah. And I don't mean in a positive way. Their self-proclaimed intention is to play "Babylon Songs inna Zion Sound", but in the case of this song, the mission goes wrong. The musical delivery is good, though. Early spectators lounge in the sunshine, soap bubbles are flying through the air, children running around, laughing - oh yes, today we will catch up with all the summer festival vibes we've missed out yesterday!

13:45 PM
Rather than boring us with covers, Dr. Ring Ding brings on some original vibes. This man! He not only sings and performs well (his version of Night Nurse on the Doctor's Darling riddim is hilarious!), he also plays the trombone in between his verses. The Ska tune Old School has the growing massive moving, and as I take a stroll around I am pleased to discover that most of the stalls and shops have opened up again. At the re-established HELP Jamaica stand, I purchase a lottery ticket (number 546) in the knowledge that even if I don't win anything, their good cause is supported.

14:27 PM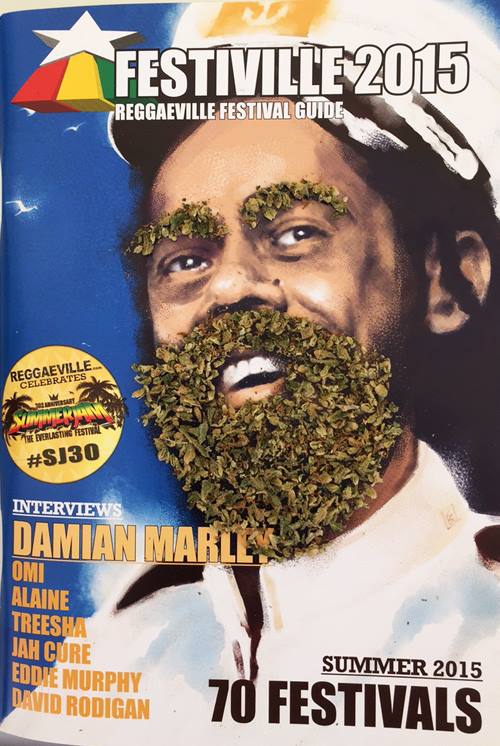 Alpheus rocks the stage in blue shirt & tie, suit and matching hat. The place is full and people skank and jump along with the Ska-veteran. Good Prevails and We Are Strong are songs that not only convey a glimpse of the craft of proper songwriting, but also bring across a positive message. The latter even saw an acting element when the whole band completely froze at one point, only to jump back into the song with full force seconds later. Fantan Mojah, who was invited as a substitute for the sickness-stricken Tony Tuff only days prior to the Jam, profits from the sunshine mood and people respond well to Deliver Me or Only Jah Love. Backstage, the Reggaeville crew finds interesting outlets for their creativity, for example the creation of a special edition of the Festiville Magazine cover.

16:02 PM
The next act look smart in their matching golden vests. Style! Keith & Tex pick up Alpheus' vibes and begin with a medley of well-known Ska-songs. The Easy Snappers do a wonderful job bringing across the original old-school sound these tracks require, for example with the Hammond XP1 played by keyboarder Robert. Bassist MK set up his E-bass on a stool and plays it as if it was a big old double-bass. The duo lets their trademark vocal harmonies catch the listeners - as I was told, they had a little warm-up in the dubplate studio this morning.

16:52 PM
Ah, these moments when you wish you could be two places at once... A quick trip to the Dubcamp is rewarded with a wicked jam-session of Micah Shemaiah, Exile Di Brave and Italee on the mic as well as Ras Jammy on the turntables - Vinyl Thursday's style! I wish I could stay and join the roundabout 200 people dancing in front of the huge speakers or using the self-made water-slide. Looks like fun! Back to the main stage, Meta & The Cornerstones address their African brothers in the last song: Senegal Suma Rey! In the literal translation, this means "Senegal, my country", but it actually talks about Meta's experiences in New York (trying to cope with a foreign culture and language) and in a more general way about the struggles you go through in life. This singer has an amazing presence and a lot to say!

17:19 PM
Up next is Jahmali alongside the Reggae Jam Band, a formation that found together specially for this event. With Do It For Love and No Weapon, he brings to our attention songs from his latest album We I Open, but also older tracks like Cry People which transport his conscious message.
Time for a break... I grab some finger food in the well catered backstage. Really, these people are working so hard to produce a fresh and full buffet, all the while with a friendly smile on their lips despite the brisk traffic of artists, band and crew members.

18:31 PM
Creating, preserving and bringing back memories is part of the job of every good singer. Veteran Ken Boothe not only sings until everyone is rocking away, but also provides us with background-information about where the songs were recorded, what they talk about and so on. Keeping the history alive! One of his last tracks is Everything I Own, a cover of David Gates' hit Ken recorded in 1974. And it still works! Timeless music that will play forever...

19:24 PM
Chezidek is waking up the massive from their nostalgic reverie. Fire! He is actually collecting the last rays of the sun, because slowly but surely clouds are gathering again. However, nothing can shake those who've been through yesterday's ordeal.

20:11 PM
Agent Sasco! Assassin! As unfortunate as it is that Yellowman couldn't make it, his replacement by this hot Jamaican artist is certainly not overly regretted. Something's Gotta Give or Countrybus make fans go wild, fans whose perseverance is once again tested by a light shower of rain. But who would leave this? After the former Spragge Benz protégé finished with a spectacular version on the Wipe Out riddim, Ganjaman and Dr. Ring Ding reward the patience of the audience with goodies - T-Shirts, DVDs and even a few cups find new owners in a little give-away-action.

20:45 PM
For all those who thought the day couldn't get any sweeter, here is Shuga. She is a joy to watch, a wonderful performer and great vocalist. Her rendition of Turn Your Lights Down Low at the end of her dynamic set is touching, and the lyrics she includes in an interlude ("When I see you, I don't see black or white, I don't see big or small...") display a mindset much needed these days. This lady will certainly have things going in the very near future, so keep an eye out for her!

21:55 PM
For the next performance, I decide to mingle with the crowd again. That way it is easy to pick up the vibes Mr. Vegas spreads - he sure knows how to move this massive! We even have an instance of palancing, although I'm so busy watching my feet and those of the people beside me that I can't see if everyone joins in. Heads High, Tamale, the brand new My Jam and my all-time favourite I Am Blessed to close his set have pushed energies high and left the artist virtually steaming on stage.

22:41 PM
From little club-gigs to guest-appearances at Gentleman's Unplugged-tour to the prime-time Reggae Jam stage: Clay has made quite an impressive move up the ladder in a relatively short time. With outtakes from his current album Clay:List, he impresses those who haven't known him before and makes those who know him sing along: Can I Have My Heart Back or Love And Be Loved, for example.

00:03 AM
As expected, Alpha Blondy did a breathtaking show. Starting with Jerusalem, the Reggae vibes were flowing, flags waving, sparklers... During his cover version of How I Wish, he shakes hands and tells people how glad he is to be there. Brigadier Sabadi, the grand finale, involves a lot of singing from the crowd and a beautiful light-show (again big respect to all those who work in the background to make this event what it is). In his traditional final speech, Sheriff recapitulates the events of last nights and apologizes for the problems caused by the storm as well as expressing his gratitude to everyone involved in the organisation of this event. As always, he calls all helpers on stage, as always they jump collectively in the air, as last year the local brass band play a song: I Shot The Sheriff.

Thus the 21st Reggae Jam Festival comes to a close. It have been turbulent days, but somehow all the difficulties brought people closer together. And bore proof of the efficiency of the security system! Also, this festival has extended its focus to include not only musical acts, but also other art forms such as the screening of the Rodigan-movie or the presentation of the Nanook art-collective. More of that! Oh, and the artist who designed the Reggae Jam Banner is the Jamaican Michael Thompson of freestyle-art.

Great third night, Reggae Jam!