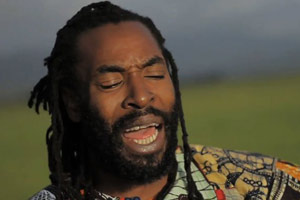 Donavan "i-taweh" Cunningham was born in the hills of St. Ann, Jamaica to Rupert and Ruby Cunningham. Like most successful Artists, he comes from humble beginnings. I-taweh was raised in the farming community of Prickly Pole, in the hills of St. Ann, Jamaica. Just a few miles from the home where Bob Marley grew in Nine Mile. He spent most of his childhood farming alongside his father and four siblings. Growing up he played music with his family and friends, but his musical career started shortly after his move from the country to Kingston in 1992, where he was given the name "Danny Gitz" because of his growing reputation as an outstanding guitarist. He began his first tour with "High Symbol" in 1994. He then went on to become the youngest member of the original Nyabhingi group "Mystic Revelation of Rastafari" and extensively toured Europe with them. During those years he was also doing significant work as a band leader for the original "Dance Hall King" Sugar Minott and later became the guitarist for Everton Blender. His work with Everton Blender brought him to the U.S. in 2004 where he then became the bassist for the "Yellow Wall Dub Squad" a major backing band for headlining artists in the U.S. and the opening act for the artists they were playing for.


His act was billed as "Itawe" and often referred to as the "Reggae Lion". He quickly gained popularity as the singing bassist, and his voice was likened to that of the reggae legend Burning Spear. I-taweh says, "It is a compliment and I feel blessed because he has been a major influence in my life and my music." His incredible versatility on guitar and bass, precise vocals, and vibrant stage presence has kept him in high demand not only for live stage performances but in the studio as well. He has recorded for several major artists such as: Sade, Capleton, Morgan Heritage, Sugar Minott, Luciano, etc. and on any given day you can hear his guitar licks playing on radio stations across the globe. For the past few years he has been a band member and the opening act for artists such as the Abyssinians, Richie Spice, Anthony B, Gregory Isaacs, Yami Bolo, Ini Kamoze, Half Pint, Sister Carol, the Melodians, the Mighty Diamonds, Junior Reid, Tanya Stepehens and many more…

After 17 years of being as a supporting musician, I-taweh took a one year hiatus from performances to pursue his solo album. He has written and composed all of his own original music- and independently produced his first album as "i-taweh" named "Overload" under his own label TAP NAT MUZIK. His album features world class musicians such as Horse Mouth Wallace, Remi Kabaka, Sly Dunbar, Benjy Miaz, Alphonso Wilson, Computer Paul, Dean Frasier, Bongo Herman, and Count Ossie Jr. I-taweh's unique and original sound comes from his Jamaican roots combined with inspirations from his travels abroad. His music is diverse and reflects his passion for Human Rights and Social Justice making him the perfect choice for the soundtrack featured in the award winning movie "African Rush / The Ultimate Ride" and the big wave surf film "THE FIND: Claiming the Nelscott Reef". He recently made a special apprearance on HYPE TV in Jamaica promoting his new music video for the song "Overload" and was featured in UJAMA NEWS magazine as the "Reggae Lion".

"As a backing musician playing for other artists, I toured the world playing in Asia, North, South and Central America, Australia, Europe and the Caribbean Islands. It feels good to be coming back through to these places as a solo artist and having so many of my fans come out for the show" says i-taweh " I really appreciate and feel the love".

I-taweh is captivating audiences all over the world with his moving lyrics, confident stage presence, and phenomenal talent. Whether performing acoustic guitar with a stand up bass or his original roots and culture sound, his set is diverse and is winning the hearts of his listeners everywhere and continuously leaves his audience wanting more!