Review
Album Review: Niyorah - Rising Sun
04/21/2015
by Dan Dabber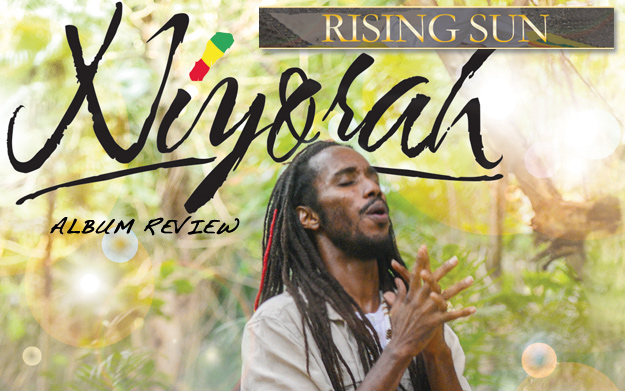 Hailing from the Virgin Islands, Niyorah has blazed his own distinct trail across the globe with a unique style of conscious roots reggae. The widespread impact of the singer's first three studio albums is apparent in the credits of his fourth, Rising Sun, with contributions from producers in Puerto Rico, France, Denmark, and Morocco among others. Even the title track, Rising Sun, features guest vocals from House of Shem, a New Zealand-based reggae outfit comprised of a father, Carl Perkins, and his two sons, Omeka and Isaiah. With such a large swathe of the world supporting him musically on his latest project, the message is clear: Niyorah is a global force.

But make no mistake about it, Niyorah's music is not a "World Music" version of reggae. His approach to the genre is authentic and focused, representing Jamaica as much as any other country in the credits of Rising Sun. George "Dusty" Miller of Firehouse Crew provided an upbeat, dancehall-friendly version of the ubiquitous Answer Riddim for Rastafari is My Guide, and Love You the Same Way first appeared as Tears of Love on DJ Frass' Diamonds and Gold Riddim release from 2013.

Of course, the Virgin Islands are also well-represented in production on Rising Sun. Tippy of I Grade Records, a long-time collaborator of Niyorah's, provides riddims for three tracks on the album, Rising Sun, War is Not the Answer, and Media Portray. Niyorah, who wears many hats for this project, contributes two self-produced riddims, the playful Mosquito ah Bite Me and a powerful roots tune called Let Love Flow. Although the artiste's production talents are impressive, his unmistakable vocal style, commanding singing abilities, brilliant songwriting, and righteous messages are truly at the forefront of his performance on Rising Sun. Niyorah also demonstrates a knack for being able to adapt his style, ranging from a traditional singer-mode to a singjay technique employed on tracks like Calculate, Workday, and Dirty Streets.

Although the album is chock full of good tunes, there are several tracks that stand out on Rising Sun. Dirty Streets, produced by Saj Moor of West Coast Studios out of Morocco, is the only dancehall song on the project and is a glimpse into other musical vibes Niyorah is capable of creating. Workday is also particularly strong, with even more evidence of the singer's broad spectrum of styles and a hook that is incredibly hard to shake.

Niyorah seems to push himself stylistically yet again on Here to Serve You, a rugged track with a nostalgic, vintage vibe that Niyorah accentuates shrewdly, borrowing ever so slightly from the late Tenor Saw. Media Portray, a dark and grimey roots tune with a big rolling baseline, tight background vocals, and horn accents, is perhaps the best track on the album, using some of Niyorah's most impressive vocal work to articulate his take on the influence of pop culture in the 24-hour news era. The hook is catchy as well as incendiary, proclaiming, "Bad vi-ee-eye-ee-ibes is what the media portray; very attentive to rage, for recognition and fame."


There appears to be very big things on the horizon for Niyorah with the Rising Sun album release. Whether or not a song from the album or the album itself does big numbers, Rising Sun will likely be spread far and wide throughout the globe, winning more and more fans and further cementing Niyorah's unique place in the world of reggae.
---
Release details
Niyorah - Rising Sun‬
DIGITAL RELEASE [Denkenesh Records]
Release date: 04/21/2015
Tracks
01. Calculate
02. Workday
03. Rising Sun feat. House of Shem
04. Mosquito Ah Bite Me
05. Here To Serve You
06. Media Portray
07. Let Love Flow
08. Rainforesst
09. Love You Same Way
10. Medical Ganja feat. Ickarus
11. War Is Not The Answer
12. Rastafari Is My Guide
13. Dirty Streets (Bonus Track)
Featured artists
House Of Shem