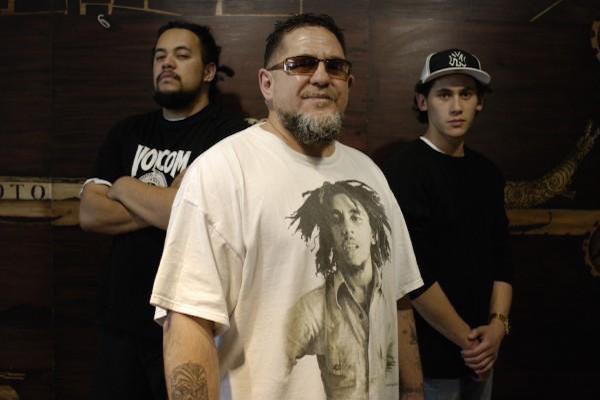 House Of Shem is an Aotearoa (New Zealand) based harmony trio comprised of Carl Perkins and his two sons Te Omeka Perkins and Isaiah Perkins who are each multi instrumentalist and producers.
Formed 2005 in the rural area of Whanganui, ªThe band embodies elements of roots reggae, pacific reggae and traditional maori music with relatable song-writing that connects powerfully with not only New Zealand and Australia audiences, but reggae listeners globally attracting fans from all areas of the world.
Since bursting onto the music scene with their debut album Keep rising in 2008, House of Shem has released three very successful Albums and built a rapidly growing loyal fan base. Working with Grammy award winning engineers on two albums Errol Brown (Bob Marley, Burning Spear) and James Caruso(Damian Marley, Nas, Stephen Marley) and mixing at Tuff Gong Studios, Jamaica shows how dedicated House of Shem in presenting quality product to the world.
Having obtained two Platinum and Gold albums, Carl Perkins has also been inducted into the New Zealand Music hall of fame with former band, The Herbs.
House Of Shem was the first ever Reggae band in Aotearoa (New Zealand) to debut at number one on the day of release for their album "Island Vibration"
"Hailing from Aotearoa, New Zealand HOUSE OF SHEM will once again deliver Raggamuffin fans and unforgettable performance with their rare mix of power and harmony within their own unique blend of traditional and contemporary reggae styles, do doubt giving the legends of reggae a run for their money." Raggamuffin Festival liveguide.com.au
"As far as NZ reggae bands go, House of shem would be one of the best, and they have proven that with this second album. Fans will not be disappointed, it is as good, if not better, than their first." ISLAND VIBRATION review by Fili – mightyape.co.nz
House of Shem's last album "Keep Rising" was also their debut and it got them worldwide acclaim and fans, as it was easily considered one of the top reggae albums to EVER come out of New Zealand, alongside Katchafire and Fat Freddys Drop's revolutionary debut albums.