Review
EP Review: Fullanny feat. House of Riddim - One Step: The European Sessions
12/08/2017
by Gardy Stein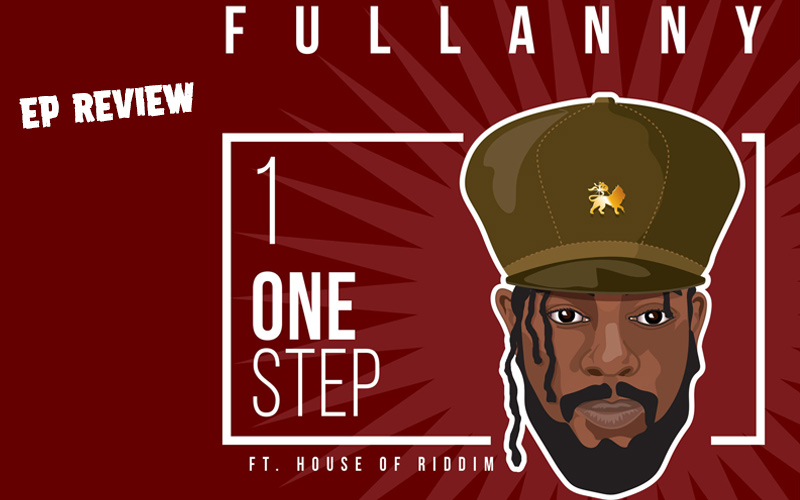 The end of the year draws nigh, but it still has some surprises in store for us. One of them is a young artist called Orlando Gambier. A son of Surinamese parents, he was born and raised in Rotterdam and took his first tentative steps in Reggae at the turn of the millennium. Ten years ago, he founded the band The House of Lalibela and toured through the Netherlands with them, thus widening his national fan-base. Under the artist name Fullanny (derived from the African nomadic tribe also called Pullo, Fulbe, Peul, Fulla) he then dedicated himself to his solo-career, recording a few singles and performing at diverse festivals throughout Europe. His renown thus grew, and in 2015 he teamed up with the Dutch label JMotive, a collaboration that now resulted in his first EP One Step. Subtitled The European Sessions, it hints both to a possible future work somewhere else and to its production on this continent.

Musical driving force behind the release is the House Of Riddim band, and Sam Gilly, Manfred Scheer, Herb Pirker as well as Motasem Billah Syed made sure that the tracks included are of excellent instrumental quality. A perfect foundation for Fullanny to work with, he created six songs that give us a good insight into the artist's style without growing repetitive.

First and title track, One Step describes the difficulties of surviving in the system, at the same time evoking the strength to overcome them. Two interesting collaborations, The Truth featuring Fantan Mojah and Here We Go Again with Turbulence bring two Jamaican artists to the fore who haven't been "the talk of the town" lately, but here show that they can still deliver.

On a bright and joyful riddim, Run Come calls all Rasta Youths to rally around, feel the groove and "remember your Kushite roots". Special mention deserve the background singers Tamara Nivillac, Silvany La Croes and Aldiner Laurent who, along with the great musicians, smooth out the few instances where Fullanny's voice slips, as in Break Free. Argue, which is out on video as well, closes the release with a plea to his princess to stop discussing and fighting. Lover's rocking!

With catchy melodies, well-written lyrics and an endearing swag, Fullanny presents himself as an artist to be reckoned with, representing for the Dutch Reggae scene. One Step is definitely a good start to build upon - let's see where step two takes us!

---
Release details
Fullanny feat. House of Riddim - One Step: The European Sessions
DIGITAL RELEASE [JMotive Entertainment]
Release date: 12/01/2017
Tracks
01. One Step
02. The Truth feat. Fantan Mojah
03. Here We Go Again feat. Turbulence
04. Run Come
05. Break Free
06. Argue
Featured artists
Fantan Mojah
/
Turbulence